BANGKOK – Laos and Cambodia are often seen as little more than political twins who have chosen to reap economic benefits from China in exchange for their loyalty to the Middle Kingdom – and choosing this alliance over keeping consensus with their ASEAN family.
But while their dance steps appear similar, they are not quite moving to the exact same tune, says analyst Edgar Pang, a visiting fellow at the Singapore-based Institute of Southeast Asian Studies – Yushof Ishak Institute.
China's footprint will continue to grow in Laos and Cambodia in the coming years, in many ways replacing what used to be, till perhaps the late nineties, Japan's key role as a source of assistance and investments.
"While Laos and Cambodia share similar imperatives in embracing China, there are deep dynamics and undercurrents in Lao and Khmer politics which have a strong bearing on how they navigate their asymmetry vis-à-vis China," Pang wrote in a set of two briefing papers published in September. "Labelling Laos and Cambodia as Chinese 'satellites' of similar mould is to simplify a complicated issue."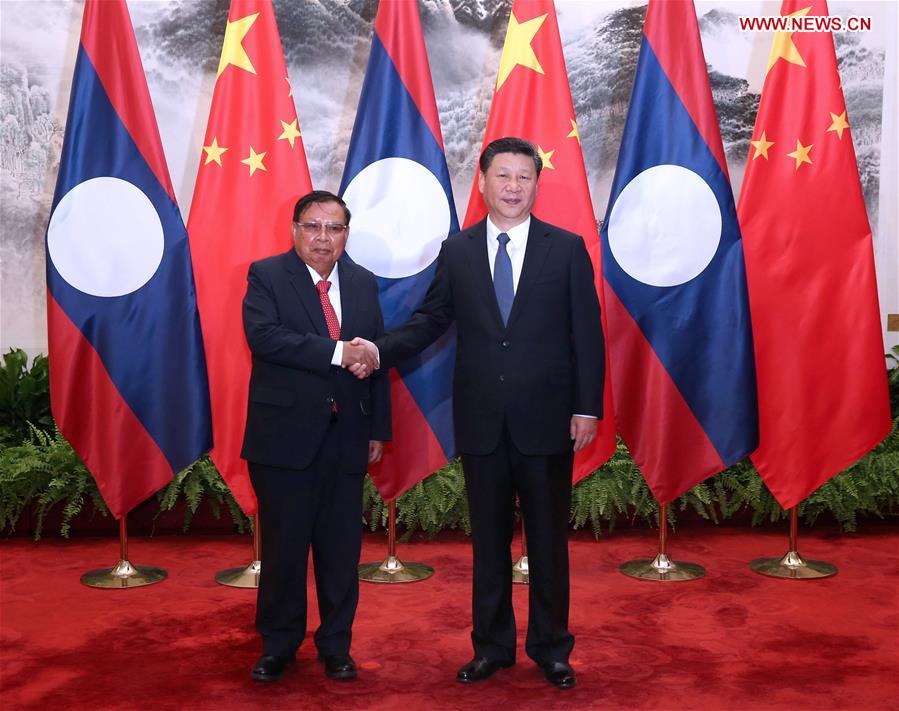 Lao President Bounnhang Vorachit is welcomed by Chinese President Xi Jinping in Beijing, May 2016. Photo by Xinhua.
Both countries and governments are keen to get investments and grant assistance they deem key to graduating from Least Developed Country status – by 2020 for Laos and by 2025 for Cambodia. But Laos, due to its size and long history of juggling ties with the bigger powers around it, appears to be showing more diplomatic savvy in navigating these tricky waters and faces less risk of "over-reliance" on China, Pang pointed out.
"Laos has come across as more 'even-handed' in handling their Chinese benefactor," Pang observed.
He cites as an example Laos' and Cambodia's different handling of Chinese pressure and ASEAN internal dynamics in relation to the South China Sea disputes, which have become a major issue in ASEAN's annual meetings due to Beijing's construction of artificial islands, seizure of atolls and building of military facilities in the area.
Laos balancing act
As ASEAN chair in 2016, Laos successfully struck a compromise between claimants like China and fellow ASEAN member Vietnam so that the ASEAN foreign ministers' joint communiqué could categorically express "serious concern" over "land reclamations and escalation of activities' in the disputed waters.
This reflected the "balancing act" that Laos has long experience in doing to manage relationships with the different countries around it, Pang said, quoting Lao government officials he spoke to.
"By comparison, Cambodia appears more comfortably ensconced in China's embrace and has little qualms about bandwagoning," he added. The country's government sees no need to couch this alliance in anything other than what it is –unabashedly being in China's sphere.
Thus, Pang refers to what in ASEAN circles is called a debacle: Under Chinese pressure, Cambodia as 2012 ASEAN chair blocked proposals to include a call against the further rise of tensions in the South China Sea. As a result, for the first time since ASEAN was created in 1967, it failed to issue a communiqué.
Then in 2014, Cambodia had little qualms about delivering its side of its bargain with China in the wake of the Philippines' victory against Chinese intrusions in the South China Sea, as a result of a lawsuit Manila brought before The Hague-based Permanent Court for Arbitration.
Cambodia followed China's position by putting pressure on attempts by some ASEAN states to call on Beijing to respect the ruling. Laos did not go this far, Pang points out.
In October 2016, Cambodia got "due rewards" during President Xi Jinping's visit to the country through China's commitment of economic aid worth more than 600 million dollars along with some 31 cooperation agreements. Cambodian Prime Minister Hun Sen has said his country is China's "most trustworthy friend" and Xi has called Cambodia an "ironclad" ally.
China is the largest source of development assistance and investments in both Cambodia and Laos.
As of end-2016, China's accumulated foreign investments totalled nearly 12 billion dollars, or close to 35 percent of foreign direct investments into Cambodia. Cambodia sees China its most important financial and developmental assistance partner.
In Laos' case, China's accumulated investments exceeded 6 billion dollars in 2016. The Lao ministry of planning and investments says China's aid to Laos in 2014 stood at 187 million dollars in grants.
The scale of Chinese economic presence is staggering, especially under China's Belt Road Initiative (BRI) that has identified ASEAN countries as being part of the Indochina peninsular corridor – and therefore the site of massive infrastructure projects by China.
The size of one flagship project alone, the High-speed Railway Project, is 6.8 billion dollars or "about half the size of the country's 2015 GDP of 12.3 billion dollars", Pang pointed out.
As the two countries became trusted political allies of China, the exchange of visits by their leaders has also occurred regularly, since former Chinese President Jiang Zemin's visit to Laos and Cambodia in 2000.
But different political considerations – in particular relations with nearby countries like Vietnam and Thailand – shape the two countries' positions within China's tight embrace.
Laos enjoys smoother relations with Vietnam, a country also run by the Communist Party, and Thailand, a key economic partner with whom it shares a long border – although it has discomfort with what it sees as its richer neighbor's superiority complex.
Analysts take note of signals like the fact that the new Lao President Bounyang Vorachit visited Hanoi before Beijing. Pang cites how some saw the exit of pro-China senior cadres in the 2016 Lao People's Revoutionary Party congress as a "sign that the Lao leadership preferred to engage with China in a move even-handed manner".
Laos has wisely diversified some of its investors. Its airport was built by Japan, its international conference halls by China and its riverbank development by South Korea.
"While they (Laos and Cambodia) have similarly long and complex histories with both neighbors (Vietnam and Thailand), the arguably less contentious relations that Laos enjoys with Vietnam and Thailand affords it more diplomatic space and leverage compared to Cambodia," Pang said.
Cambodian Prime Minister Hun Sen at the 2017 ASEAN summit in Manila.Photo from Asean.org.
Cambodia's pro-China leaning
Cambodia "views its immediate neighbors Vietnam and Thailand as historic predators of Khmer territories, and sees China as playing a pivotal role in ensuring its survival". Vietnam's 1978 invasion of Cambodia to kick out the Khmer Rouge is a sensitive point.
Because suspicions of Vietnam continue, Cambodia's closeness to China gives the Hun Sen government political points given that he had come to power decades ago as part of a Vietnam-backed government.
As for Thailand, Cambodians view it with suspicion but to a lesser degree than the Vietnamese. While the row over the Preah Vihear temple remains, the countries share commonalities like Theravada Buddhism.
"The question is no longer whether Laos or Cambodia should continue to truck with the Chinese – in their view there is simply no viable alternative given present developmental needs," Pang said. "The question is how to live and deal with the socio-economic 'consequences' of heavy reliance on China for trade, investment and financial assistance.
The risks of over-reliance in China appears "comparatively lower for Laos", Pang assessed, because Laos is also part of other regional integration projects such as the Greater Mekong Subregion programme of the Asian Development Bank. But in Cambodia, Pang finds that "little check or even debate on the risks of over-reliance".
What also bears watching is the reaction within Lao and Cambodian societies to growing communities of Chinese migrants and workers for Chinese projects in their midst. As it is, Pang said, "Lao and Cambodian reception of the growing Chinese economic footprint at the government-to-government level has been overwhelmingly positive, but this is less evident at the people-to-people level."
There are some 50,000 economic migrants from China in Laos and 120,000 in Cambodia. Pang said China plans to bring over 50,000 people for the High-speed Rail and more than 10,000 are already working on tunnelling.
Lao officials are having to address "undesirable" practices such as gambling and prostitution around two big Chinese commercial projects – the Golden Boten City and Golden Triangle special economic zone.
"Cambodia remains by and large receptive to Chinese presence", Pang said. At the same time, there are sentiments like those in an open letter carried by the 'Phnom Penh Post' in September. To Hun Sen, it said: "You are about to place Cambodia into such a tight corner that when China sneezes, all of Cambodia will feel it."
"And if war breaks out between China and our neighbors over the Spratly Islands, you can be sure China will be knocking on Cambodia's door asking Cambodia to return the favor (ie, perhaps to become its military base)," said the letter, signed "Ratha Pah, staffer at an international development organization".
"While Laos and Cambodia risk becoming economic vassals of China, it is not a new situation for both countries. They have been highly dependent on a serious of major powers for developmental needs since the colonial era," Pang said. "Laos and Cambodia will try to manage their increasing reliance on China, but for the foreseeable future, neither is likely to break out of the dependency mindset."
(Johanna Son is manager/editor of the Reporting ASEAN programme.)