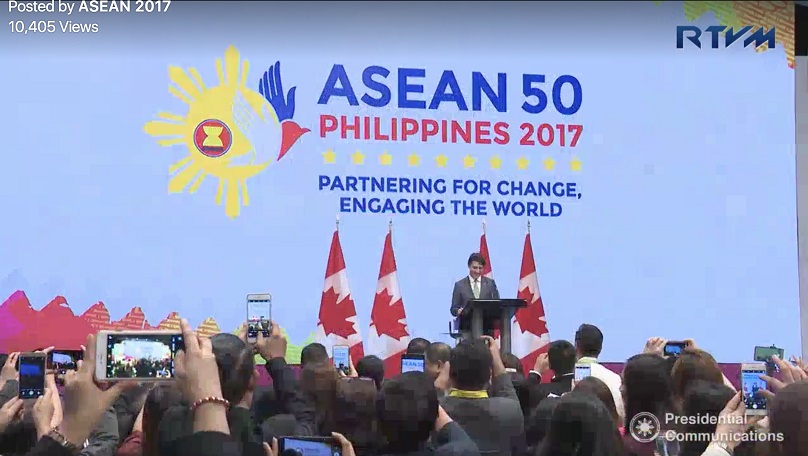 A very well attended press conference of Canadian Prime Minister Justin Trudeau. Screengrab from RTVM video.

There was a collective squeal of kilig when Canadian Prime Minister Justin Trudeau strode into the cavernous main briefing room of the International Media Center of the 31st Asean Summit and related summits where about a thousand journalists, government officials and events staff gathered for the first press conference of a visiting leader attending the EAS summit.
The almost an hour delay in the press conference only heightened the interest for the charismatic 45-year old Canadian premier who had girls swooning over him when he came to Manila two years ago for the summit of the Asia-Pacific Economic Cooperation where he was dubbed one of the APEC hotties (the other was Mexican President Enrique Peña Nieto).
Without much ado, Trudeau started his press conference speaking in both English and French, covering a wide range of issues for both the Filipino and Canadian audience.
He took the lingering irritant of the garbage issue head-on even without being asked about it: "Canada is engaged to finding a solution"
He said he raised the issues of human rights, the rule of law and extrajudicial killings, which he said "Canada is concerned with" with President Duterte, who is prickly about human rights and EJKsbefore the start of the ASEAN-Canada commemorative summit.
"The president was receptive to my comments and it was throughout a very cordial and positive exchange," he said.
Duterte said he was insulted by Trudeau's mention of human rights and EJKs to him. "I said I will not explain, it is a personal and official insult, that is why you hear me throwing down epithets and curses… because it angers me," Duterte said in a news conference after the closing ceremony of the 31st ASEAN Summit and Related Meetings. http://news.abs-cbn.com/news/11/14/17/duterte-says…http://news.abs-cbn.com/news/11/14/17/duterte-says…
Trudeau said he also brought up the plight of Rohingya refugees with Myanmar's Aung San Suu Kyi, a topic avoided by other leaders.
The presscon capped a three-day visit that was a public relations coup – a drop-by in a Jollibee store in Tondo, a visit to Likhaan Women's Center, and a ride in an E-jeepney made by Filipino and Canadian engineers.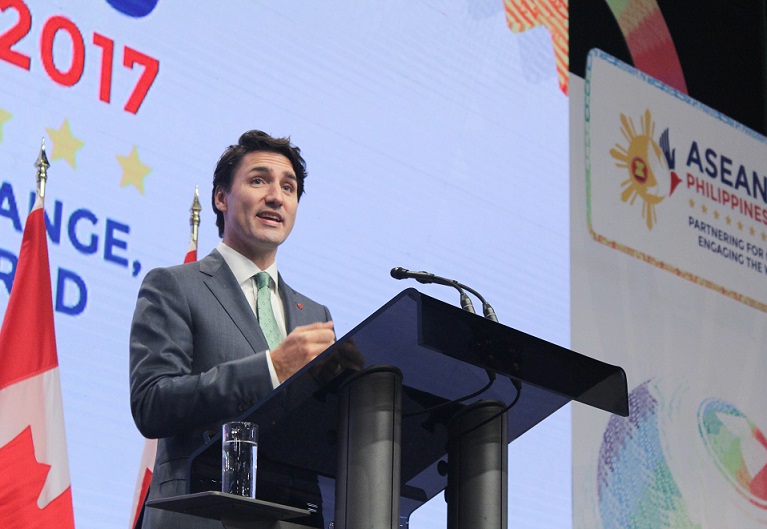 A much- more- confident- looking Trudeau (compared to his Manila visit in 2015) in a press conference. Photo by Ian Tapao.

Clearly, Trudeau outclassed the 20 leaders who attended this year's East Asia summit especiallyU.S. President Donald Trump . To think that Canada is not yet a member the East Asia Summit. He is here as guest of the ASEAN chair, this year being the 40th anniversary of ASEAN-Canada relations.
In his opening remarks at the 40th ASEAN-Canada commemorative summit, he said, "We will be discussing the accomplishments and potential of a renewed partnership with ASEAN and some new and exciting ways, in which Canada can support this community, including by joining the EAS and the ASEAN Defense Ministers' Meeting Plus."
Compare that to Trump who had no public engagements in Manila outside the ASEAN events and even skipped the AES summit due to scheduling delays. (Whoever thought of holding mini-concerts in the opening and closing ceremonies should be banned from participating in ASEAN, APEC and other serious events.)
Trump left before the start of the AES summit (which was delayed) and delivered his remarks for the event during lunch with the other leaders.
***
Speaking of class, government officials, many from the Presidential Communications Operations Office, showed the lack of it when they commandeered the front row seats in the Trudeau press conference. They were a distracting presence as they were taking selfies, one was even panning with her cellphone, with the Canadian prime minister in the background.
We are not complaining about the discrimatory "Reserved for VIP" signs in official events that we cover. But in a press conference, it's a media event and nobody is a VIP except the resource speaker.
The officials, whatever their rank, were interlopers in the Trudeau presscon and they should have taken the seats on the sides or at the back.
Nakakainis na nakakahiya.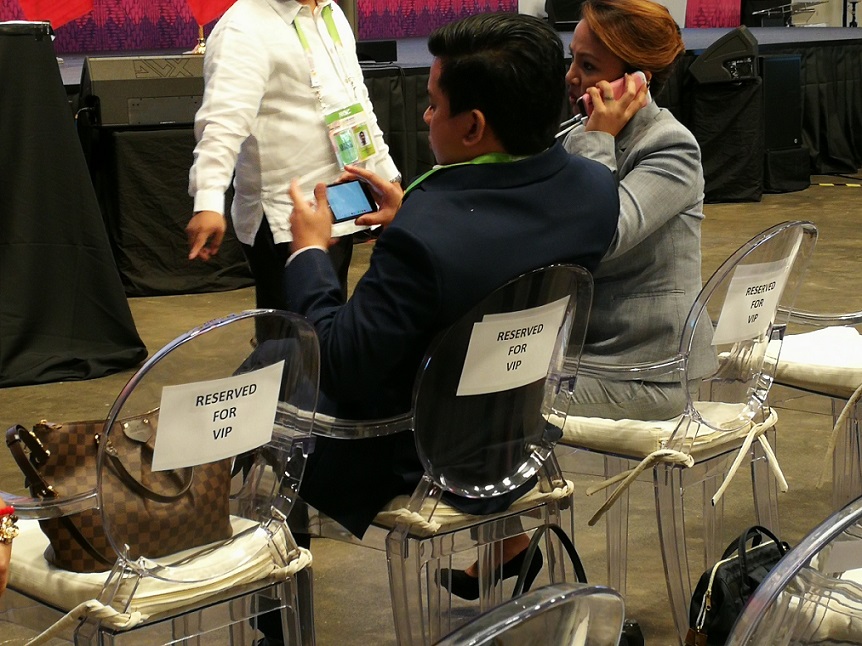 Trudeau presscon. Front row seats were commandeered by government
officials who were doing selfies with the Canadian premier in the
background.Photo by Ellen Tordesillas.