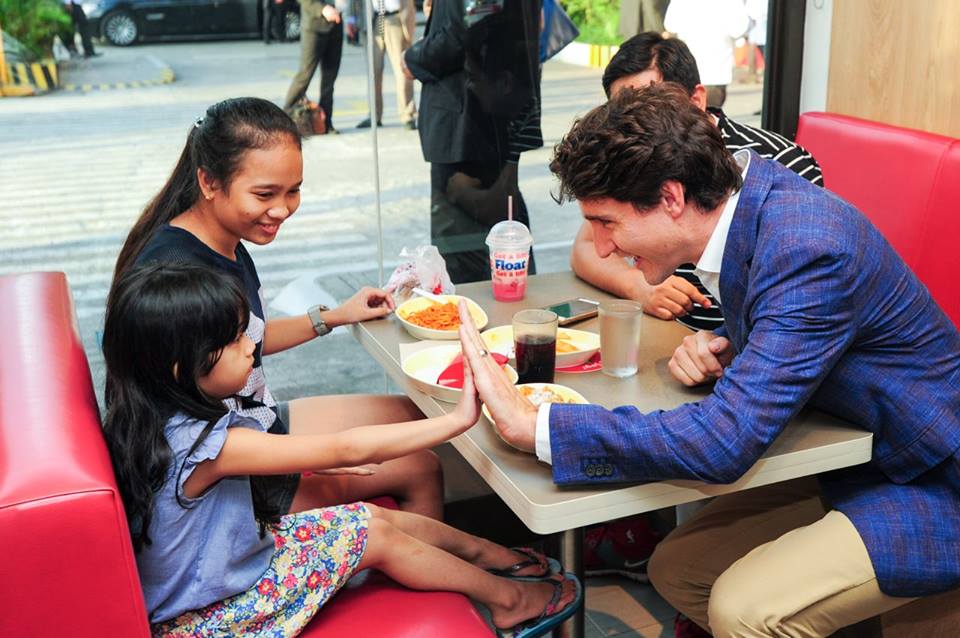 Instead of Duterte's trademark fist pump, Canadian Prime Minister Justin Trudeau does a high-five with a young girl at a Jollibee store in Tondo upon his arrival Sunday. Photo from the Canadian Embassy Facebook.
That's the most awaited happening in the 31st ASEAN Summit and Related Meetings that will take place Nov. 13 and 14 in Metro Manila.
At the press briefing last Friday, Foreign Affairs spokesman Robespierre Bolivar was asked if President Duterte and United States President Donald Trump would be doing a fist pump together.
Bolivar, not surprisingly, said, he can't assume what the two leaders would do during the meeting. Chances are they would because according to Duterte, in their brief meeting in Vietnam last week where they both attended the Asia Pacific Economic Cooperation summit, Trump had nice words for him.
Duterte told reporters upon his arrival early Sunday morning: "Well, I shook his (Trump) hands. And before the closing, he kept on saying "ba-bye". I said beat the… And he said something about, "you know, you handle it very well…" Eh magyabang pa ako. Ayaw ko ng ano. I do not want to… These are the things that you do not brag about: the Marawi and then the drugs—words of encouragement. Not extrajudicial killing. Well, he cannot afford it. We do not talk about these things because, first of all, they are not true; and the second is, we do not do it. "
Asked if he will discuss EJKs with the U.S President? Duterte replied, "I'm sure he will not take it up."
Duterte also said he got encouraging words from Chinese President Xi Jinping (China will be represented in this week's summit by Chinese Premier Li Keqiang) and Russian President Vladimir Putin.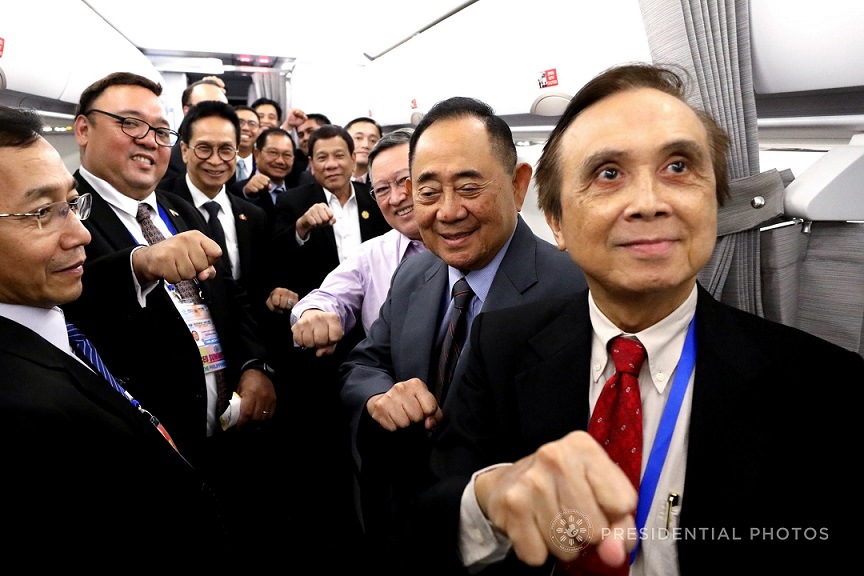 Fist-pumping delegation. Pres. Duterte with members of his cabinet and advisers on board the presidential plane from Vietnam where they attended the 2017 APEC summit. Malacañang photo.

The two leaders, he said, told him: "We will support you. And we will provide you anything you need to solve this problem of terrorism pati sa drugs."
If there's anybody who is expected to be concerned about Duterte's bloody method to solve the illegal drugs problem, it would be Canada's Prime Minister Justin Trudeau, who is attending this ASEAN event as guest of the chairman, this year being the 40th year of ASEAN-Canada relations. But there is no scheduled bilateral meeting between Duterte and Trudeau.
Trudeau has been quoted in Canada's media as saying "There are a range of issues that I could bring up with him, and I may bring [the killings] up with him if I have the opportunity, but there is no formal meeting with him."
The fist pump, which the Oxford dictionary described as "a gesture of triumph or affirmation in which the forearm is raised with fist clenched, then swung downward toward the body in a vigorous pumping motion," is actually identified with leftist groups' symbol of resistance to oppression.
In the rallies against former President Marcos in the 70's and 80's, militants did the fist pump while singing the patriotic song, "Bayan Ko."
During the 2016 election campaign, Duterte shrewdly and successfully used it as his campaign symbol against government apathy towards the poor and elite snobbery.
As he waged his brutal anti-drugs campaign, the fist pump has become a symbol of approval of the operations that have claimed the lives of thousands without the benefit of due process of law.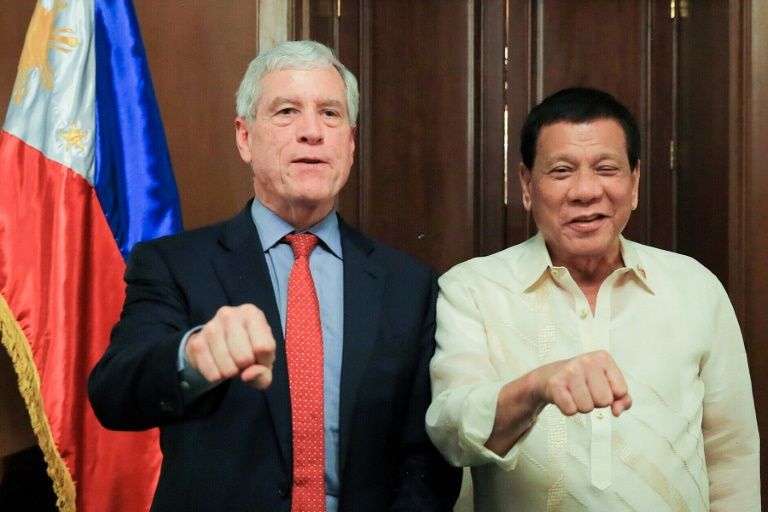 Australian spy chief Nick Warner was criticized for doing the fist pump with Duterte while his government was concerned of the drug killings.
It has also become a standard photo of Duterte with dignitaries and celebrities like Japanese Prime Minister Shinzō Abe, businessman Jack Ma, and actor Steven Segal.
Australia's Intelligence Chief Nick Warner, however, was criticized for doing the fist pump with Duterte during his Manila visit last August as its foreign minister, Julie Bishop, hadexpressed concern about the Duterte government's drug killings.
Phelim Kine, Human Rights Watch deputy Asia director, told Agence France-Presse, "Foreign leaders should recognize that the fist… symbolizes a purposeful attack by Duterte on rule of law that has inflicted a human rights calamity on thousands of Filipinos. They should deny the architect of this human rights calamity the international recognition he undeservedly craves."
That the fist pump should even be a major concern in an ASEAN summit speaks a lot about the Philippine chairmanship of the regional organization's 50th anniversary.