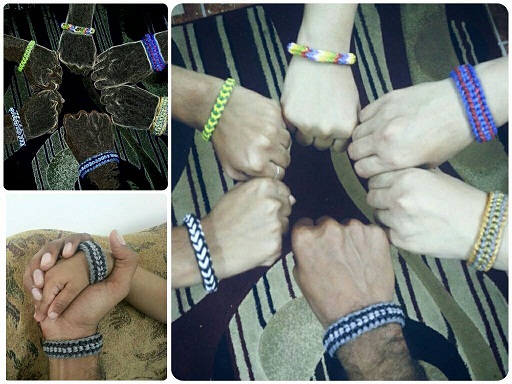 By OFELIA C. EMPIAN
FOR Melchora Grace Balacdao-Matias, looming bands began as an activity to merely overcome boredom in her new work environment in Kuwait.
Little did Matias (Mitz to her friends) know that her loom bands would be of help to some 500 school children in the remote municipality of Bakun in Benguet Province.
"My husband and I went to one of the shops in Kuwait and I saw these popular loom bands and I decided to try [doing] it, learning from Youtube how to do the designs,"Matias recalled.
As her loom band collection grew she thought of selling them but then a better idea came to her—she would use these to build a fund for a cause.
"It was just in time because my husband told me that we were going back home for his sibling's wedding," she added.
She related that she started the loom bands for a cause project by discussing it with some of her co-workers and posting it on Facebook.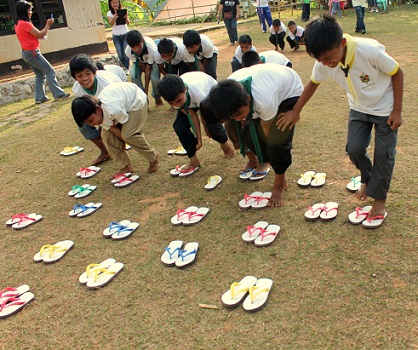 "When my boss (an Indian national) heard of it, he referred me to the Project Department (of their office)," she said.
She was given the go-signal to make a solicitation letter for her loom bands project that made the rounds of the office.
The response was overwhelming! Not only colleagues within her department responded; even the staff and the heads of other departments (including their big boss, a Korean national) did.
Through her loom bands,Matias was able to raise a total of 552.500 KWD (Kuwaiti Dinar) or around P82,875 through donations from 58 people of various races—all working at the Daelim Industrial Company, Ltd.-Kuwait, where she currently works as a document controller.
"It was so unbelievable!" she exclaimed. "My co-workers and my bosses who are of different nationalities responded and happily shared what they could."
With the amount raised, Matias, in partnership with 2013 Outstanding Teacher of the Philippines Marcelo Otinguey, was able to donate school supplies, hygiene kits and slippers to some 500 school children in various barangays in Bakun—including Ampusongan, Bagu, Dalipey, Sinacbat, and Kayapa—last February 20 and 21.
They were joined by 16 volunteer student teachers from King's College of the Philippines and Benguet State University, with support from the local government of Bakun.
The event was dubbed "Loom band for a cause: Giving hope to the youth of tomorrow." It took the group of volunteers three to five hours to travel from Baguio to the different recipient barangays.
"(It was) not only the students (who were) happy and thankful for what they received but also the parents and teachers of the various schools who benefitted from this endeavor," said Otinguey, who teaches at Ampusongan National High School.
And, it only took 37 loom band bracelets from Matias to make this happen.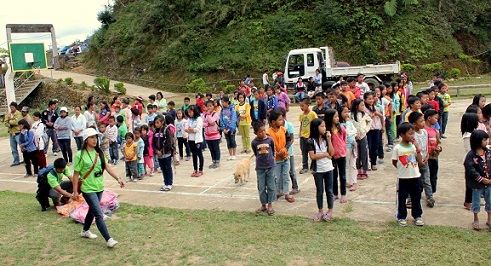 "The bracelet is actually a token for those who gave (donations); the amount they gave was much more than (the cost of making) the bracelet," Matias said, adding that not all who gave "bought" a loom band, but just gave their donations.
"God used me as an instrument for those who wanted to help but are busy in their work. I did not expect the overwhelming response of these people," she said.
Inspired by the favorable response of her colleagues and friends in and out the country, Matias said she would continue what she had started.
Recently, she started the "Loom Band Bracelet for A Cause: Extending Life," which aims to aid indigent patients in Cordillera who require hemodialysis treatment.
The project has been helping Ronnie Foyagao, an 18-year-old patient living in Lubas, La Trinidad, Benguet.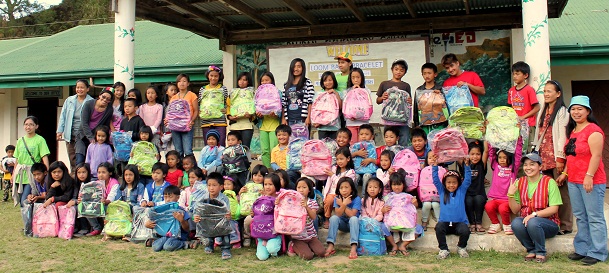 "He is undergoing hemodialysis three times a week. We were able to give Php8, 800.00 (to pay) for four treatment sessions," Matias said, before she and her husband flew back to Kuwait end of February. "As the 'Loom Band Bracelet for A Cause: Extending Life' continues, we will continue to help him."
Matias is no stranger to giving back to those who are in need. She has been involved in various charity works in the country, specifically in the Cordillera as the president of the Association of Cordillerans in Thailand in 2011. She worked as a teacher in that country before relocating to Kuwait in 2013 to join her husband.
For Matias, looming bands is no longer just a tool to kill boredom, but a creative tool to saving lives.