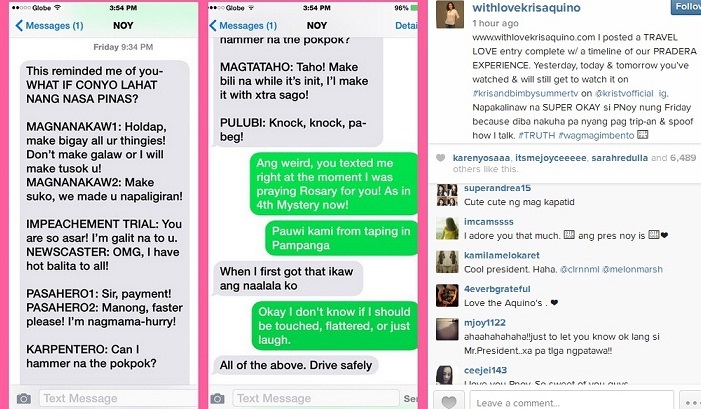 By ELLEN T. TORDESILLAS
OMG. I almost fell off my chair upon reading the text exchanges between President Aquino and his sister, Kris Aquino posted by journalist Cecil Morella in Facebook.
Tuesday afternoon, Kris Aquino posted in her Instagram account (withlovekrisaquino) her text exchanges with the President last Friday just to disprove rumors that PNoy collapsed.
Kris Aquino's post: "I still keep hearing the utterly baseless & senseless story about my brother having collapsed Friday night… I am posting our text exchange from March 20, Friday w/ a time stamp of 9:34 PM. If you follow my IG account Thursday after A&A we traveled to Pradera in Lubao, on Friday I posted several pics from our Pampanga taping, on Sunday night on www.withlovekrisaquino.com I posted a TRAVEL LOVE entry complete w/ a timeline of our PRADERA EXPERIENCE. Yesterday, today & tomorrow you've watched & will still get to watch it on #krisandbimbysummertv on @kristvofficial_ig. Napakalinaw na SUPER OKAY si PNoy nung Friday because diba nakuha pa nyang pag trip-an & spoof how I talk."
The screenshot showed a message from "Noy" at 9:34 pm:

This reminded me of you- What if conyo lahat nang nasa Pinas?

Magnanakaw1:Holdap, make bigay all your thingies. Don't make galaw or I will make tusok u!

Magnanakaw2: Make suko, we made u napaligiran.

Impeachement trial: I'm so asar. I'm galit na to u.

Newscaster:OMG, I have hot balita to all.

Pasahero1:Sir, payment!

Pasahero2: Mama, faster please! I'm nagmama-hurry!

Karpentero: Can I hammer na the pokpok?

Magtataho: Taho! Makabili ba while it's init. I'l make it with xtra sago.

Pulubi:Knock,knock. pa-beg!"
Kris replied to Pnoy: Ang weird, you texted me right at the moment I was praying Rosary for you! As in 4th Mystery now! Pauwi kami coming from Pampanga."
Pnoy to Kris: When I first got that ikaw ang naalala ko.
Kris: Okay I don't know if I should be touched, flattered, or just laugh.
PNoy: All of the above. Drive safely.
Okay, Kris proved that her brother last Friday was up and about and healthy….physically.
Many netizens were shocked. Carl Marc Ramota could only say "Susmiyo, patawarin!" So was Jimmy Castillano, who had to call on the spirit above: "Juicekolord mamu!!!! Kalowka!"
Ronald Redito took note that Kris was " texting while praying. As in 4th mystery na."
A friend, Marilyn Robles, remarked, "Are these the kind of messages that amuse the President?"
Angelica Carballo: "1) Sinong magsesend nito sa Pangulo? 2) Tip sa NGO friends,kung gusto natin mapansin ng Malacanang ang mga requests, petitions at kung anu ano pa, idaan sa jologs na jokes. 3) PNoy, talagang finorward mo pa?"
Ilang-Ilang Quijano:"Ang nag-collapse ay yung standards natin para sa kung ano ang dapat ginagawa ng isang pangulo. This takes the cake."
PNoy and Kris text exchanges inspired Saxnviolins to concoct a script of Pnoy and Napeñas texting each other. It's hilarious:
Noy to Napenas: I have tampo to you. You did not make me pansin. I said coordinate.
Napenas to Noy: I did. I made hingi artillery and Hueys. You have atraso to me. You ordered tayo baba.
Noy to Napenas: What tayo baba.
Napenas to Noy: Stand down. What's wrong with your Tagalog?
Noy to Napenas: You made loko to me. You and Allan.
Napenas to Noy: You made loko to us. You said proceed, but you made areglo with those war freaks.
Noy to Napenas: You made sabotahe my Nobel Peace Prize.
Napenas to Noy: Make asa pa you. Didn't you make basa that Pope Francis is a nominee?
Noy to Napenas: I can make talo him. He is a war freak. He said he will make suntok whoever insults his mother.
Napenas to Noy: Asa pa you again. You are a gun freak. How can you win the Nobel?
Noy to Napenas: You do not make basa history. How about Yitzhak Rabin and Yasser Arafat?
Napenas to Noy: Good you made banggit Arafat. You should make takip your kalbo like him.
Noy to Napenas: No need. I have new syota. She likes me like this.
Napenas to Noy: Poor taste that girl.
Noy to Napenas: Damn you're so inggit.
I'm in tears. Laughing.