By ELLEN T. TORDESILLAS
Photos by ACE ESMERALDA and ELLEN TORDESILLAS
MANICANI  today hardly bears signs of the havoc wrought by supertyphoon "Yolanda" (international name: Haiyan) a year ago.
Color is back on this 11.7-square-kilometer island of 3,000 people in Guiuan, Eastern Samar, which was a harrowing picture of destruction only 12 months ago after Yolanda ferociously battered it for straight four hours.
The roofless or flattened houses, destroyed concrete structures, uprooted trees and toppled posts are almost gone. In their stead are houses painted green, yellow, blue, red and pink, many with vegetable and flower gardens.
The houses were built by the homeowners themselves, courtesy of the cash for work program of the mining company Nickel Asia Corp. (NAC). Berthed on shore near many homes were new fishing boats, which the islanders requested from NAC officials when asked after Yolanda what they wanted aside from a decent shelter.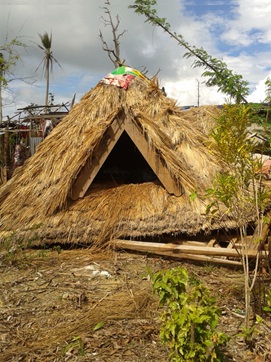 A 25- to 30-minute boat ride from Guiuan, Manicani during World War II was a United States Navy naval repair facility. It's primarily a fishing community today.
In all, NAC built 429 30-square-meter houses for P32.8 million. But not all the households accepted the houses. Forty-three families spurned NAC's offer because of their opposition to mining.
NAC owns a non-operating mine in Manicani. Recently, the Department of Environment and Natural Resources granted it permission to remove the ore load stockpile.
Dennis Zamora, NAC senior vice president for marketing, said at the turnover ceremonies of the new houses Nov. 5 he respects the sentiments of anti-mining residents even as he stressed that NAC's program for the people of Manicani "is not all about mining."
It's about working together not only for themselves but "for their children and their future," he said.
Besides the houses, which should last five years, NAC is building the Manicani Multipurpose Hall and 10 barangay halls for the town of Guiuan.
Tito Abucejo, barangay captain of Buenavista, where the turnover ceremony was held, enjoined the people to "count their blessings."
He said they are the envy of other communities hit by Yolanda. Aside from the houses, they do not have to depend on relief assistance because they have been employed by NAC, he said.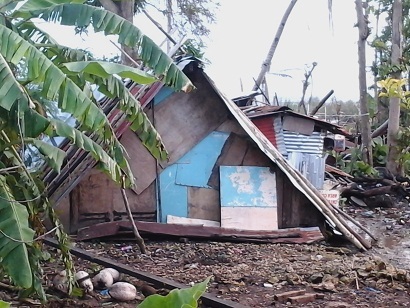 Aware of the trauma Yolanda caused many of its victims, the mining firm also has psychosocial projects for the residents.
The four barangays of Manicani (Banaag, Buenavista, San Jose and Hamorawon) have formed a basketball league. NAC is helping them build basketball courts.
Yolanda made landfall in Guiuan in the early hours of Nov. 8, 2013. The disaster-prepared town under the leadership of Mayor Christopher "Sheen" Gonzales minimized the casualty to 99. Only one died in Manicani.
Undersecretary Danilo Antonio of the Office of the Presidential Assistant for Rehabilitation and Recovery, who came to the island during the turnover of NAC-built houses, praised the resilience of the people of Manicani: "Kayo ang unang tinamaan. At una rin kayo sa bumangon (You were the first ones who were hit but you were also the first ones who recovered)."
Manicani, he said, has set a good example to the other disaster-stricken communities.