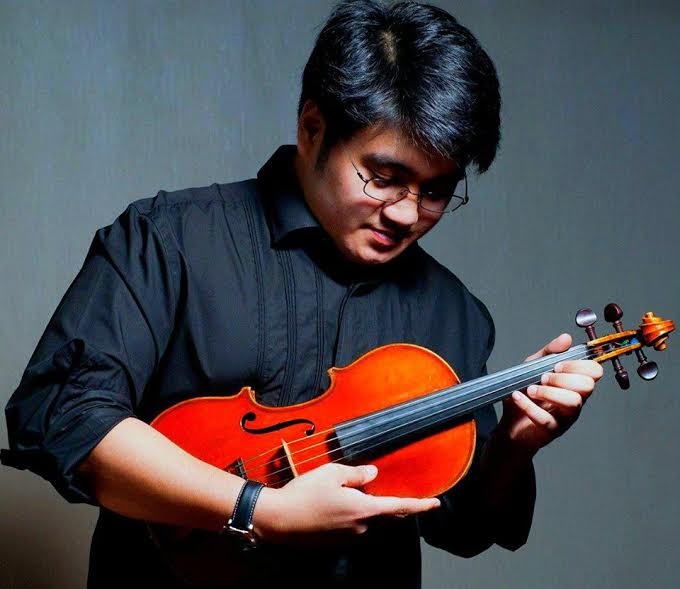 Violinist Diomedes Saraza, Jr. To his surprise, something magical always happens every time he performs.
Violinist Diomedes Saraza, Jr. is likely to wax nostalgic when he plays Mendelssohn's Violin concerto in E Minor, Op. 64 with the Philippine Philharmonic under the baton of Yoshikazu Fukumura on Friday, January 20.
The Mendelssohn concerto figured early in his early years as a young violinist.
For one, it was his winning piece when he joined the NAMCYA in 2002. "It was a concerto that gave me the challenge that I can start playing difficult pieces. It's appeal and challenge? It's classical and romantic at the same time. Compared to Sibelius and Tchaikovsky, Mendelssohn has a special sound that is rich and emotional yet so delicate and singing. It's tough because I have to keep the voice of Mendelssohn without hammering on the violin. It's elegant and light even though it's romantic."
The violinist is using a vintage violin made by Joachim Grabner from Johannesburg Africa.The instrument became his trophy prize for working so hard as a student who cannot afford expensive violins.
"It was given to me by my dear teacher — Mr. Stephen Clapp — as a Christmas present after borrowing it for months since I didn't have my own violin when I started at Juilliard. It is a special instrument because it helped me explore other layers of music as I went along with my studies. That instrument was with me for so long and yet I still discover new things every time I am preparing for new engagement. I love this violin so much," he recalled.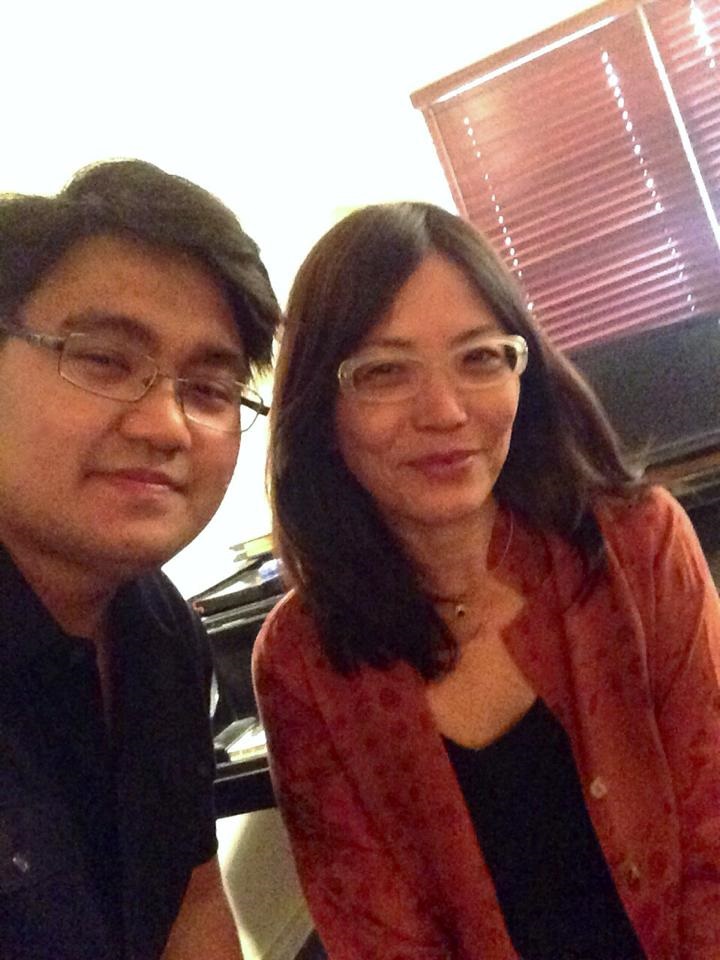 Violinist Diomedes Saraza, Jr. with Cecile Licad. Proud to share his Carnegie Hall with the iconic pianist.
Reflecting on the year just passed, the violinist said it was a colorful and fruitful.
"It was a great year and quite a memorable one," Saraza said. "I must say that my Carnegie Hall debut with the PPO playing the Sibelius violin concerto was a big highlight. Yes, it was a dream come true. It was special because it was a great debut not only for me but for the Philippine Philharmonic Orchestra. I hope that it is not the last time we get to play there. For another, the acoustics at Carnegie Hall was superb. Maestro Rony Rogoff and I were chatting after my dress rehearsal and it was impressive how the sound carried through the huge hall. On stage, it felt like I'm just practicing in my room. It's dry in a good way. I can hear the details of the pieces from the orchestra instruments. I felt the whole audience reaction. It was subliminal. I felt lightheaded after because I couldn't believe I just had my Carnegie debut and the applause was awesome. The standing ovation was just a bonus."
Saraza is working on his second master's degree at Yale University after living in New York for 12 years when he graduated at Juilliard. "Musically, it felt the same. I still practice the same amount and striving to be better each day."
As he prepares for his January CCP engagement, the violinist is not so keen on describing what he tries to achieve in every performance. "Honestly, aside from being ready for the technical things, I don't know what else is involved to have a good performance. I usually just play and something magical always happens on stage within me. But on the whole, the key to a good performance is to focus consistently during the concert no matter what happens. All the things that you have practiced must stay in the performance."
The coming CCP engagement is his first with the new Japanese PPO music director. "I have heard great things about him. I look forward to meeting him and making some beautiful music."
Saraza is also the first Filipino Outstanding Academic Achievement awardee of President Obama's Education Awards Program during his senior year at the St. Raymund High School for Boys in Bronx, New York where he was also cited as one of the best high school students in New York. "The Obama citation was a recognition of all my hard work in school. I was in the first honor roll over the past four years in my school but I shared the award with 15 others." as soon as I got the award."
The January 20 PP program includes W.A. Mozart's "Symphony No. 28 in C", E. Elgar's "Enigma Variations" and Mendelssohn's "Violin Concerto."
For tickets, call the CCP Marketing Department (832-1125 local 1806), the CCP Box Office (832-3704) or Ticketworld at National Bookstore (891-9999).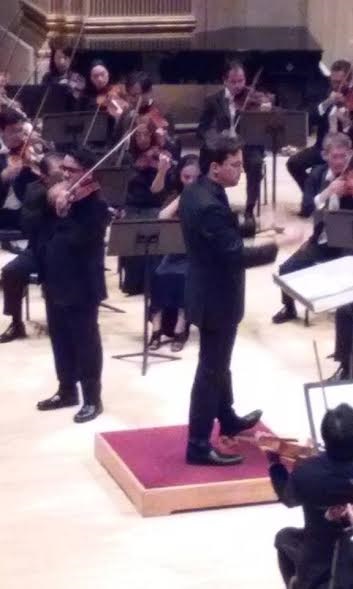 Violinist Diomedes Saraza, Jr. with the PPO under Olivier Ochanine at Carnegie Hall.He hopes it is not the last in that august hall.