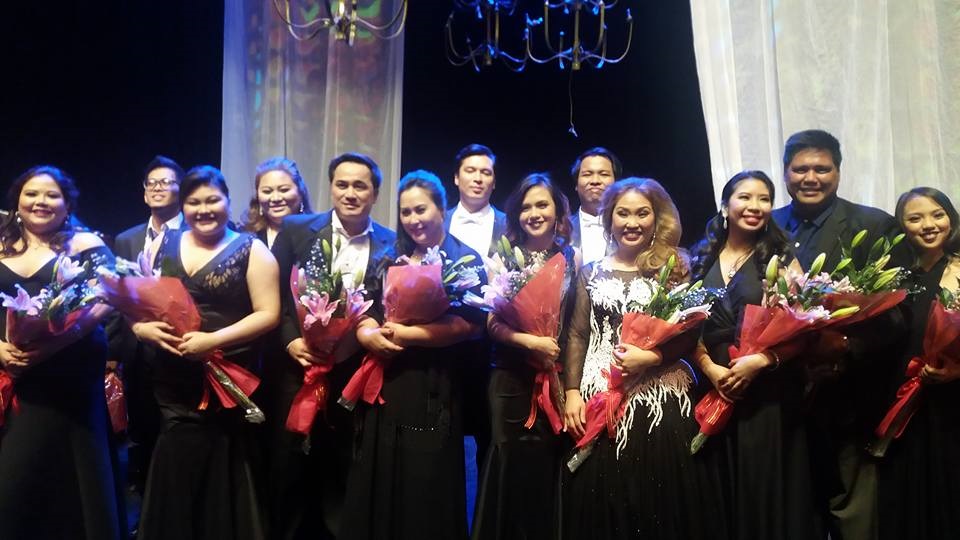 Tenor Arthur Espiritu
with the young artists in Music Artes' Opera Gala. Photo by Sinag de Leon.
The central figure of the Music Artes' Opera Gala at the newly built Maybank Performing Arts Center at the Global City January 15 was no doubt tenor Arthur Espiritu who generously coached the young artists and even agreed to sing duets with them.
This was obviously done to inspire the young artists and to give them a practical lesson on musical collaboration.
The first highly satisfactory musical pairing was his La Sonnambula duet with soprano Stefanie Quintin. The voices not only soared but blended beautifully to a breath-taking finale.
What could be the piece de resistance of the gala was the tenor singing Che gelida manina from Puccini's well-loved opera, La Boheme before the O soave fanciulla duet with soprano Anna Migallos.
The aria is one of the most feared with opera specialists comparing it to climbing the highest pyramid.
But alas, tenor Espiritu made it so relaxing to watch with not a trace of fright or fear on his face and delivering with such grace and power you could hear a pin drop in the concert hall.
What the young artists could learn from him is that he sings as well as he acts with those little nuances that make the duet doubly interesting. It was a perfect set-up for soprano Migallos to compliment her dashing Rodolfo. While her voice didn't disappoint, she looked too startled and star-struck by the tenor she made Mimi age younger with her teen crush look. But she quickly recovered in her solo, "Mi chiamano Mimi" and mustered enough vocal verve to make the duet, "O soave fanciulla" palpably touching.
Other notable gala numbers were those of soprano Quintin in a Meyerbeer aria from the seldom heard opera, "Dinorah." The voice was clear as a bell and every note carried the weight of fine musicality. Offhand, it was like listening to someone with the agility of Kathleen Battle and the divine phrasing of Dame Joan Sutherland. She is another perfect interpreter for the Bell Song from Lakme.
Equally powerful and well-acted was Krissan Manikan's rendition of Adieu forets from Tchaikovsky's Joan of Arc.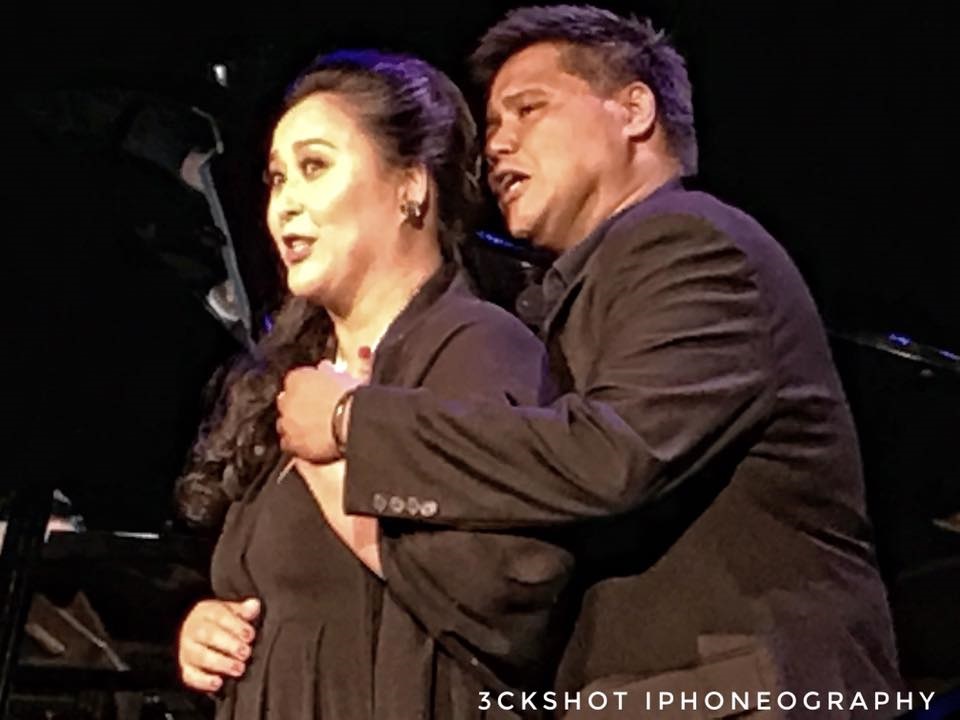 Last-minute baritone substitute Andrew Fernando with Kay Balajadia Liggayu in a Don Giovanni duet. Photo by Patrick Armando Pablo Victoria.
Without the benefit of rehearsal, Andrew Fernando filled in for an indisposed baritone and won rising cheers for his duet with Kay Balajadia Liggayu in the Don Giovanni duet, La ci darem la mano.
Other notable performances were those of tenor Nomher Nival (La donna e mobile), Lara Maigue (Doll Song), Ervin Lumauag (Ich baue ganz auf deine Starke from Abduction of the Seraglio), Tanya Corcuera (Sola perduta abandonata), Christian Nagano (Dein ist mein ganzes hertz) and Kay Balajadia Liggayu (Micaela's aria from Carmen) and Marielle Tuazon (Bell Song).
For once, tenor Espiritu gave Metro Manila's music lovers a rare interpretation of Count Almaviva's vocal bravura, "Cessa di più resistere" from the Rossini opera, Barber of Seville" which he dedicated to the late music critic and art patron Juan Antonio Lanuza.
The phrasing was a stroke of vocal genius and the intonation was revealing of the kind of vocal schooling he underwent.
Pianist Dingdong Fiel had a way of making the pieces come alive providing both drama and lyricism as called for by the arias.
Stage director Leo Rialp made a cohesive production out of those operatic numbers with assorted themes.
Meanwhile, an ecstatic audience cheered their encore number ("Cuesto al fin" from Don Giovanni and an ensemble arrangement of Nessun dorma from Turandot.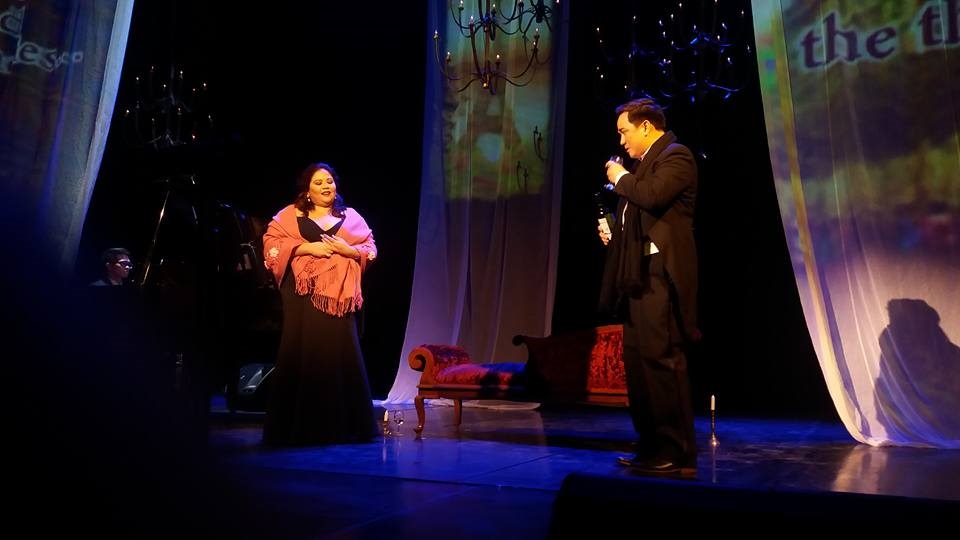 Tenor Arthur Espiritu with soprano Anna Migallos in a Boheme duet. The tenor doubly inspired. Photo by Sinag de Leon
The tenor told Vera Files 2016 was a good year for him with his debut at the Frankfurt Opera as one of the most memorable. "It was my debut with the company and my role debut as Rinuccio in Gianni Schicchi. It was amazing working with Maestro Jakub Hrusa, baritone Zeljko Lucic, and the wonderful orchestra. The company liked me very much so that was a very positive experience."
Equally memorable was his singing the Duke of Mantua as a last-minute substitute in one production in Kassel, Germany. "I only had one day to rehearse the entire production with the assistant stage director. It was a lot of stress and lots of watching. I only got an hour to see the stage and walk around it. They have all these maze-like passages backstage. I was lucky I did not miss any cue. So, exciting with all those things in front of you with people you never saw before and acted with on any rehearsals. It was like walking into a pit filled with lots of wolves. It was scary at first but when I started thinking I'm the Duke and I have done this role many times, it just sort of clicked in and it was smooth sailing after that."
The Filipino tenor is off to Australia next month for his debut at the Sydney Opera House in the lead tenor role of La Boheme starting February 24, 2017.
For him, the toughest part of the opera was the third act and the Act 1 finale. "Not only is it vocally taxing. It is so emotionally charged. Add to that the orchestra is playing at full mode along with your held high notes. My most memorable moment was when we opened Boheme in Magdeburg. I had no expectations but to do the best I could. That finale always gets me. It's so emotional that the drama grips you and takes you there."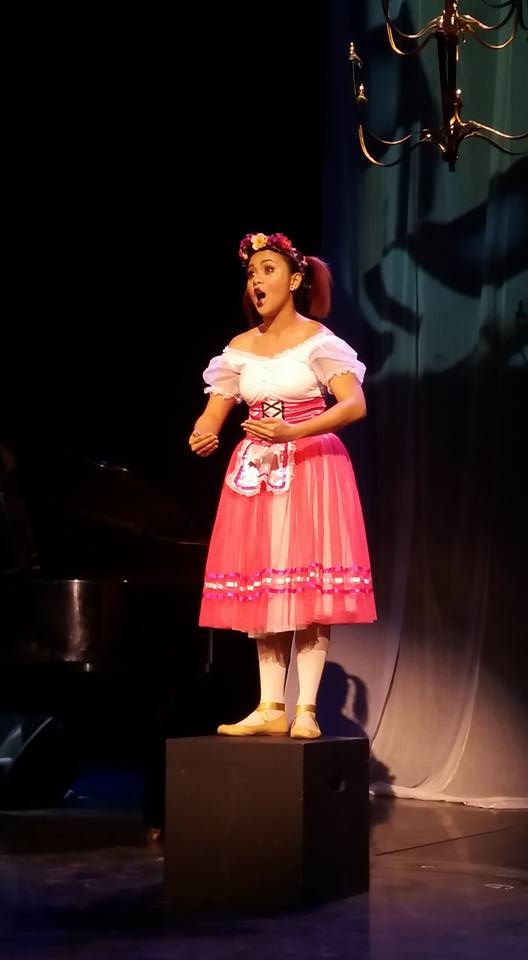 Soprano Lara Maigue in Doll Song. Good acting and singing. Photo by Sinag de Leon.