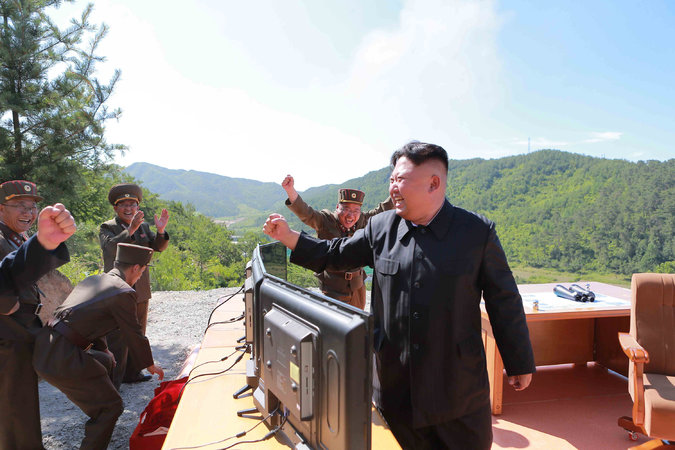 A photograph released by the North Korean news agency showing Kim Jong-un reacting after the launch. Credit KCNA, via Reuters

I'm intrigued by the results of the survey conducted by the American fact tank, Pew Research Center, showing only Filipinos, among seven countries in Asia Pacific, have a generally positive view of North Korea.
The survey was conducted between February and May this year, before North Korea's successful launching of an intercontinental ballistic missile last July 4. It was reported as North Korea's leader Kim Jong-un's gift to the United States.
The survey showed the Japanese are most negative on North Korea (94%); Australians, 82 %; the Americans, whose president is the most hostile towards North Korea, 78%.
Seventy-six percent of the South Koreans, separated from their Northern "brothers" just by a heavily guarded demilitarized zone, harbor unfavorable opinion towards the Nokor government with 17 % having favorable opinion.
The two other Southeast Asian countries included in the survey have a rather ambivalent view of North Korea. It's 50 (unfavorable) and 40 (favorable) among the Vietnamese and 45-32 among the Indonesians.
Among Filipinos, only 33 percent look with disfavor towards North Korea while more than half, 53 percent are favorable.
I find it unbelievable. I'd like to see the questions.
I'd like to know if it was clear to the respondents that they are being asked about North Korea, under the despot Kim Jong-un and not South Korea, the scene of romantic telenovelas that many Filipinos avidly follow.
But the same survey also showed that a big number of Filipinos (60%) are concerned about North Korea having nuclear weapons, next only to Japan (66%) and the U.S. (65%).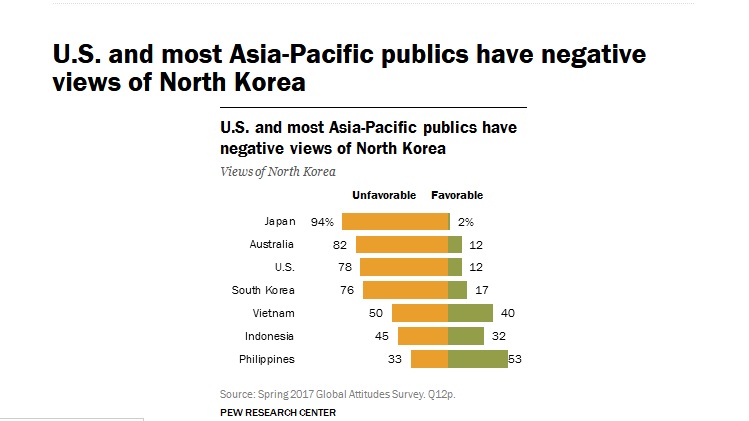 Rightly so because there are almosta hundred thousand Filipino workers in South Korea. Hostilities in the Korean peninsula would impact heavily and negatively on the Philippine economy not only because of Filipino workers losing their jobs but also on Philippine tourism which is being sustained by Korean and Chinese tourists.
North Korea may not be a next door neighbor but the Philippines is not immune to its mercurial leader's dangerous whims..
In fact, the April 2012 rocket launch of North Korea had something to do with the standoff between the Philippines and China in Scarborough Shoal which led to the filing of the Philippines of the case against China in the Permanent Court of Arbitration in The Hague.
Expecting that debris from the rocket to be launched by North Korea would fall intothe Philippine territory, the warship BRP Gregorio del Pilar was sent to monitor possible fallout in the northeastern part of the country.
Thankfully nothing untoward happened. BRP Gregorio del Pilar was on its way to Subic Bay for refuelling when eight Chinese fishermen were spotted in Scarborough shoal, 124 nautical miles off Zambales.
Disregarding the rules of engagement of white-to-white (civilian ship to civilian ship) and grey-to-grey (military to military), the warship intercepted the Chinese fishing vessels.The Chinese radioed for help and immediately, Chinese Coastguard surveillance ships came.
Realizing their mistake, President Aquino withdrew BRP Gregorio del Pilar the next day. But not after more Chinese vessels came. At the height of the two-month standoff , there were 80 Chinese vessels against three Philippine ships of the Coast Guard and the Bureau of Fisheries and Aquatic Resources.
U.S. intervention and backchanneling by Sen. Antonio Trillanes IV ended the stand-off. The Chinese and Philippines vessels withdrew from Scarborough shoal except three Chinese ships which remain there up to now.
China plays a very important role in making sure that the situation in the Korean peninsula is stabilized, a South Korean foreign ministry official said in a briefing the other day.
North Korea, with a stockpile of nuclear weapons,is dependent on China for its economic survival. Other countries, especially the United States, is pressuring China to lean more on North Korea. It will be recalled that Pres. Trump called up Pres. Duterte asking him to talk to China to put more pressure on North Korea.
But there is the complication of the Terminal High Altitude Area Defense system, known as Thaad, that the Pentagon has deployed in South Korea against North Korea which China thinks could also be directed towards them.
The Korean official said U.S., China and South Korean officials are threshing out the issue on Thaad missiles.
He stressed in South Korea's five policy directions for a peaceful Korean Peninsula, "We do not wish for North Korea's collapse and will not work towards Any kind of unification through absorption. Neither will we pursue an artificial unification."
They have four policy suggestions to North Korea: solve the pressing humanitarian issue; make Pyongyang Winter Olympics an "Olympic of Peace"; mutually halt acts of hostility around the military demarcation line; South-North Korea dialogue.
The challenge is to engage the isolationist regime. There may be a chance to do that at the Asian Regional Forum which will be meeting after the ASEAN Ministers Meetings first week of August here in Manila. North Korea is a member of ARF.