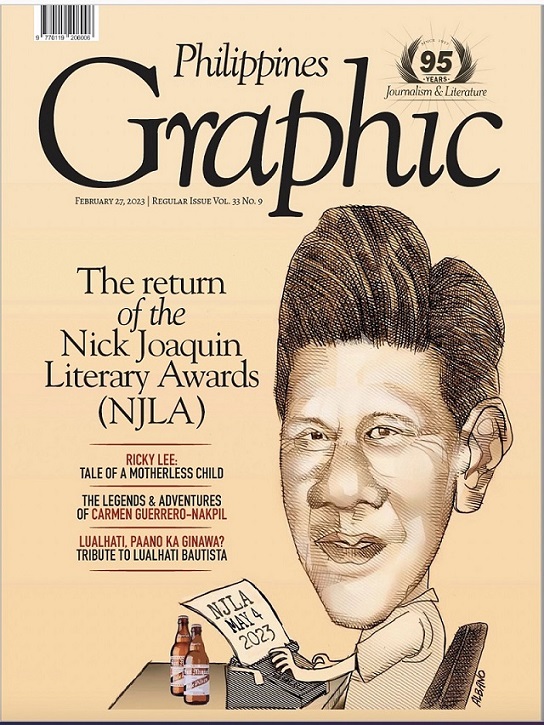 On Thursday, May 4, I will be at the newly revived Nick Joaquin Literary Awards (NJLA) sponsored by the Philippines Graphic Magazine.
The magazine was my first employer in 1971 as proofreader. It closed when Martial Law  was declared in 1972.
I am one of 48 poets being considered for the award.
No big deal.
But for me, it's big deal to be in the company of the year's good poets and short story writers.
For another, it is my first attendance in a literary awards night in 74 years. I am wearing the same 2017 barong I used for the wedding of a friend's daughter, the same barong I used in two awards nights before the pandemic.
My friends (at least most of them) are perennial Palanca Award winners.
I never attempted to join a literary contest.
The most I could do was heed the call of anthology editors.
Just seeing my name along with the country's best writers is enough for me.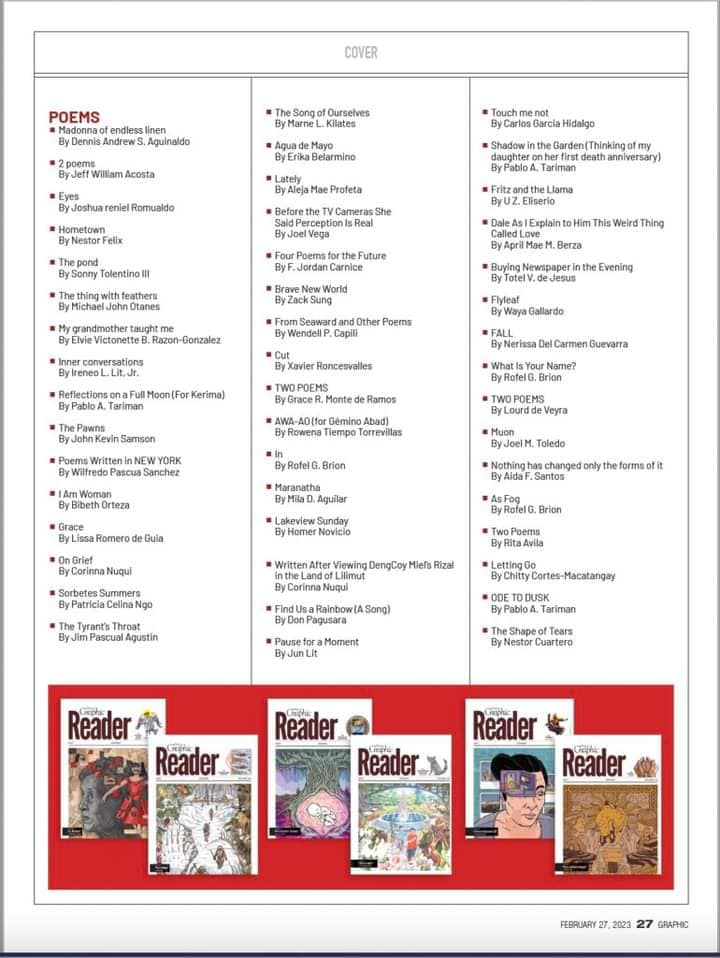 In 2021, I was one of 160 Asian poets world-wide included in the Best of Asian Poetry 2021-22.
I will be dishonest if I say I was not excited.
I was.
To this day, I can't believe I made it in that select Asian literary circle at least for that year.
Twelve years ago, in the observance of Manila's founding anniversary, I was named one of the Outstanding Manileños in the Arts along with National Artist for Literature Virgilio S. Almario and filmmaker Brillante Mendoza.
When I went over the Araw ng Maynila souvenir program, I couldn't believe it was the same award that went to writer Kerima Polotan and filmmaker Peque Gallaga.
I was cited for keeping classical music alive in the Noble and Ever Loyal City at the Philamlife Theater, Fort Santiago and at the Manila Metropolitan Theater, among others.
The awardees were crowned with something that looked like a poet's laureate crown and Gemma Araneta (then with City Hall's Cultural Office) noticed I was close to trembling when I was being crowned as one of the awardees by Mayor Alfredo Lim.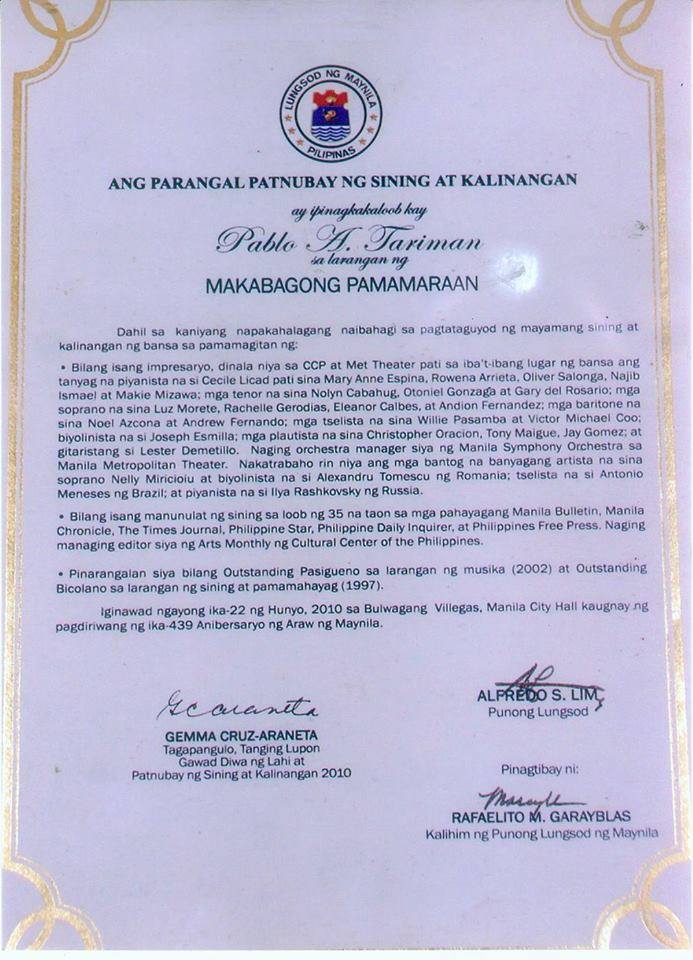 What I didn't expect was that the award came with a cash prize that took care of the month's house rental, electric, water and telephone bills.
The other citation and award given by a Cebu Foundation in 2002 for bringing classical music all over the country also came with the P50,000 cash prize.
The cash prize was announced by Cagayan Bishop Diosdado Talamayan after the concert of Cecile Licad in Tuguegarao City.
I received the award and cash prize in Cebu City from no less than the late Ricardo Cardinal Vidal. I was given a round-trip ticket to Cebu to pick up my prize.
I stayed in a musician's house with a pool. I remember doing my laps while a popular concerto in the 50s used as background music in teleseryes was being played live by the lady of the house.
Other medals and awards Manila, Pasig City, Legazpi City and Catanduanes are now with Museo de Catanduanes – along with other personal memorabilia.
As usual, I refuse to keep any photos of the awards night.
A few years back, I was named one of Outstanding Bicolanos in the Arts by the Bicol Arts Festival along with Eddie Garcia, Jaime Fabregas and Nora Aunor.
I skipped the awards night. I couldn't afford to fly to Legazpi City just to pick up the award and I couldn't afford a hotel accommodation.
Honestly, I don't know what to think of awards when they come without warning.
Truth is  I'm not achievement-conscious, and I don't consider citations and trophies as additional "feathers" in my cap.
I live  life the way I see fit but the truth is I don't follow rules of ideal living.
That's the reason why I don't keep trophies and citations at home and long before my retirement, they all ended up at the Museo de Catanduanes where I felt they belong.
Meanwhile, I continue to ride jeepneys and tricycles. I am still renting an apartment when classmates and friends have long acquired houses and cars and condominiums.
I am not awed by new technology; I continue to use the same old cell phone that will make millennials cringe and scream Ewwww!
I  only have a pair of pants, a coat and tie for formal events I was able to buy only after 66 years of earthly existence.
I have an early lunch at home because I want to save money in a Wednesday Club whose members don't exactly share my "vow of poverty," so to speak. They have reached a level of living where they can claim fulfillment and rightly so.
But outside of our respective personal and social status, we share both life crisis and some little personal triumphs. After years of sharing Wednesday lunches together, I realize we share something in common: early loves and early sorrows, marital separations (I only have a ring when I got separated, confided the most beautiful woman in the group), growing up problems with kids and grandchildren and recurring sickness and death in the family and circle of friends.
But most of all, we share a common passion: love for music and books, love for good company and common disgust for leaders who don't measure up.
And so, what do I do when awards come?
When a weekly magazine named me one of the year's (1989) Good Guys, I was dumbfounded. I suddenly found myself in the company of the venerable senator Lorenzo Tanada (A Vanguard Old and Wise), Justice Jose Colayco (A Good Man in a Mean Job) and me (The Impresario in Street Clothes).
Their criteria: "We think that a good person must have been prodigal at one time or other of himself to others, whether in charity, in a feat of courage, in an act of compassion, or in a deed that benefited his fellows despite (personal) adversity."
It turned out that the media person who nominated me took note of the audiences I made happy with a series of concerts at the Manila Metropolitan Theater (from Cecile Licad to Rowena Arrieta and Nelly Miricioiu) and soon found out I was a virtual beggar after every concert.
 How I managed to mount a concert with zero sponsorship meant I had to cope with huge deficits and other untold sorrows of an impresario.
If that citation was meant to assuage me for all financially disastrous concerts, it finally meant something to me but only for a few seconds. It meant they saw something in me that I refused to see — that the audiences I made happy with first-rate concerts went home with something that enhanced their quality of life.
When I got the Outstanding Bicolano award in 1997 for arts reporting, I don't know what to make of it. The awards night came before a provincial concert and the whole night while my so-called "achievements" were being flashed on the screen and being glossed over by the emcee, I was wondering if I'd have an audience the next day for the first cello recital in Albay.
Indeed, awards come when I was preoccupied with something else and I was in no position to enjoy them.
Other awards came in my late 60s, two of them with cash prizes and round-trip air tickets to the awards venue. This is one rare moment when you hold "big" money the equivalent of one-year writing.
Another award was announced by email two years ago and it has something to do with what I did for the performing arts in the last forty years. You realize they give awards when you are old and dying and ready to face your Creator.
But when I was told I had to fly to the venue some 500 kilometers away and spend for my air tickets and accommodation and extra expenses for kin and friends attending the awards night, I knew I couldn't afford this award.
I decided I could not afford this awards night and so did a couple of actor friends name as co-awardees. When you earn less than P20,000 a month and spend all of it in air tickets and hotel accommodation all in one day, you realize this award doesn't make any sense.
I rued that if I accepted that award. I would end up sleeping by the door of Albay Cathedral for my accommodation. I'd have to open the churchyard faucet to freshen up before the awards night.
But some awards nights were really memorable.
In 2018 when I received my first Aliw Award again for covering the arts for more than four decades, I got my first rock star treatment.
I thought the applause was a bit deafening I couldn't figure out what the emcee was saying. When I reached the stage, more applause and cheers and hooting. When I realized Lea Salonga and other awardees were in the audience, I thought this was all worth it.
In February 2020 before the pandemic became critical, I received my first Leaf Award for "Excellence in Arts Advocacy in Media" at the Carlos P. Romulo Hall.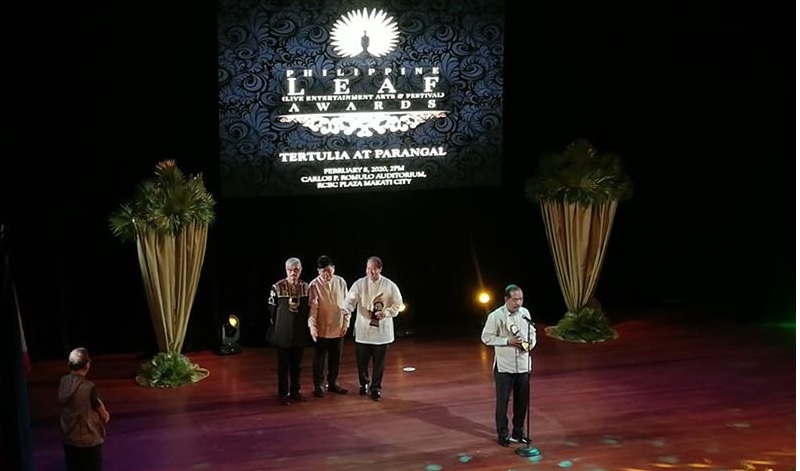 I was more comfortable because the venue didn't look like Araneta Coliseum and I could negotiate the stage fast and settle on my seat just as quick. I prepared a short acceptance speech but I could only use one paragraph because the speech police would start appearing at the wings to remind you to cut short your moment of glory.
Make no mistake about it, I do appreciate awards. They don't improve your bank account, they are not passport to comfortable living. But at least for a brief moment, you remind yourself after making a big mess out of your life that in the past, you must have done something good.