A video on Facebook (FB) is claiming that China has sent 70 aircraft vessels near the West Philippine Sea in response to the Philippines bolstering its territorial defense efforts. This is bogus.
On April 21, an FB page published the video that bore the headline: "CHINA DI KINAYA ANG DEPENSA NG PINAS! NAPILITANG MAGPADALA NG 70 AIRCRAFT MALAPIT SA MGA ISLA (China couldn't handle the Philippines' defense! Forced to send 70 aircraft near the isles)!"
The video's narrator made no mention of 70 warplanes being sent by China. It talked only about China keeping a watchful eye on Taiwan, as well as the Philippines' annual military exercise with the United States called Balikatan held from April 24 to 27.
VERA Files Fact Check has already debunked this claim this month. The sending of Chinese aircraft was unrelated to the Philippines.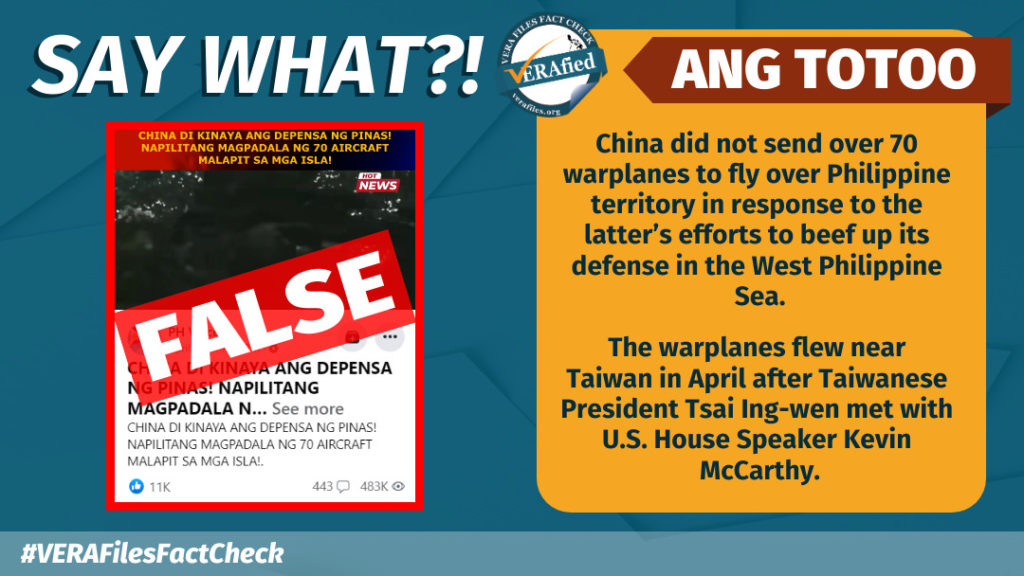 More than 70 Chinese aircraft vessels flew near the borders of Taiwan on April 8 after Taiwanese President Tsai Ing-wen met on April 5 with U.S. House speaker Kevin McCarthy.
(Read VERA FILES FACT CHECK: US, PH soldiers DID NOT expel Chinese ships from South China Sea)
There are no recent news reports on China allegedly sending military aircraft near the territory of the Philippines amid the 38th iteration of the Balikatan Exercises.
This false video emerged a week after Chinese Ambassador to the Philippines Huang Xilian warned that the safety of 150,000 overseas Filipino workers in Taiwan could be in jeopardy if the Philippines did not oppose "Taiwan independence" and refuse the U.S. access to its military bases.
FB page PH Voice (created on Sept. 19, 2022) published the video that garnered over 11,000 reactions, 440 comments, 760 shares and 481,000 views.
Have you seen any dubious claims, photos, memes, or online posts that you want us to verify? Fill out this reader request form or send it to 'VERA, the truth bot' on Viber.
(Editor's Note: VERA Files has partnered with Facebook to fight the spread of disinformation. Find out more about this partnership and our methodology.)