BY ELIZABETH LOLARGA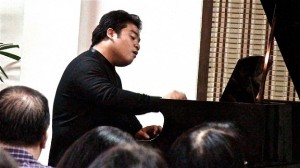 WHEN he walks towards the stage, young pianist Oliver Salonga traipses on light toes despite his heft.
One wonders if the name he uses for his email, keroberong, is a sound-alike Filipinized version of care bears.
Salonga, 25, who is returning to the US for his doctoral studies in musical arts and piano performance at the University of Southern California (USC) this month, laughed before saying, "You nailed it. My friends thought that I look like a care bear. Maybe they still do.  It was during my high school years at Makiling (Philippine High School for the Arts or PHSA) when my classmates decided to give me that nickname. I guess it stayed."
He will study with Norman Krieger, whom he described as "a phenomenal pianist and pedagogue."
"My biggest concern is having three academic minors instead of writing a dissertation," he said. "I am most probably doing my minor in theory, conducting and piano pedagogy."
For his summer break, he managed to squeeze in a recital at the University of the Philippines' Balay Kalinaw with a program of heavy-duty pieces by Schumann and Liszt that had the organizers and his mother Aleli worried and praying that the baby grand piano rented for the evening would hold up from all the pummeling Salonga did.
"It took a lot of time for me to realize the pieces that best suit my personality and ability," he said. "It is important to know one's self deeply and to realize musical emotions and characters that are closely affiliated and natural to an artist's personality."
He went on: "The muscle memory or strength comes from practicing, but the affinity to the music is the element that must be the utmost consideration."
As though his performance was not enough, he obliged members of the audience who were on their feet applauding with the rarely heard final movement from Samuel Barber's Piano Sonata Op.26 in E-flat minor (Fuga- Allegro con spirito).
Since Salonga graduated from PHSA, his life has been devoted to studying music. He isn't about to complain. He finished his bachelor's degree in music at Lynn University in Florida in 2007. In 2009, he got his masters in music from the Cleveland Institute of Music and quickly studied for another artist's diploma in piano performance at the same school. He received his latest diploma this year.
He said the life of a person who has been studying piano for almost 18 years has its ups and downs. Sometimes, he said it can be depressing when making a piece of music does not come easy or natural to him.
He added that almost a decade of performing to the public has brought a lot of inspiration and encouraged him to keep doing what makes him happy — that is, playing the piano.
"All of my teachers have been influential to my growth as a musician and as a person," he noted. "All of them have been hard on me to strive for perfection and excellence—to never be afraid to take risks."
He acknowledged his parents, who have been very supportive of all of his endeavors, saying: "I owe everything to them (his parents), and I hope one day I will be able to reciprocate what my family has given me."
He recalled that his mother would take him school, watch his lessons, write everything the teacher says, and made him practice regularly to make sure he does not forget everything.
"My parents were not musically-trained like Mrs. Rosario Licad (Cecile's mother), but they devoted most of their time to make sure I got all the right resources I needed," he said.
The first time he got separated from his family was when he studied at PHSA. It was very hard for him because he depended so much on his parents.
Asked who of the masters from the Western canon he would like to be identified with in terms of uniqueness of interpretation, he replied: "The Schumann humoresque or fantasiestucke, opus 12 that I just performed."
He said Schumann has a lot of different emotions and character in his music and that he has a strong affinity to his music mainly because of his complex personality.
"I can be very introverted, passionate, warm, aggressive, playful and dramatic," he shared. "People often tell me that I am unpredictable because of my moods. These moods enable me to evoke the different emotions and characters in Schumann's music."
Photo by Mila D. Aguilar