By PABLO A. TARIMAN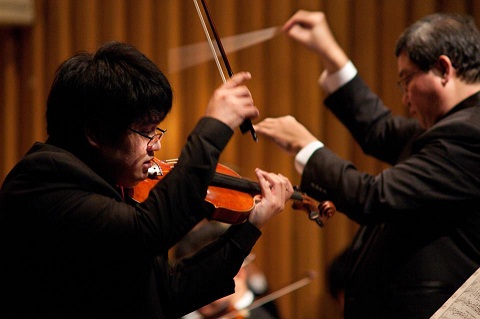 THE gift of being an artist comes with a price.
When the Manila Symphony Orchestra  performs  at the UP Abelardo Hall in Diliman, Quezon City on Tuesday, August 20 ( 7 p.m.), concert-goers will be treated to a music honed by struggles and triumphs.
Many of MSO members are  winners of the National Music Competition for Young Artists, which is observing its 40th year. Three of them are conductor, Arturo Molina, and the two soloists, violinist Diomedes Saraza, Jr and pianist Oliver Salonga.
Another  feature  are shared by the  conductor and soloists: they were — for a while — separated from their families for studies and scholarship abroad.
The three are living witnesses that it is not easy to live and study abroad, cope with pangs of loneliness and learn how to fend for themselves without their parents.
"Abroad, you learn new study habits on top of cooking your own meals, doing your own laundry while preparing for exams," said conductor Molina who studied in the music conservatories in Kiev and Moscow in Russia. "The Filipinos you occasionally met are mostly working in the embassies and there is no night life. Once in a while, you make do with buying vodka and drinking it alone in your room. Now, how's that for a night life in Russia? When you see that students there would rather practice than enjoy night life, you realize your life and your future revolved entirely on how well you study your music."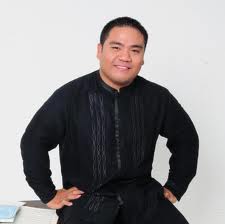 Pianist Oliver Salonga has been living and studying abroad on assorted scholarships.  He earned a music degree at Lynn University in Florida in 2007, got his masters in music from the Cleveland Institute of Music and now finishing a doctorate degree in California. He can't describe how tough it is to make it abroad. The separation from parents is one and studying hard to keep the scholarship is another.
He was discovered by Rosario B. Licad (mother of Cecile), also trained under Marietta Cruz and Carmencita Arambulo and on to Roberta Rust in Florida. While in New York, he was also coached by Cecile Licad.
"All of my teachers have been influential to my growth as a musician and as a person," he shared."All of them have been hard on me to strive for perfection and excellence—to never be afraid to take risks."
Sharing a common love for music and the value of hard work, Molina and Saraza are examples of a good teacher-pupil relationship that works. It was also under Molina that Saraza won his first competition.
The conductor can spot a real talent when he sees one and he saw it in his pupil. Back in Russia, he has to learn one or two etudes a week and Saraza did the same.
"Early in my studies," intimated Saraza, "I learned to program myself for tough assignments. I always remind myself I can do it."
Molina wasn't just one of Saraza's teachers (on top of studying with Basilio Manalo); he was also one of his conductors in the performance of concertos of Bach, Khachaturian, Mendelssohn and lately, Bartok.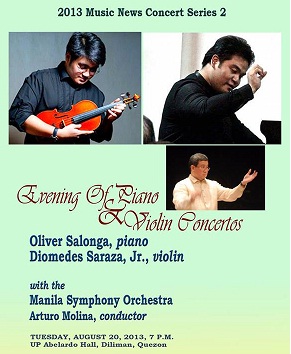 Indeed, it is a big advantage to have your own teacher as conductor.
Molina said that when you have played the piece yourself, you have more confident of good result when it's the turn of your student to perform it.
Saraza stressed the importance of a good relationship with one's  teacher is important. "I prefer that I be not babied, to call a spade a spade and not to sugar-coat it just to make it acceptable to me. I learn more that way and my level of confidence goes up. Working with Sir Toti (Molina) this time as a conductor, nothing has really changed. I can still feel the special bond and the chemistry is still there," he said.
Molina said to see his student blossom into a first-rate soloist is one of the fulfillments of a teacher. "Of course I feel proud when I see my student get the kind of audience reaction that warms your heart. When you see that happen, you feel as though you have done one big accomplishment before you move on."
Saraza remains hopeful about the future of classical music in the country.
With reports of endless scams burying concert announcements, the violinist finds fulfillment in an audience transported to greater heights by the power of music.
"Of course the situation for appreciating classical music is not yet that ideal," he pointed out. "But when you see an audience cheering, you realize there is hope for music in this country. You just have to keep on hoping for the best."
(The August 20, 2013 UP Abelardo Hall program of the MSO with Saraza and Salonga program includes Dvorak's Carnival Overture, Op. 92; Bartok's Violin Concerto No. 2 in B Minor, Sz. 112 and Chopin's Piano Concerto No. 2 in F Minor, Op. 21. For inquiries, calls   576-3132 or 0906-5104270.)