By PABLO A. TARIMAN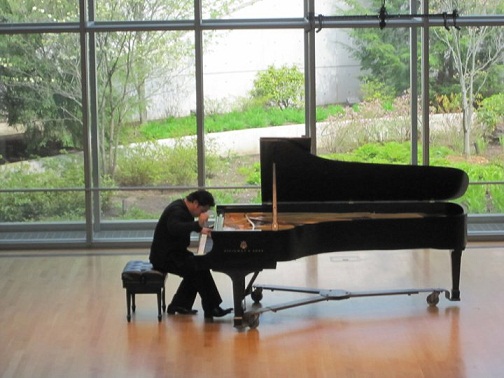 WHEN a music critic referred to him as a "dazzling pianist" during his graduation recital at the Philippine High School for the Arts many years back, it seemed that Oliver Salonga's winning streak was sealed
He won the University of the Philippines Concerto Competition with Rachmaninoff's Piano Concerto No. 2, the overseas concerto competition in Lynn University in Florida with Liszt No.1.
Again, he copped the Sadie Zellen Piano Prize at the Cleveland Institute of Music where he obtained his Master of Music and Artist Diploma in Piano Performance under the guidance of 2001 Van Cliburn Silver Medalist, Antonio Pompa-Baldi.
After winning the National Music Competition (NAMCYA) twice, Salonga went on to win his first international crowning glory: a gold medal in the 2008 Joenju International Piano Competition in South Korea.
Of  late, he was among the six finalists  in the recently concluded University of Southern California (USC) Concerto Competition with Chopin's Piano Concerto No. 2 in F Minor Op. 21.
(VERA Files earlier reported that Salonga was in the top three in the competition. We regret the error.)
By now, Salonga has learned to treat competition only as a means to improve his craft and no longer to prove himself to others.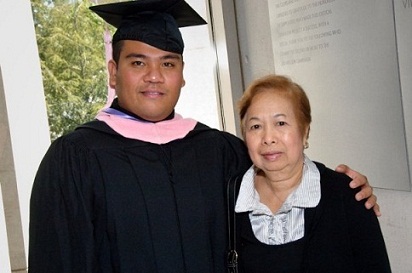 "Competitions are all the same regardless of whether it was held in your home territory or abroad," Salonga added. "What should count is how you played, how other competitors fared and how the jury liked your playing. The winners have qualities that others don't have but not all of them have something good to offer. So in competition, you learn to absorb what is good even among the losing participants. So what you have to offer plays a very big factor. On top of that, some pieces are easier to pull off compared to others. I challenged myself to offer Chopin even if I knew I could have offered Rachamninoff or Liszt. I believe and still believe that I have a strong affinity and concept on how Chopin should be played."
Salonga will play Chopin with the Manila Symphony Orchestra on Saturday, August 31, 7 p.m. at the UP Abelardo Hall, Diliman, Quezon City.
By coincidence, it was also Chopin's Piano Concerto No. 2 in F Minor, Op. 21 which won for the then 11-year old Cecile Licad the 1972 Manila Symphony Orchestra Young Artists Auditions.
Salonga  chose the concerto among other pieces because of  its sound. "First of all, I love the melodies. I love the emotion each phrase has and how it builds to explosive climaxes. Of course, this could be attained if you create a good and sustained line. Chopin melodies range from Italian bel canto opera influence, to Polish national dances, and to his personal feelings. It is also rich in classical elements fueled by Romantic spirit."
Other challenges await the soloist according to Salonga. "The ultimate challenge is to be able to sing each note and to be to relate each note to the entire composition. In other words, each note has a life on its own. It's not like Liszt or Rachmaninoff where group of notes could act as a color or a layer. In this Chopin piece, they are all melodies regardless of whether it's a run or a single tone."
Before his advance studies in Cleveland, Salonga had been discovered by Rosario B. Licad (mother of Cecile) and also  trained under Marietta Cruz, Carmencita Arambulo and on to Roberta Rust in Florida. While in New York, he was also coached by Cecile Licad.
At the USC, Salonga is  under  Norman Krieger's guidance.
He likes to think he learns many things from different teachers.
"Mr. Krieger gives direction to my playing. He teaches me how to use my tools and feelings to serve the music. He has wide range of ideas with sound. He gives me different ways on how to create colors matching the intent I have. As a person, he is realistic and he is practical. I love working with him."
Before heading for California where he got a good scholarship package, Salonga also cited the lessons he got from Van Cliburn silver medalist Pompa-Baldi while he was in Cleveland. "He was quite young when I studied under him. This sometimes affected his ability to really articulate his thoughts. But he is a very great demonstrator in the sense that his guidance enabled me to see what approach you should take and what sound you should try to achieve. It was an advantage that he was fresh from the competition circuit [aside from the silver medal in the 2001 Cliburn, he won first prize in the Robert Casadesus and Marguerite Long International Piano Competitons]. By now, he knows what the circuit juries are looking for. I will always remember what he told me before I did Florida International many years back. He said, 'Stop blabbing about nonsense… You worry too much. Just play well.' The most important thing is that I learned more from his outlook in music, which is to always push oneself, and not be afraid to take risks and to always strive for perfection."