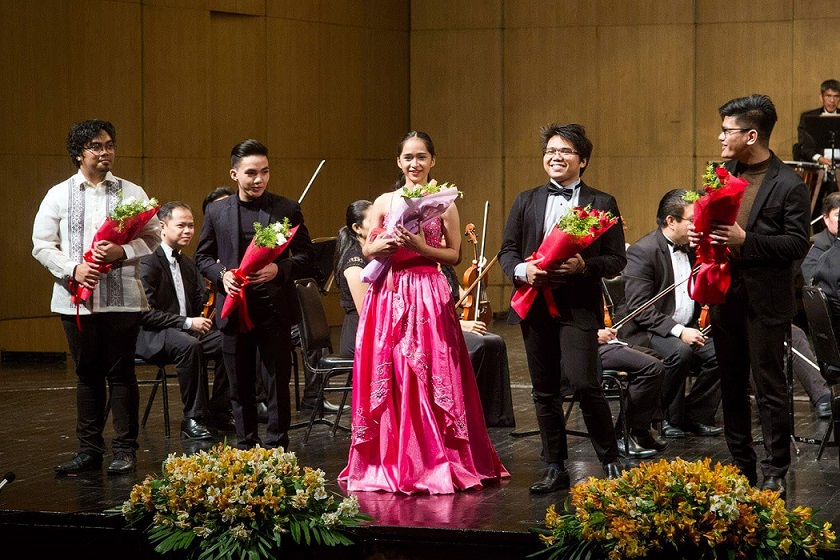 The NAMCYA winners during a curtain call. Thrilled to play with PPO. (Photo courtesy of NAMCYA)
By sheer will and determination, young classical musicians still find a way to survive a pop-dominated musical milieu.
Once in a blue moon, they get to perform with the Philippine Philharmonic Orchestra (PPO) which cost a fortune if hired privately.
But with the new CCP administration determined to bring the arts closer to young people, a lucky batch of young prizewinners of the National Music Competition for Young Artists (NAMCYA) got to play with the PPO without touching their family savings.
The last two months saw prizewinners getting extra exposure by way of a new concert series focusing on young artists.
Violinists Joaquin Gutierrez and Alan Ong played with the PPO under the baton of Maestro Yoshikazu Fukumura and were cheered by old and new music fans alike.
Gutierrez along with pianist Mary |Anne Espina did a first-rate recital during the weekend at the BDO Francisco Santiago Hall.
Sunday afternoon at the CCP, a new batch of NAMCYA prizewinners were soloists of the PPO under conductor Herminigildo Ranera in a move to fast track career paths for young artists.
Andrew Constantino made his clarinet sing in a movement from Carl Maria von Weber's Clarinet Concerto No. 2, Op. 74. Solid technique and artistry merged in the performance you foresee more audiences for the clarinet with this soloist as foremost exponent.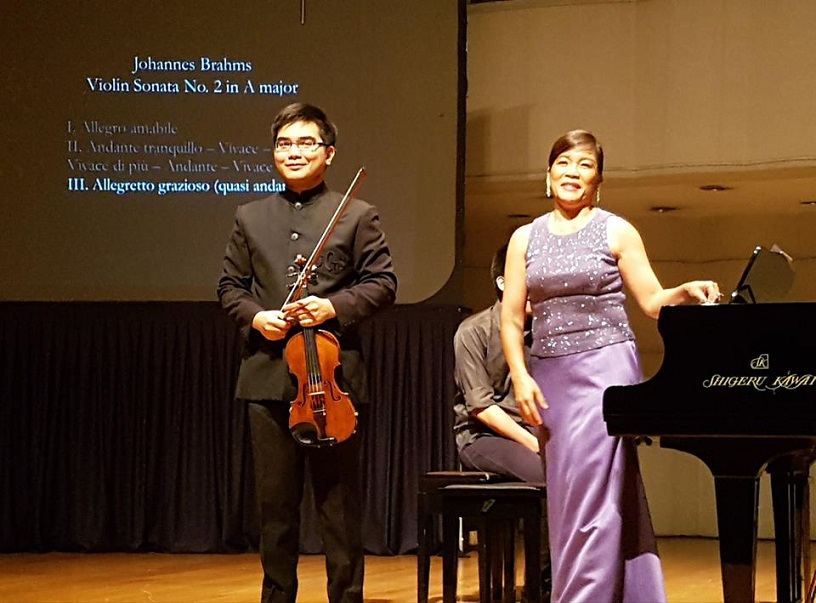 Violinist Joaquin Gutierrez with pianist Mary Anne Espina. Audiences loved Chausson's Poeme. (Photo from the violinist's Facebook)

There was so much lyricism in the adagio movement in Joaquin Rodrigo's Concierto de Aranjuez with Aaron Aguila as soloist while banduria soloist Nikki Zen Obmasca was a big revelation in Paganini's Moto Perpetuo.
Almost too good to be true was the rendition of a movement from Mendelssohn's Violin Concerto, Op. 64 with Dipolog-born Misha Romano as soloist. Only 19 and the first violinist from Mindanao to win in the violin category of NAMCYA, Romano had the peerless tone of an instrumentalist and the artistic passion to make the concerto come alive with a musical instrument that is not exactly the best he could have. His progress is phenomenal because he started with piano lessons and took up the violin with lessons learned solely by Skype from US-based teacher Noel Martin.
Pianist Gabriel Paguirigan chose a rarely heard Bartok Piano Concerto No. 3 and shone in the last movement. It was obvious he could use a much more syncopated rhythm from the orchestra but then he did what he could and showed there was more challenge in rarely heard piano concertos.
The weekend PPO concert was virtual orchestral debut for at least three prizewinners namely Aguila, Romano and Obmasca.
Aguila told Vera Files: "Performing with PPO was like living a dream.I have always wanted to play Concierto de Aranjuez with the orchestra.I really enjoyed and learned a lot from the whole experience. It was a big honor but the pressure was also there.But then after the rehearsals, I realized I just need to play from the heart."
Aguila added concerts for young people will certainly help them grow as an artist while also getting the opportunities to meet people who can help us. NAMCYA should do this on a regular basis. It will mean a lot for young artists."
Romano admitted his first stint with PPO was his orchestral debut for a concerto. "It is a glorious feeling to hear the whole orchestra playing with you. The piano accompaniment which was all I could afford finally metamorphosed into different timbres and textures of harmony achieved by the different instruments of strings to wind and percussion in an honest-to-goodness orchestra."
Being from Mindanao, Romano said he has limited exposure but that does not prevent him from continuing his studies "to achieve a higher level of playing."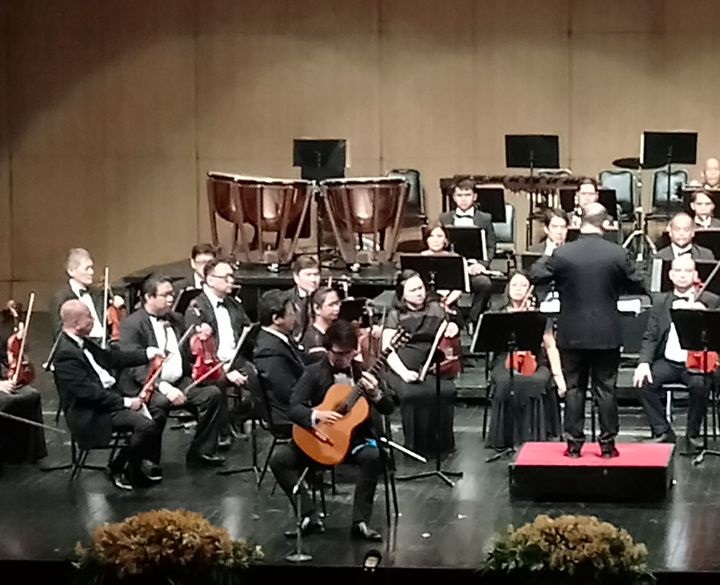 Classical guitarist Aaron Aguila with PPO. Playing the Aranjuez concerto was like living a dream. (Photo by Jeun Dagdag)

"I think we should never stop to strive for excellence. Presently, I'm trying to learn pieces that are difficult and challenging for me.The advantage of being a musician is that life is never boring. It is always exciting with new challenges always ahead of you," he added.
Clarinetist Constantino said playing with an orchestra was like participating in a one-act opera during Weber's time. He read all he could about the composer's musical life and learned that his concerto was dedicated to a clarinetist named Heinrich Baermann (1784-1847), who was very lyrical as he was a virtuoso. "I had little problems with dragging tempo during the rehearsal but on the whole, I believe conductor Ranera did well."
Like the rest of the prizewinners, Constantino also believed more outreach concerts featuring young artists should be heard all over the country just like what he did last year." We want to inspire other young artists who want to make good in their career path. My musician's life for the moment is just like a piano. The white keys — were the major chords are — represent happy memories and opportunities and the black keys were for surviving bad times.If you put them together, they actually make for beautiful music."
In a message, CCP president Arsenio "Nick" Lizaso said the future of classical music lies on the young performers and young audiences. "We at the CCP should really work hard to make classical music relatable to millennials," he added.
NAMCYA secretary general Renato Lucas admitted that having talents is not enough. "It takes a lot to pool resources and an even greater amount of energy to create an environment where young talents can thrive and flourish with an eye for future audiences."