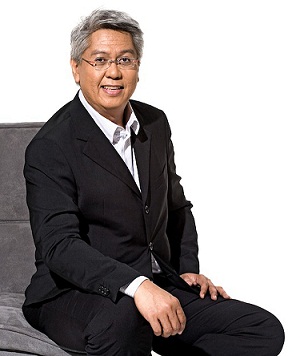 By JOSEPH CORTES
THERE is a sense of anticipation surrounding the Philippine Philharmonic Orchestra's concert on Friday, Jan. 25, 2013.
The show, which celebrates the 40th anniversary of the country's national orchestra, features a violin concerto specially commissioned to mark the occasion. In a country where the appreciation of classical music is in the minority, such a concert would not merit attention. However, if you knew who was tasked to write this commission, the advanced notice the concert is getting wouldn't surprise you.
The composer who wrote the violin concerto is venturing out of his comfort zone. Although he regularly works with orchestras on a variety of concerts and events nationwide, his name is more associated with popular music. Indeed, his success as a songwriter has inspired many young musicians and composers to explore the pop music field.
And who is this composer? Mr. C. himself, Ryan Cayabyab.
This early, Cayabyab admits to having no expectations about his composition. It was a commission that he just fulfilled. The fact that it was for a violin concerto did not faze him at all.
"I have no expectations whatsoever regarding the outcome of this violin concerto," he admits. "If it begins a new trend or fashion of writing in the serious vein, I would just be happy having contributed my share. If it catches up with other parties, like the sponsors, the artists, the other young or senior composers, or the orchestral or educational institutions, and they churn out equally or better serious pieces, then I would really be happy to have been part of the movement or the trend."
This is Cayabyab's first time to write a concerto, or a full-blown classical composition for that matter. While he has been orchestrating kundiman and pop tunes for concerts, he has not really written anything specifically for the symphony orchestra. Likewise, it is his first time to write for the violin.
"I did not prepare for this concerto. I allowed my entire musical life to freely produce the ideas for the violin concerto. I did not listen to any violin concerto. I am not fond of listening to violin concertos," he says in jest. "My only guide was whatever string knowledge I have through years and years of writing arrangement for orchestras. Of course, solo violin writing is a different animal altogether. But, I embraced it and excitedly wrote my ideas as they flowed."
The concerto is in three movements, and lasts about 25 minutes. He describes the piece as "eclectic as my varied other musical outputs."
"As a whole, the listener will be treated to a strong melodic theme in each movement," he explains.
Prior to this violin concerto, his other compositions, which could be considered classical in character, include two Masses, one for a capella choir, and another for chorus and orchestra. His musical "Spoliarium," a rock musical on the life of Juan Luna, has roles for opera singers.
Reactions from those who have heard the concerto in rehearsal have been positive, although Cayabyab admitted that the PPO members couldn't believe he wrote the piece. Although the work is a commission by the PPO, he considers it as a gift to Dino Decena, who is premiering the work. Decena was concertmaster of the San Miguel Philharmonic Orchestra, which Cayabyab led as its music director. The violinist is also the incoming PPO concertmaster.
"Last Friday, I bumped into a member of the PPO outside Manila, and he volunteered, 'It seems you wrote this piece for Dino. He plays it like it was for him alone'," he adds. "I already had a light discussion with conductor Olivier Ochanine regarding the piece. According to him, it is a fun piece. Let's wait for the performance and see if the piece is indeed fun."
Surely, if you ask anyone who they consider to be their favorite Filipino composer is, Cayabyab's name would be on the list. Of late, Mr. C has been enjoying a revival of some of his works. Tanghalang Pilipino restaged his "Noli The Musical" last year, while Ballet Philippines also brought out its original production of "Rama Hari." Just last week, his musical "Katy," which is based on the life of Filipino jazz great Katy dela Cruz, opened to a new production.
"Everything comes together for a reason," he says. "This violin concerto has fallen into my lap… and there must be a reason for it. 'Rama Hari' was there because dance was experiencing an upswing, and Alice Reyes' prominence as a dance visionary in the country affected the other arts. As for "Katy," I had been working with Celeste Legaspi as her music director in all her concerts here and abroad. She was the producer of 'Katy,' together with Girlie Rodis, who was her manager. They would not go far tapping other composers since they know my work ethic. It is impossible not to be noticed if you do good work, more so if it is excellent work. I believe that if you are the best in your field, everything else follows."
What's next after his violin concerto? There is a commission for a symphonic poem from the Manila Symphonic Orchestra, as well as a request for a cello concerto, an instrument, which Cayabyab studied in music school.
"I will see first what this violin concerto will bring with it before embarking on another serious work," he explains. "The written work is vastly different from the performed work, especially if it is a new work. Performance practices will eventually smoothen the rough edges of the written work. I will be excited to see the markings of misters Decena and Ochanine on their scores."
For details about the Philippine Philharmonic Orchestra's concert, visit culturalcenter.gov.ph.