By YOLANDA  L. PUNSALAN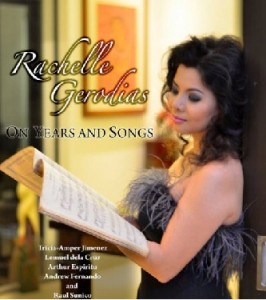 "ON Years and Songs" was a glimpse of the life of Rachelle Gerodias, one of the country's leading sopranos, on and off the stage.
Held at the Cultural Center of the Philippines' Abelardo Hall last Saturday it was a tribute to Gerodias on her fortieth birthday.
Love and friendship and positive vibes overflowed for Gerodias that evening, as she and her guests, CCP President and pianist par excellence Raul M. Sunico, tenors Arthur Espiritu and Lemuel de la Cruz, baritone Andrew Fernando, gospel singer Tricia Amper-Jimenez and businessman and aspiring tenor George T. Yang treated the audience with a program that featured music from Italian opera, Broadway, and movies; kundiman, Filipino pop, and Christian worship songs.
Manila Philharmonic Orchestra conducted by Rodel F. Colmenar completed the impressive cast.
Gerodias dazzled the audience with all her numbers, but seemed to be her dramatic best when she sang "Awit ni Sisa from the opera Noli Me Tangere" by Felipe de Leon.  It was rare seeing a deranged but still beautiful Sisa, unlike all stereotypical renditions depicting this Noli character as unkempt as a hobo.  The star soprano wore a subdued chocolate brown butterfly-sleeved gown and kept toying with a red long-stemmed flower as she sang Sisa's woes.
Classical music buffs were a bit disappointed that only two parts of the program were opera numbers—-the overture from Wolfgang Amadeus Mozart's "Le Nozze di Figaro", which was played by the MPO, and excerpts from Giuseppi Verdi's "La Traviata", performed by Gerodias and the good looking Filipino-American tenor Arthur Espiritu.
Espiritu, the only Filipino tenor to have sung in La Scala, as usual, was superb. He was a standout in  Nella Fantasia by Ennio Moricone  in a quartet number with de la Cruz, Fernando and Yang.
Fans longing to hear more of Espiritu will be thrilled to know that he will be performing in La Traviata at the CCP in early 2012. He will also be a featured artist in the Bahay Kalinaw concert at the University of the Philippines in December.
Sunico, a survivor of the tumult last August  about the controversial "Kulo" art exhibit, never fails to entrance his listeners. With his own arrangement of the late George Canseco's "Hanggang sa Dulo ng Walang Hanggan", one could only wish he played all night.
Restie Umali's "Lupang Hinirang"was rendered with fervor by Gerodias and de la Cruz.
Fernando, a personal friend of the soprano, and director of the entire show, did a soulful rendition of "Wheels of a Dream" from Ragtime, an amazing musicale that never got the popularity it deserves.  Written originally for black American singer Brian Stokes Mitchell Fernando proved that music transcends color.
Amper-Jimenez turned the CCP Main Theater into a holy mountain of prayerful songs topped by a duet with Gerodias of  "Upon This Rock".
Yang, the man behind McDonald's in the Philippines, looking so slim and debonair in his suit, proved that being a corporate honcho should not stop anyone from "being foolish, being hungry" to follow one's own heart.  His voice  may not be in the caliber of the three world-class male singers with whom he shared the stage in Nella Fantasia, but he can be credited with chutzpah.
A voice student of  Gerodias and de la Cruz, Yang can be said to be  a work- in-progress.
Talk spots interspersed between songs provided entertaining trivia about the birthday girl, format seemingly copied from some Sunday TV noontime variety show.  Her music teacher at the University of Sto. Tomas Professor Gloria Dizon-Coronel; Fernando; UNIDA Church's superintendent Benoni Hernandez; fellow soprano Joanna Go; and her brother shared anecdotes about her, most common of which were being a good friend, her being fearless, a shopaholic, and most of all, her chronic tardiness.
No detail was left out, even their wish for her to find someone special to share her hectic life with.
The concert was also the launching of the Rachelle Gerodias Music Foundation, Inc. which aims to educate aspiring pianists, instrumentalists and choir members of her church, the Iglesia Evangelica Unida de Cristo.