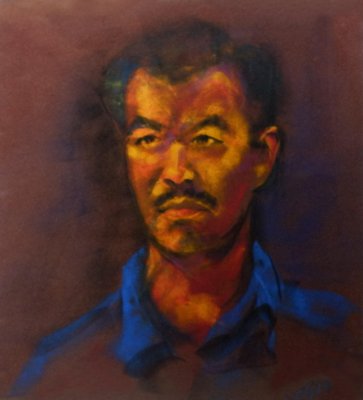 Pablo Tariman's portrait by Allan Cosio

He is more known as a practitioner of celebrity journalism, having covered rising and established talents in the arts and entertainment field for half a century. But it was his series of soul-wrenching poems that initially appeared in Facebook after the COVID-19 lockdown that drew him the widest and most receptive audience he has ever known. So wide that even the young American poet laureate Amanda Gorman posted one of his poems, "The Poet Is a Lonely Hunter," on her FB timeline.
But Pablo Arcilla Tariman, born and raised in Catanduanes island, has been no stranger to poetry. He grew up reading Edna St. Vincent Millay and Walt Whitman, books he got hold of from American Peace Corps volunteer named William Keating.
His first published poem appeared in Sunday Times Magazine in 1971. The full poem ran thus:
Someone dropped a coin, the needle
Lifted and a polyphony of sounds came
Blasting in the early dawn.
"Oh, let it be, let it be…"
I thought the lyrics struck a familiar chord
Rich in human experience. The lyrics could
Be sheer poetry of the folks if only the
Machine would tone down a bit and give
Your ears a break.
"Seeking words of wisdom…"
Good phrasing, indeed! It could have
Been Russell or Goethe speaking. It
Reminds me of Aiken whose thoughts
Lost in the depths of the deep sea
Would find himself in the long maze
Of confusing corridors, blind alleys that
Lead to nowhere.
Somewhere along the song I asked:
Who am I? Why has life grown so bad?
What is good and what is bad?
Then I heard the final line:
"Oh, let it be…"
Those who know Tariman in real life are familiar with the hale- fellow- well- met personality who is quick to laughter after his fifth bottle of beer. But in his first collection of poetry, independently published by his Music News & Features, he is the sober man who just woke up from a bad hangover and must now worry about rent, food on the table and the like.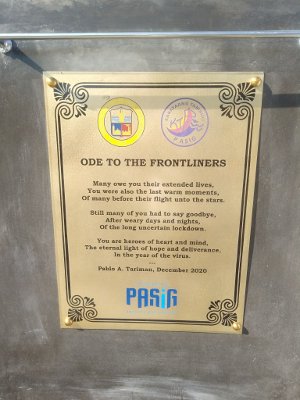 Pasig marker with Tariman's poem

The extent of the reach of his FB poems was so wide that by the end of the year 2020, selected stanzas from his poem "Ode to Frontliners" appeared on a marker dedicated to health frontliners. The unveiling coincided with his 72nd birthday on Dec. 30 by Pasig City Mayor Vico Sotto.
At a February 2021 symposium on poetry in the time of the pandemic sponsored by the University of the Philippines Baguio, he was tapped as one of the speakers talking about his poems that dwelt on hunger on the streets, jobless people and his reaction to how the government was dealing with the pandemic. He wrote in his foreword, "I turned in quiet poems in the beginning, but they turned angry as I saw public servants badly and ineptly coping with the health crisis."
He thinks that his warm reaction from the netizens may be due to his living "people's fears… I confronted death for what it was and how it changed the landscape of the living and the dead. A few months after the lockdown, I thought of places I had visited like this waterfall in Calbayog City in Western Samar. I imagined one of my escape points in the middle of the pandemic."
Two of his most powerful poems are "The Heart of Fury" and "Grief Without Words," liked by more than 6,000 netizens and shared by more than 3,000 readers and with more than 3,000 reactions and comments.
Tariman said, "I only read the first 300 comments. The rest were too good to be true.
I knew it was a good lesson in connecting with poetry readers who happened to be netizens. When the comments reached from 2,000 to 3,000, I realized that I no longer owned the poem. It belonged to more than 6,000 readers, half of whom shared it."
A tireless impresario during his pre-COVID days, organizing concerts for world-class musicians like Cecile Licad, he realized that "I had just lost my concert organizing following. It was replaced by avid poetry fans who wanted more. And more!"
He credited the pandemic for giving him the isolation he needed after years of weekly deadlines covering the arts.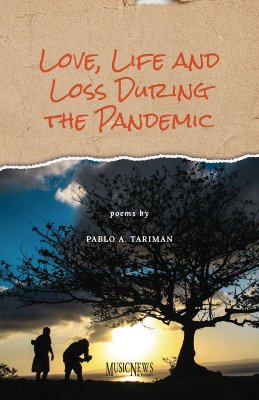 Pablo Tariman's Love, Life and Loss During the Pandemic book of poems front cover

He decided to publish his book Life, Love and Loss During the Pandemic himself because he could no longer "wait for months or years to find a publisher and find my voice as a poet. The social media, though not perceived as a respectable literary platform, was there and offering a worldwide audience for free! I was ready to be eaten by both the young and seasoned lions of the craft."
He added, "I know I am not alone in this endeavor. I learned that poets from California to New York found a new calling by posting verses to comfort families grappling with pandemic fears and the fight against racial injustice."
Asked what he has gotten from his poetry fever in time of the pandemic, he answered, "Materially, not much. Poetry cannot pay the rent; it cannot raise one's per capita income.
But one distinguished netizen posted something which perfectly summed up how I felt about my second rebirth in poetry: 'I am happy your poetry has allowed you to have an overdue reunion with your soul.'"
Advanced orders of Tariman's Author's Edition may be placed by emailing artsnewsservice@gmail.com or pabloopera@yahoo.com or texting or calling 09065104270. Cost includes delivery or shipping.