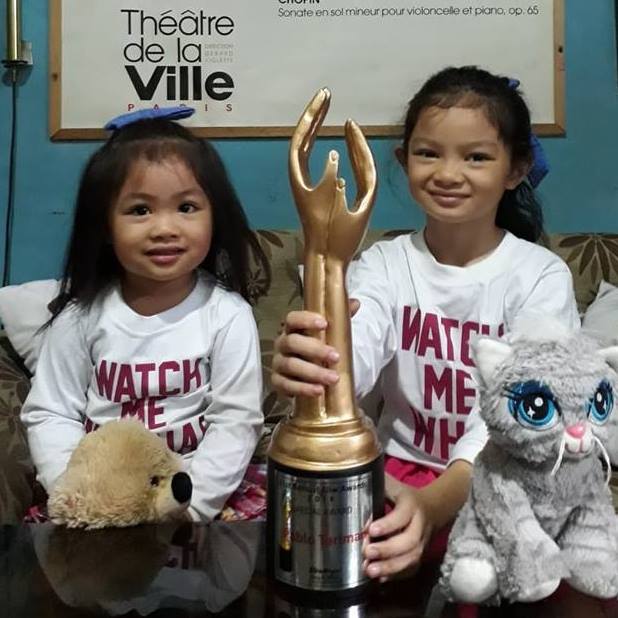 Writer Pablo A. Tariman's granddaughters Tanya and Tyra Tariman Abellana display proudly their lolo's Aliw Award trophy.
Aliw Awards recognized writer Pablo A. Tariman's "contribution to the performing arts as music writer and concert impresario" during its annual award ceremonies held last Dec. 13 at the Manila Hotel Pavilion.
Tariman's love for classical music is not limited to writing about it (and there are few of them in the country). As mentioned in the Aliw Awards citation, he is a concert impresario – introducing to the Filipino audience outstanding talents in classical music.
His latest was project was a gruelling two-week Cecile Licad concerts in Manila, Iloilo, Nueva Ecija, Baguio City and Roxas City.
On the award, the unassuming Tariman, who regularly writes for VERA Files, borrowed a quote from Italian actor Pierfrancesco Favino: "You don't really work for awards, but when they come it's… nice."
Tariman posted in Facebook his thanks to Aliw Awards founder Alice Reyes "for remembering arts writers and cultural workers on the brink of extinction."
"The awards night made me realize I've been covering the performing arts in the last 43 years," he mused.
The Aliw Awards Foundation, Inc. was established in 1976 by journalist Alice H. Reyes, to recognize achievements in the live entertainment industry in the Philippines.
This year, Tony Award-winning actress Lea Salonga and singer Erik Santos won the Entertainer of the Year award.