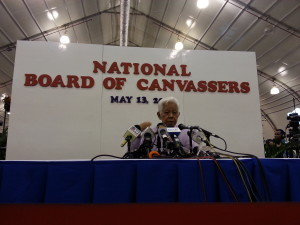 By MIKHA FLORES
THE Commission on Elections, sitting as the National Board of Canvassers (NBOC), suspended the canvassing of party-lists but expedited the tallying of votes for senators in order to meet its self-imposed deadline to proclaim them on Wednesday evening.
"The better ruling is for us to suspend the party-list, proceed with the senatorial so that we can finish the senatorial since there are apparently no questions on the part of the senatorial canvass," Comelec Chairman Sixto Brillantes Jr said.
The poll body expects to proclaim most, if not all, of the 12 winning senators at 7 pm on Wednesday. The canvass began on Tuesday.
Results of a partial, unofficial count by the Parish Pastoral Council for Responsible Voting (PPCRV) show President Benigno Aquino's allies emerging as big winners, with nine candidates from the administration coalition making it to the Magic 12, with votes from 69 per cent of precincts counted.
Grace Poe, who capitalized on the popularity of her late father Fernando Poe Jr, is leading with 14.67 million votes, followed by re-electionist senator Loren Legarda, the consistent topnotcher in pre-election surveys, with 13.43 million.
Malacanang said the 9-3 triumph of Team PNoy candidates was a vote of confidence for the administration of Aquino, who has said he needed allies in both houses of Congress for him to continue reforms in his last three years in office.
Brillantes said the NBOC suspended the canvass of party-lists after representatives and legal counsels questioned its decision to count the votes of disqualified groups.
Issues on the party-lists could drag the process and delay the canvassing of national candidates so the NBOC decided to suspend canvassing of party-lists.
Several party-lists have questioned the NBOC's ruling to "conditionally count" the disqualified party-lists who were included in the official ballots after securing status quo ante orders (SQA).
"Under the law, if you are a disqualified candidate at the time of canvassing, your votes are considered stray and therefore should not be counted," Bayan Muna Representative Neri Colmenares said.
Comelec upheld the disqualification of 11 party-lists after they were remanded by the Supreme Court for re-evaluation using new accreditation guidelines.