By JAKE SORIANO
ISTANBUL, Turkey—The Philippine government is a no-show here at the Internet Governance Forum (IGF), the biggest global venue for discussions of all policy issues related to the complex business of governing the Web.
Two officials from the Department of Science and Technology (DOST) registered as participants, but both were unable to secure travel documents, a DOST consultant said.
The forum would have been crucial for the Philippine government which recently passed the controversial Cybercrime Prevention Act of 2012, a law that critics say curtails freedom of expression.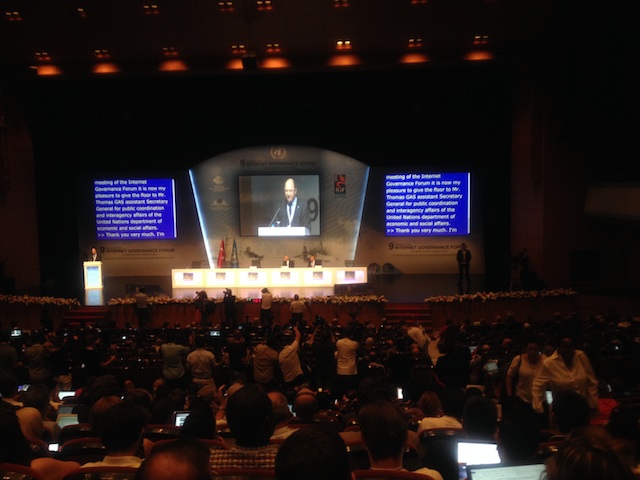 The government is currently conducting consultations with stakeholders in Manila on the Implementing Rules and Regulations (IRR) of the Cybercrime Prevention Act.
"Internet governance is now a discussion that's occurring at the level of heads of state," said Manu Bhardwaj, a senior advisor at the US State Department's Office of Communications and Information Policy, in an IGF session on Internet governance challenges, issues and roles.
"We're now at a point where we're looking to see how these multi-stakeholder organizations can grapple with real concerns that are emerging about misuse of the Internet," he added.
DOST Undersecretary and Information and Communications Technology (ICT) Office Executive Director Louis Napoleon Casambre and Director of Policy Planning and Research Support Service Philip Varilla were registered as IGF participants based on the official forum website.
But a consultant for the ICT Office said that Casambre and Varilla were not able to secure their travel documents, and thus were not able to come to Istanbul.
"If the [Philippine government] really cares about ICT, they should be here," said Nica Dumlao, program coordinator for Internet rights of the non-governmental organization Foundation for Media Alternatives (FMA).
"It's better for them to be here, so that they can hear all the sentiments of stakeholders on certain issues in the Philippines like ICT development, innovation and cybercrime," Dumlao added.
The IGF, a United Nations (UN) program, takes a multi-stakeholder approach on Internet governance. Around 3,000 participants from various governments, intergovernmental organizations, civil society groups, technical community and the private sector, are attending the IGF from September 2 to 5, the main theme of which is "Connecting Continents."
The non-participation of the Philippine government is disheartening, according to Dumlao, who faulted officials for working only "within inter-governmental spaces without even listening to other stakeholders."
Contacted by email, Justice Undersecretary Geronimo Sy declined to comment when asked why the Department of Justice Office of Cybercrime did not send any representative to the IGF, only saying that the target date for the signing of the Cybercrime Law IRR by all relevant department secretaries would be on the last quarter of the year.
"Consultations are ongoing," he said.
The DOJ in April this year began the first round of public consultations on the IRR with stakeholders from business, media, academe and civil society organizations.
But the government approach is "not inclusive enough," says Dumlao.
"They were saying that it was a public consultation, but it was by invitation [only]," she notes, adding that if there is one lesson the Philippine government can learn, it's that in the IGF, "every stakeholder has a voice in governing the Internet."
(Jake Soriano is covering the IGF in Istanbul, Turkey on a grant from the Southeast Asian Press Alliance.)