On June 16, Rey Joseph Nieto, who is behind the "Thinking Pinoy" blog, said photojournalist Jes Aznar posted a live video of military operations in Marawi City while he was embedded with government troops.
STATEMENT
"NYtimes/Inq photographer Jes Aznar posts live updates from Marawi, revealing the positions of government snipers to any terrorist with a Smartphone."

(Source:ThinkingPinoy June 16 Facebook post)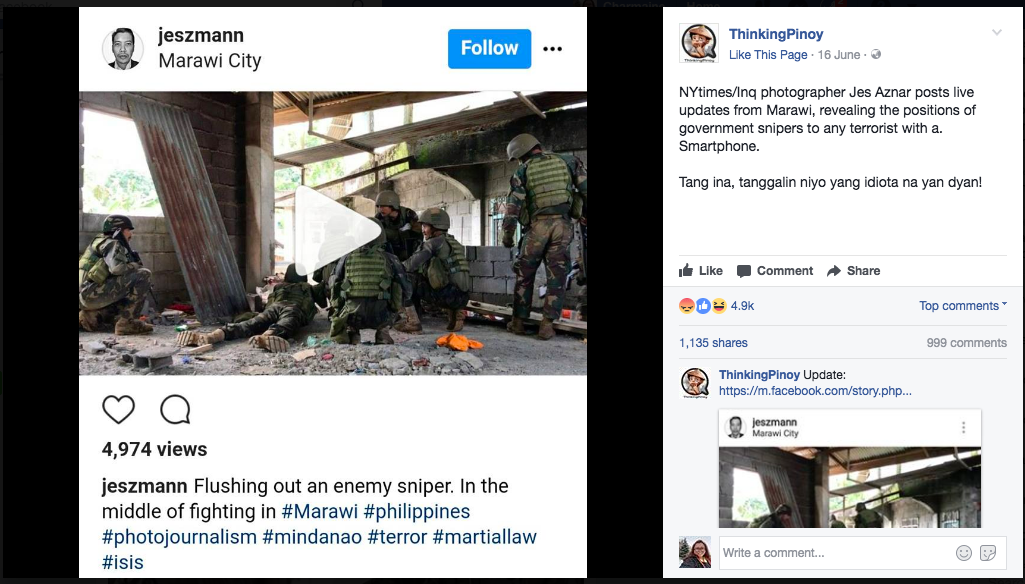 Nieto in a separate post described Aznar's May 25 Instagram post as "a freshly filmed video of government snipers in the middle of an encounter in the Marawi clash."
(Source: ThinkingPinoy June 18 Facebook post, Jezz Aznar get out of Mindanao for you own good)
FACT
Was the video posted by Aznar on May 25 live?
No. It was not live.
In an interview with VERA Files, Prof. Al Tompkins, a senior faculty of The Poynter Institute, said "live" means it is actually happening right now.
Tompkins is a multi-awarded journalist who has had 24 years of experience as photojournalist, reporter, anchor, documentary producer and news director. He also authored books on broadcasting and newsroom ethics.
"If it is recorded, it is not live," Tompkins added.
A screenshot of the video's file information sent by Aznar to VERA Files shows that it was shot with an iPhone and uploaded to an Apple computer.

The file was created on May 25, 2017 at 1:19 p.m. "Created" on this computer denotes the time the file was transferred to the laptop.
According to Aznar, the footage was filmed 19 minutes earlier, at 1 p.m.
Looking at the embed code of the 17-second video uploaded on Aznar's Instagram, the time stamp reflected "2017-05-25T06:13:18+00:00″>May 24, 2017 at 11:13pm PDT." It means the video was uploaded at 2:13 p.m., Philippine time on May 25, 2017.
An embed code is an HTML block and can be obtained from the site hosting the video, in this case Instagram.
The video was uploaded on the internet 73 minutes after it was taken.
Live posts on Instagram stay online for 24 hours. The video posted on May 25 is still available on Instagram as of this writing.
BACKSTORY
The soldiers in Aznar's video were not "government snipers" as described by Nieto.
Examination of the video by two military officers revealed that the soldiers were actually a team of Scout Rangers (the specific unit and team leader identity withheld upon request) and among them was the designated Ranger Advanced Marksman, which is not the same with a sniper by training.
The marksman's weapon is either an M16A1 rifle with scope or an M14 battle rifle, and not the standard sniper rifle to engage targets at ranges beyond designated marksman's range.
Col. Harold Cabunoc, commander of the 33rd Infantry Battalion and former training director of Army Scout Sniper Course, said the term used in the Armed Forces is "military snipers" to describe "highly trained soldiers who can shoot man-size targets beyond the range of ordinary riflemen (500m and beyond). They are skilled in long-range marksmanship, field craft and tactics (triad of sniping skills).
"It is actually an abused term because people generally refer to the Maute armed thugs as 'snipers'. Any ordinary rifleman can hit targets up to 250m. In Marawi, engagement distance in urban areas is only 50-100m," said Cabunoc, who attended a training course in McMillan Sniper Course in Phoenix, Arizona, USA.
The June 16 Facebook post of Nieto linked to his "Thinking Pinoy" blog had about 5,000 reactions, 999 comments and over 1,000 shares. Meanwhile, his June 18 Facebook post had 12,000 reactions, 2,000 comments and over 5,000 shares. Comments ranged from mere curses to serious threats. It generated reports of supposed orders for Aznar's arrest which the Philippine National Police and the Armed Forces of the Philippines officially denied.
A photojournalist, Aznar shoots for Getty Images, whose clients include the New York Times and other international media. He is not a regular employee or staffer of the Philippine Daily Inquirer.
In separate statements, the National Union of Journalists in the Philippines and the Photojournalists Center of the Philippines denounced Nieto for spreading falsehood and endangering Aznar's life.
The Presidential Task Force on Media Security said what happened to Aznar can happen to other media workers. It urged the public against sharing and posting fake news.
Sources:
National Union of Journalists of the Philippines, NUJP on threats vs photojournalist Jes Aznar
Photojournalists' Center of the Philippines, Inc., PCP raises concern on threats against Filipino photojournalist
Philstar.com, Presidential task force: No arrest warrant for photojournalist covering Marawi
ABS-CBN News, PNP: Arrest warrant vs NY Times photojournalist is fake news
Asian Journal, PNP: No arrest warrant against photojournalist in Marawi