The newly opened Gallery Ninety at Berkeley School is among the latest must-stop-and-look places in Baguio City. Its inaugural exhibition features highlights from the body of works of foremost contemporary printmaker and former city resident Virgilio "Pandy" Aviado.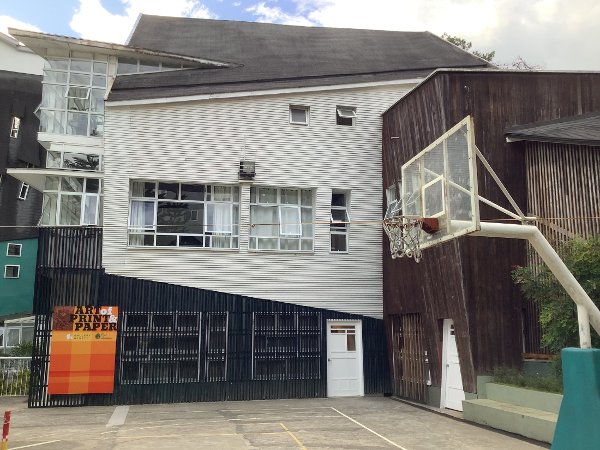 Gallery Ninety's location inside the Berkeley School campus in Baguio

The school campus in itself has an interesting story. Standing at 30 C. M. Recto Street, St. Joseph Village, it is described in the exhibit brochure as an example of the adaptive reuse of a historic wooden house. The house was converted to preschool classrooms, below ground classrooms, classroom buildings with a new timber building for the administration. And now, a gallery from what once was a classroom, conference room and hallway that was widened has been built.
Berg Go, one of three partners in the venture, the others being his wife Marbee and brother Aris, said having a gallery inside the campus would "expose students to the arts, teach them not to just appreciate art but how it is done through workshops. We want them to evolve from just appreciation."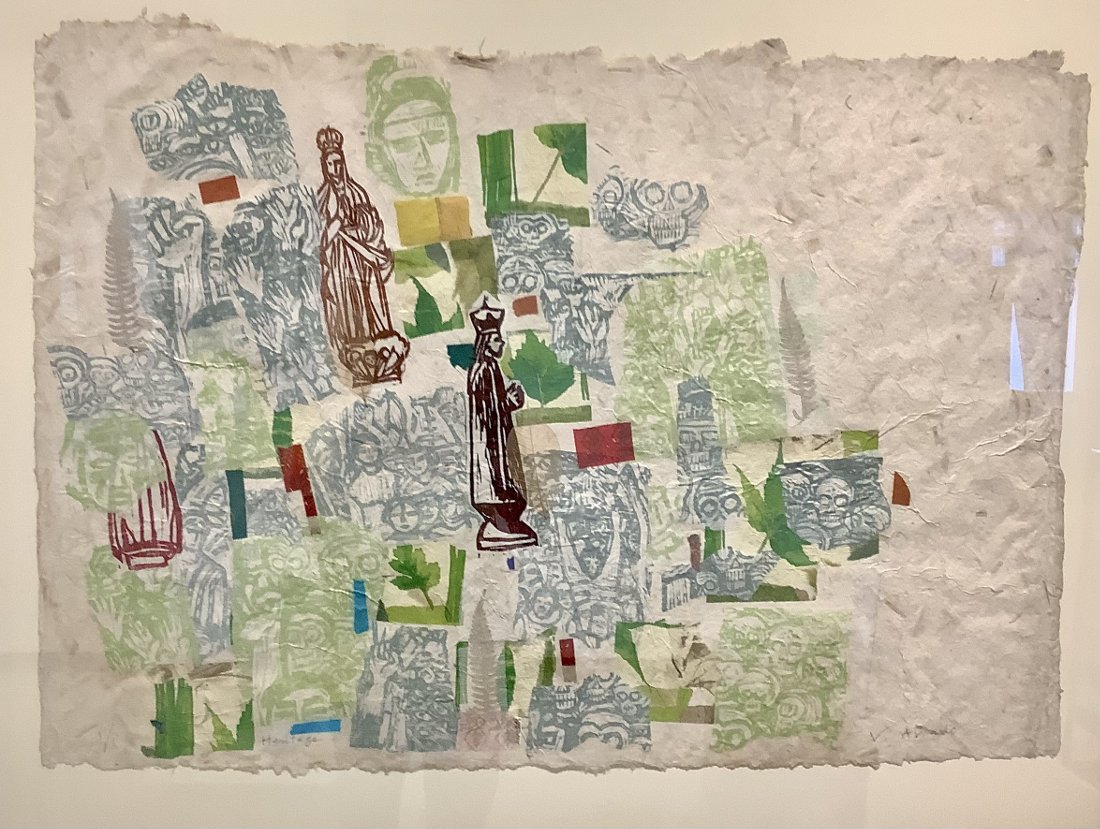 "Heritage," uniprint
The three chose Baguio as their location because they found the creative community a nurturing one that inspires and supports artists and would-be artists to pursue their creative journeys. This makes the city an ideal place for artists to grow and create. The three balance one another with Aris as architect, Berg as a graduate of management information systems of the Ateneo and Marbee, an art studies graduate of the University of the Philippines.
The Go couple, once based in Makati, moved to Baguio last year when they figured during the pandemic that, Marbee said, "we could do everything from the house. We figured it's a good opportunity to be in Baguio. It's not just a vacation; we have made ourselves busy."
Busy enough to partner with Mara Pardo de Tavera's Casa Luningning, an art and history oasis in Guadalupe Viejo, Makati, in mounting the Aviado show which is entitled "Art of Print and Paper." Marbee said the prints range from the early 1970s to the current years of "the artist's prolific career. This body of work is mostly externalized on the subconscious and the mystical."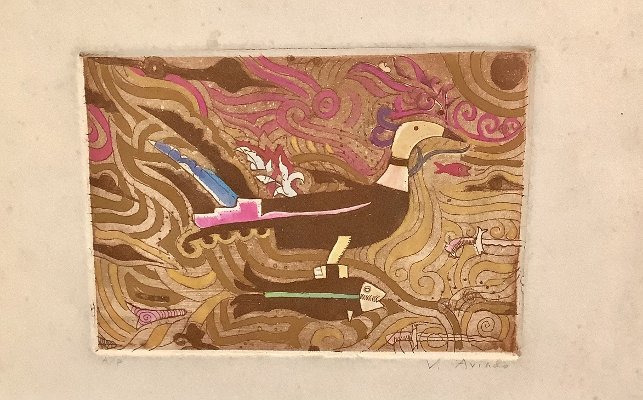 "Sarimanok," etching on paper by Virgilio Aviado
Curated by Pardo de Tavera whose friendship with the artist spans nearly 40 years, she recalled, "I met Pandy in the early 1990s in Baguio and was awed by his creative genius in the art of printmaking together with his pioneering efforts in the development of Philippine printmaking. He wanted to make art affordable and accessible to everyone."
Describing his ties with Baguio, Aviado said he used to have a house on Leonila Hill. When he returned from Europe, he tried living there because of the weather. He met visual artist Santiago Bose and filmmaker Eric de Guia (a.k.a. National Artist Kidlat Tahimik). According to him, Bose later became a good etcher.
| | |
| --- | --- |
| "Amapola Poppy," mixed media on paper | "Biology Lesson," mixed technique |
Then at a print workshop at the UP Baguio, he met Mike Parsons. After the workshop, he invited Aviado to be his artist-in-residence at the Parsons compound in Beckel, La Trinidad, Benguet. Parsons invested more than US$50,000 in equipment and art supplies for the Monastery Print Workshop. In all, Aviado stayed 12 years in Baguio (1978-1990), leaving before the big earthquake occurred.
He also served, at one time or another, as dean of the Philippine Women's University College of Music and Fine Arts, president of the Printmakers Association of the Philippines and Art Association of the Philippines, Cultural Center of the Philippines visual arts director and chairman of the visual arts committee of the National Commission for Culture and the Arts.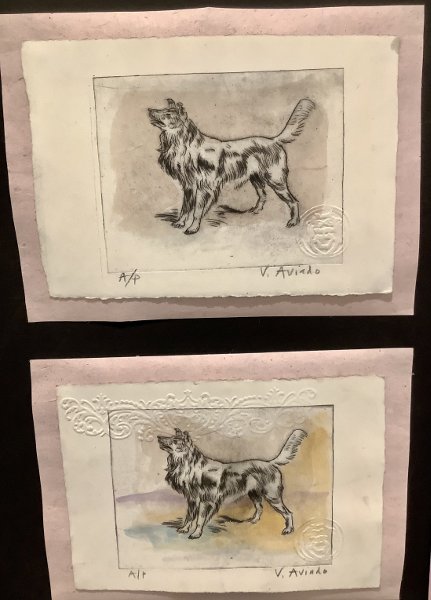 "Dog," drypoint on paper
Throughout it all, he has practiced and promoted printmaking and works on paper. Does he have a favorite form? He said, "My approach to printmaking is holistic. It is like asking a person which finger is his favorite. My art studio set-up always included an intaglio press. With a press it is easy to do intaglios and relief prints or a combination of both. Most likely, I have more intaglios than rubber cuts, next would be lithographs, last would be silkscreen. Numbers of works don't mean that something is my favorite medium. It just means that there was more time spent in doing it. Serigraphs, lithographs, linocuts and intaglios—they are all fascinating."
What's mind-blowing about his show is the wide breadth of the artist's interests. He portrays folk images like the sarimanok and the Virgin Mary, flowers, stones, insects, dogs, abstract collages, etc. He even has reasonably priced and post-card sized Christmas cards.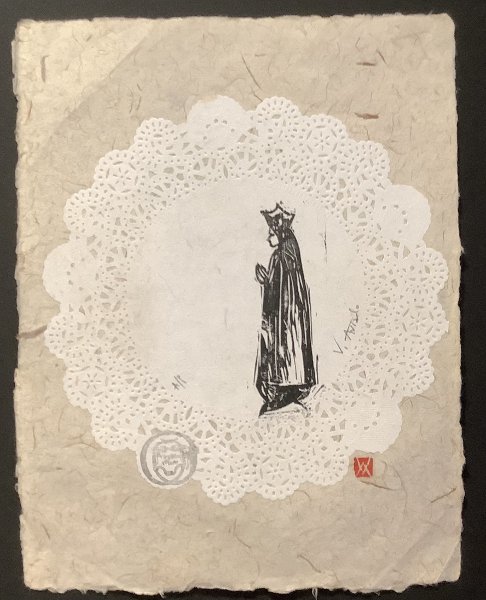 "Virgin Mary," woodcut on paper

Asked if these subjects are the kind he has experienced in his world or if they are from his readings and imagination, he answered, "It's a cornucopia of images that has manifested in my automatic drawings. Oftentimes, I get surprised because of the images that crop up. Definitely Carl Jung would have a lot to say."
As part of the mission to propagate printmaking as a major visual arts medium, he established Atelier Aviado. There he began working as "a print edition guy," making editions for artists like Arturo Luz, Anita Magsaysay Ho, among others. While in her teens, his daughter Diana started as his apprentice. Today she has taken over the atelier's management, handles workshops and other matters.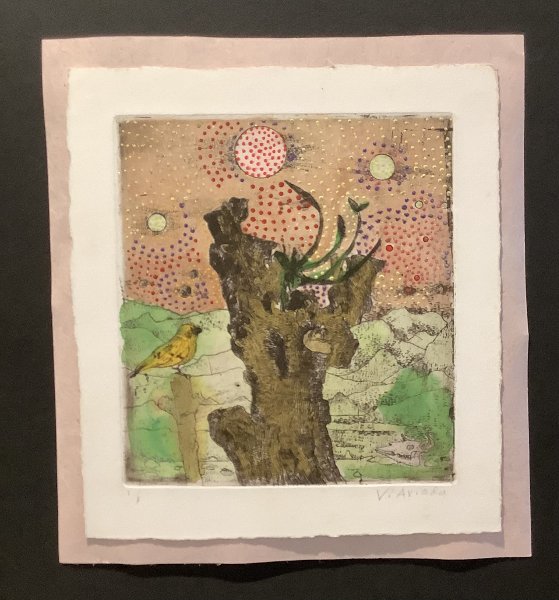 "Yellow Bird," etching on paper

Aviado has also taught papermaking, which he called "an acquired skill that I love doing and sharing with others."
His solo show runs until April 30. Pardo de Tavera announced that after it, Casa Luningning and Gallery Ninety would coordinate shows throughout 2022 and 2023. She said they have plans for collaborations with Baguio artists, with embroiderers, with Michael Rahman de Clarin, Popo San Pascual, and Emmanuel L. Cordova, to name a few.