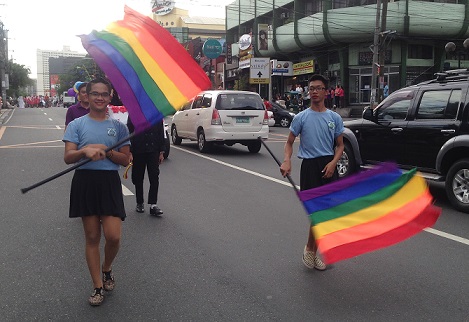 By PATRICK KING PASCUAL
 "MORE than the parade, more than the march and festival, this celebration is the delivery of actual programs and policies for LGBT (Lesbian, Gay, Bisexual, Transgender) people," Percival Cendaña, commissioner of the National Youth Commission, said of the recent LGBT Pride celebration in Quezon City.
The celebration took special significance held after the court ruling on Jennifer Laude's case, which found US Marine Lance Corporal Joseph Scott Pemberton guilty of homicide.
Though many LGBT advocates and groups said "murder" should have been the rightful verdict, they see it as something that they can learn from. ""Now, more than ever, especially because of the decision on Laude's case, is the right time for the [LGBT] community to get together and reflect on what happened to Jennifer, and to also inspire the next course of action," Cendaña explained.
Cendaña said the event is the highlight of all the achievements throughout the year, specifically the passage of the Gender-Fair Ordinance.
The Quezon City Gender-Fair Ordinance, an ordinance providing for a comprehensive anti-discrimination policy on the basis of sexual orientation, gender identity and expression signed November last year, is the first of its kind in the Philippines.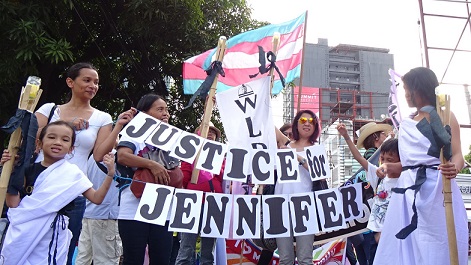 The ordinance states: "It is hereby declared a policy of Quezon City to actively work for the elimination of all forms of discrimination that offend the equal protection clause of the Bill of Rights enshrined in the Constitution, and other existing laws and to value the dignity of every person, guarantee full respect for human rights, and give the highest priority to measures that protect and enhance the rights of all people."
According to Councilor Lena Marie "Mayen" Juico (First District), author of the "Gender-Fair Ordinance, they (Quezon City officials) "have tackled all areas where the LGBT community may experience discrimination."
"The Quezon City government expanded the ordinance to be the most comprehensive so far. In fact, it is more comprehensive than the anti-discrimination bill that is still pending in Congress right now," Cendaña added.
There were more young participants in this year's Pride celebration which was a good indication that LGBTs are slowly becoming aware of their rights, observed Juico.
"LGBTs in Quezon City [should] take the time to find out what their rights are. The city already has an ordinance that encompasses all areas where they can experience discrimination. It is all a matter of utilizing it and making sure that it is implemented," she said.
Juico said  it is  the desire of Mayor Herbert Bautista  to see gay union or gay marriage happen in  Quezon City. But the councilor said he also knows that, that can only happen if gay marriage becomes a national policy.