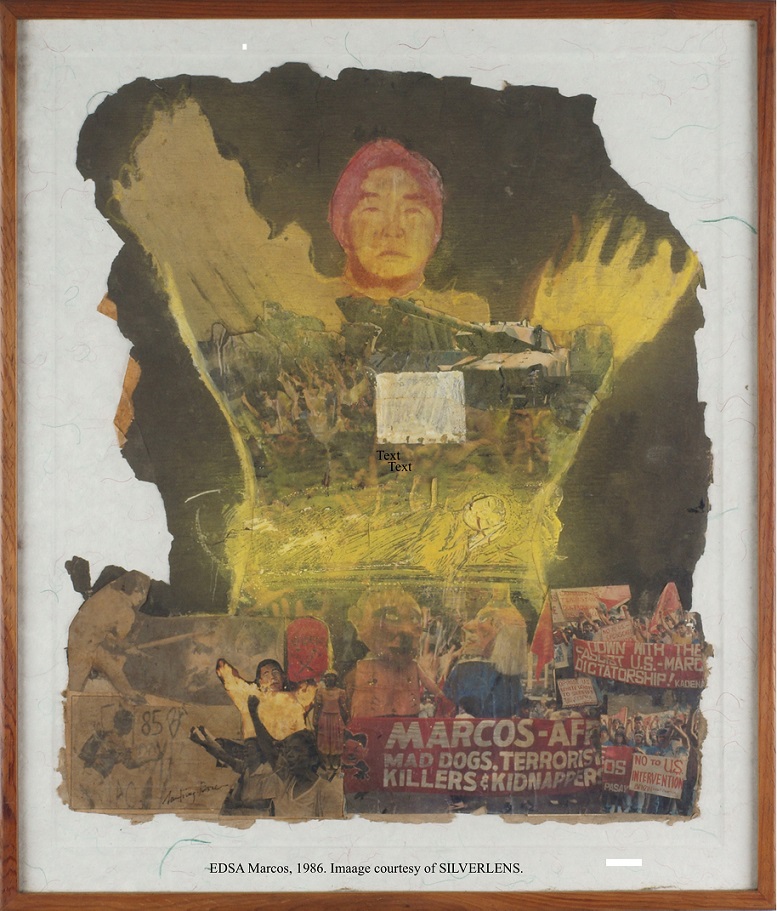 Striking Affinities, a solo exhibition on Santiago Bose (1949-2002), marks the second series of a three-part exhibition entitled Santiago Bose: Painter, Magician by Silverlens Galleries. Included are Bose's journals and sketches, interviews, and recordings of art performances.
It can be viewed online at Silverlens' website or in person, by appointment. The magnifying lens of the virtual exhibit lets you see details, in close-up. It runs until 17 April 2021.
The curator, Patrick Flores, focuses on the "geographic coordinates" of Santiago Bose's artistic practice:Baguio, Manila, New York, Adelaide, Bali, and Spratly Islands, the "homelands, contact zones, passage ways, exhibition sites" that had shaped the work of Bose.
Bose had described himself as a "painter/magician." To others, he was "a cultural provocateur." Definitely, he wore many hats. A mixed-media artist, he did art installations and performances. He was also a writer, a community organizer, and an educator. And always, an activist.
As a mixed media artist, he addressed themes of colonialism and nationalism in his work. By layering images with old photos, pseudo Latin words, or collage, the personal, historical, and surrealistic is inserted, bridging the past and the present, memory and reality. It was also his commentary on the state of the nation —the local and the national—that remains relevant to this day.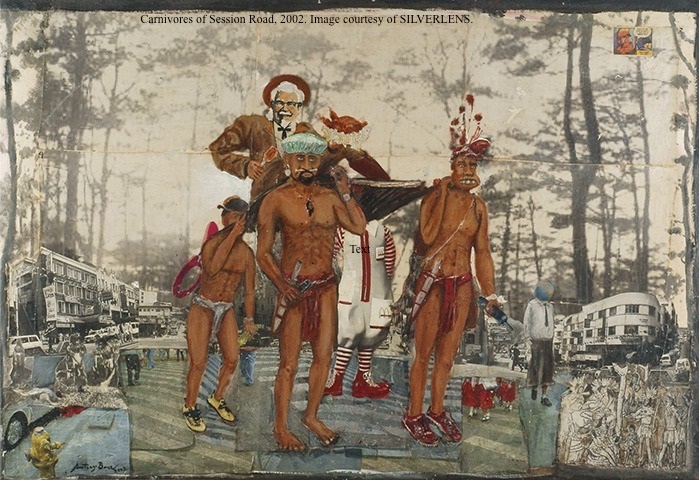 Baguio and Manila: An art life
Bose's hometown Baguio served as the wellspring of his creative energy, especially the history, culture, and struggles of the people of the Cordilleras.
Baguio scenes populate his works: Burnham Park and its boats, faith healers, Star Café, the 1991 earthquake. Behind the summer fun that is Baguio for most of us lie tales of greed and gold, struggle and resistance, all embedded in Bose's artmaking.
In honor of Bose, a group of visual artists and friends has recently reimagined and restored his mural on the façade of St. Mary's School in Sagada. Done in 1981, it is entitled Kabilbiligan or "hillside," showing Sagada landscapes, ritual objects, and its people.
EDSA (Epifanio de los Santos Avenue), the longest highway linking Metro Manila to Luzon, has borne witness to people's protest marches and upheavals in a nation's continuing search for something better. It was EDSA People Power then, and Bose's EDSA Marcos (1986) captures those tumultuous years.
An early interest in folk religion and mysticism is seen in the artist's frequent use of the anting-anting or amulet. Confessions of a Talisman(1994-1995) was one project, a book of anting-anting prints on handmade paper, based on his research in the 1990s.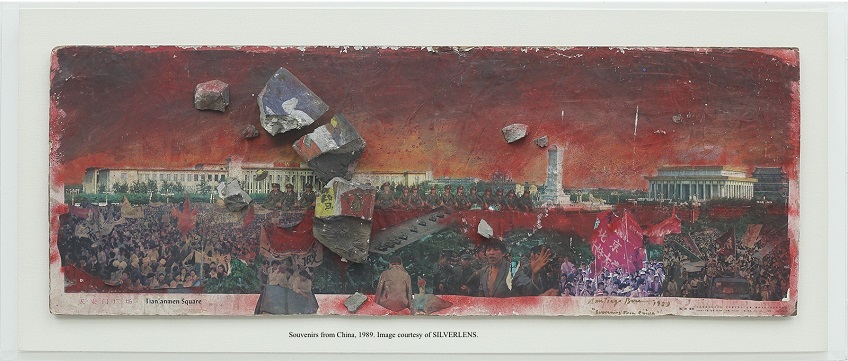 Spratly Islands
Bose's irreverence reached its heights in an unrealized project (Project Freedom Island and Pirate Radio, 1999) of an international art residency in Spratly Islands, a disputed archipelago off the coast of the Philippines, Malaysia, and Vietnam, with a Chinese naval base nearby.
Spratly Islands symbolizes China's hegemony then and today amidst its brazen encroachment over territorial waters of its Asian neighbors.
In hindsight, the romance with Mao's China in the 1970s has disintegrated into disgust and loathing, with China's occupation of Philippine territories in the South China Sea, despite the 2016 UN arbitral ruling in favor of the Philippines.
Souvenirs from China (1989) depicts the Chinese student-led demonstrations in Tiananmen Square that culminated in the killings of demonstrators on June 4, 1989. The number of dead remains unknown, in hundreds or thousands. A highly censored topic in China, it is part of China's historical amnesia today.
New York and beyond
In the United States, Bose continued his studies in printmaking at the West 17th Print Workshop in New York, 1980-1981. He went home to Baguio in 1986 and began exploring "the effects of colonialism on the Philippine national identity." He focused on "the resilience of indigenous cultures" as found in the Cordilleras.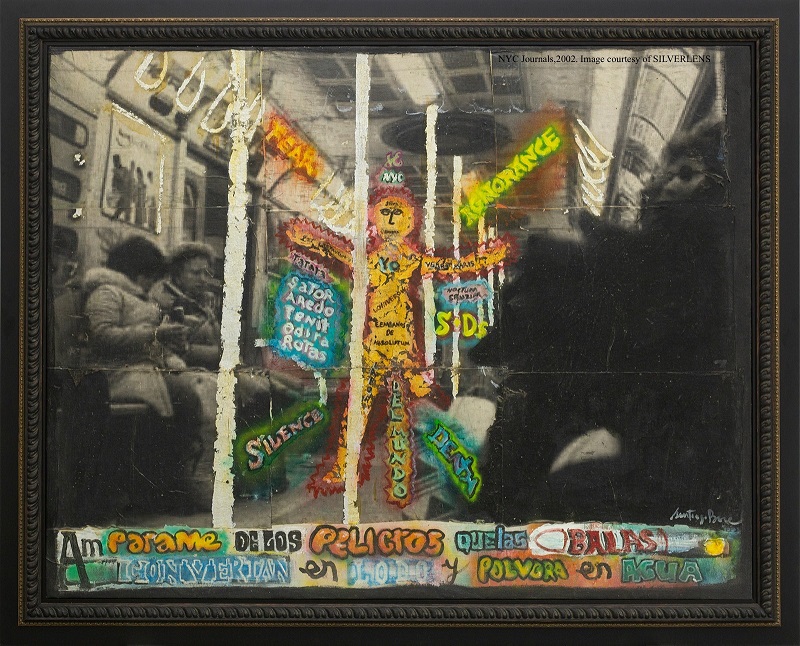 The artist
Santiago Bose had been a prolific artist with more than 5000 documented works in paintings, prints, installations, and performances. He studied architecture at the Mapua Institute of Technology and shifted to fine arts, University of the Philippines (1967-1972).
A recipient of the Thirteen Artists Awards by the Cultural Center of the Philippines in 1976, he had exhibited in major international events. In 1993, he was invited at the First Asia-Pacific Triennial of Contemporary Art in Brisbane, Australia. In 2000, Bose's work was included in the Asian Art Museum of San Francisco's exhibition, "At Home and Abroad: 20 Contemporary Filipino Artists."
Early in his career, he had experimented with indigenous materials and local vegetable dyes. He even made his own paper, using cogon, banana, or rice straw. It was his way of being thrifty in the face of expensive art materials.
The curator
A professor of art studies at the University of the Philippines, Diliman and the curator of the U.P. Vargas Museum, Patrick Flores has been the artistic director of the Singapore Biennial 2019 and the curator of the Philippine Pavilion, Venice Biennial 2015, after a 50-year absence. He is the curator of the Taiwan Pavilion for the Venice Biennial 2022.