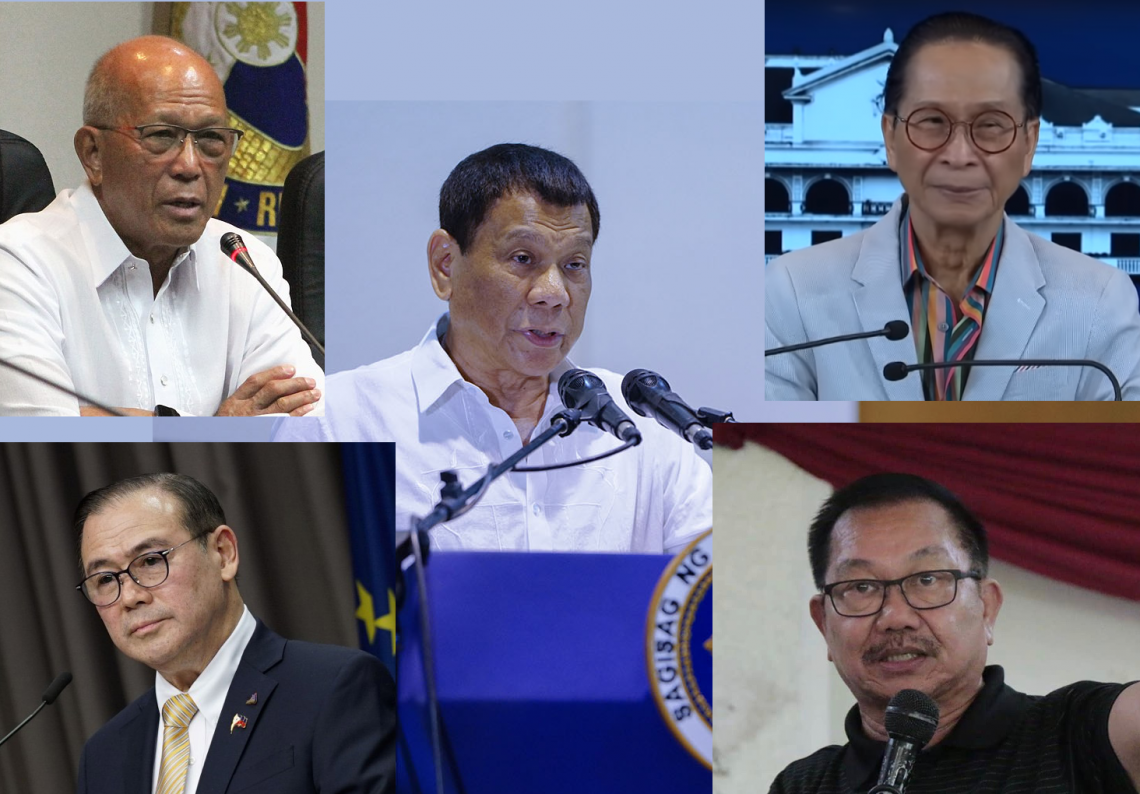 Defense Secretary Delfin Lorenzana, speaking on the telephone: Sir, we just got word that a Chinese boat in Recto Bank hit a local fishing boat. Twenty-two Filipino fishermen onboard. The boat capsized and sank. The men were in the sea for hours. The Chinese boat left the men in the water. A passing Vietnamese boat came to their rescue.
Silence. There is no response from the President.
Sec. Delfin: Mr President? Are you there, sir?
Bong Go: Sir Delfin, this is Bong Go. The President is watching Netflix and can't come to the phone right now. I can pass your message on.
Bong Go to the President: Sir, Lorenzana called. There was an incident in the South China Sea, daw.
President: What happened?
Bong Go: Hit-and-run, sir.
President: Is that the truth?
Bong Go checks Rappler: "Yes sir. What is our response?"
President looks up from watching Netflix, momentarily interested: "Was anyone killed? Any corpses? Any blood? I want more corpses. More blood.
Bong Go: No-one was killed, sir.
The President (looks bored and goes back to the TV): Eh, tell Panelo, Teddyboy, and the Manila Times. They know what to do. Bahala na sila. When is my next medical appointment in Hong Kong?
Bong Go, switches TV channel to CNN: It's not a good time to go to Hong Kong, sir. Look. There's a people power uprising. It's like EDSA revolution.
Flash of image of massing crowds in Hong Kong
President: "What?! There was a car crash on EDSA? Mar Roxas is to blame for Manila's traffic. Eh, wasn't he the transport secretary? Blame him. Blame PNoy for hiring him. Blame Trillanes. Blame Trillanes' mother. Blame Trillanes' dog. Get me the name of Trillanes' dog! Where's my next dose of Fentanyl?
Bong Go: (calmly administering the Fentanyl) The Chinese rammed a fishing boat.
President: Rammed? Is that like rape? Sounds like rape. That's a good one. Next time, I'll advise our soldiers to ram women NPA fighters. I feel like doing some ramming. Call my "nurses". All four of them. Get me my viagra and leave us alone for 10 minutes will you.
Bong Go, handing Viagra to the President: Yes sir. I'll be back in 5 mins.
***
Lorenzana to the Press: In no uncertain terms, I strongly condemn what happened in Recto Bank. The Chinese need to issue a formal apology, impose disciplinary measures and compensate our fishermen. This was no accident. It was a hit-and-run!
Panelo, speaking before the Malacanang Press Corps: Ganito lang. This government is objective, fair and neutral. Whatever China says, that's what we'll say. Let's not make mountains out of mole caves. The pudding is in the fruit. We shouldn't get behind ourselves. The President is a very cautious man.
Teddy Boy: This was obviously a cross between a collision, an accident and a felony.
Let's call it a….facclision.
We can deal with this ourselves. We are masters of our own destiny. Fuck the international community. Fuck the rest of the world.
Teddy Boy puts on a clip-on polka dot bow tie and goes off to file a diplomatic protest with the cafeteria of the United Nations in New York.
The Manila Times publishes a matrix on its front page.
***
Captain of the fishing boat talking to a reporter: The cook and I saw the Chinese boat. It was around midnight. After hitting our boat, the Chinese just turned away and left us. We were fighting for our lives in the sea.
Cook of the fishing boat: It's true. I was awake. I was cooking rice. I heard the engines. I saw the Chinese boat coming at us. They hit us. Then just left us in the sea to die. The crew of a Vietnamese boat rescued us. They hauled us out of the water and gave us blankets and noodles. We were freezing.
Mayor of fishermen's town: Our government should show China some muscle, at least in words.
China: According to our intelligence, the Chinese boat was besieged by your Filipino boats. This is a small maritime incident.
***
One week later.
President, speaking before a military audience: I can tell you what happened in the West Philippine Sea. Two little boats bumped into each other. Nothing more than a small maritime incident.
Bong Go passes a piece of paper to the President. The note says: "Wife of captain says no to meeting with you.
President reads the note, frowns.
President: I'm sick and tired of being President.
Bong Go scribbles another message. It says: BTW, Senator Hontiveros has just called you feckless.
President, angrily: Ano ito? Hontiveros calls me FECK-LESS?! Me? Putang ina! Tell her
I've had more fecks than she has. Siguro, she needs a FECK.
Bong Go on his cellphone, writes a message on Viber. It says: Get me Agri. Sec. Piñol.
Two images flash up: Police in full riot gear surrounding fishermen's homes. Mayor in
handcuffs, arrested for graft.

Bong Go checks his phone. There is a message from Piñol. It says: Ayos na, sir.
***
Scene opens with an image of the 22 fishermen posing with their fists raised in the
trademark Duterte salute.

Cook: I was asleep. I can't remember…
Captain: I…am…confused…
Lorenzana to the Press: We really cannot be certain that the boat that bumped the
fishermen's boat was, in fact, Chinese. What we know is that the Vietnamese boat was illegally fishing in our exclusive economic zone. We demand an explanation from the Vietnamese government. In any case, this is nothing but a small maritime incident.
Panelo to the Press: China is our friend. What is a small maritime incident between
friends?
Bong Go passes a note to the President who reads it and smiles.
President, speaking with gusto to the Philippine Navy: I am not going
to wage war with China over a small maritime incident. This you can
believe: There's no negotiating with drug addicts, pushers, and
communists. They all need to die. I'll kill them. I'll kill them
all. Many thanks for listening and good night.