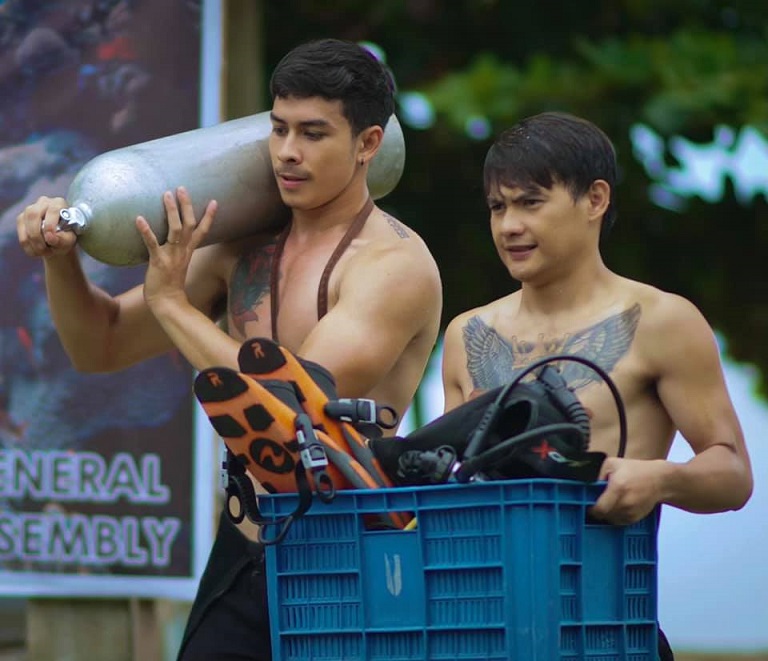 Paolo Gumabao and Vince Rillon in Sisid
In Sisid, the latest ouvre of Brillante Mendoza (first Filipino to bag the Cannes best director trophy) took notice of a man-made calamity.
It partly touched on endless exploitation of the ocean while a marine biologist (Paolo Gumabao) and his island assistant (Vince Rillon) try their best to keep the marine life clean and habitable.
The trouble is big business with mining interests wants their cake and eat it too and moves to keep the ocean crusaders out even if it means money changing hands for vulnerable islanders.
At first screening, watching Mendoza's Sisid is an invitation to a haunting tale by the sea.
We are brought to a faraway coastal town with very little modern amenities. Through the visitor's looking glass, we watch island relationships unfold in their various stages with just sand and sea in the background.
What comes out is love at its purest between a man and a woman and yes, between a man and another man giving way to their desires away from the restricting classifying rules of the sociologist.
In Brillante's eyes, love and lust can exist away from the peering eyes of jaded city folks.
In the opening scenes, you see a marine biologist (Gumabao) at work and his trusted aide (Rillon) who does his share of saving what's left of the town's dwindling marine resources.
Their environmental concerns trigger mutual admiration.
They are environmental warriors committed to saving nature from the exploitation of big business.
With this common concern, a stirring of the flesh ensues.
Meanwhile, Gumabao's girlfriend (Kyle Verzosa) is afraid of the future with a mysterious ailment assaulting her frail body. She willfully entrusts him to another woman (Myton Eugenio) who finds the suggestion rather absurd.
Meanwhile, Rillon finds love in another innocent island maiden (Christine Bermas). They make love by the sea but without hinting that they are afraid of their future. After all, every islander's dream is to go to the big city and fulfill his dream for his family.
Sisid is beautifully photographed revealing rich underwater paradise. The musical scoring is spare with the visuals exploring sea and sky at their most alluring.
As the film unfolds, you can't help recalling Marilou Diaz-Abaya's "Sa Pusod ng Dagat" and "Muro-Ami" and to some extent, Ismael Bernal" s "Nunal Sa Tubig."
Good ensemble acting is an added virtue of this film with the presence of Irma Adlawan and Myton Eugenio who are every inch the epitome of islanders.
On the other hand, the spontaneous relationship between the marine biologist (Gumabao) and the marine guard (Rillon) is thoroughly explored. The nuances of their island tryst go beyond thestereotype.
For the sheer power of their performance, you may have two actors (Gumbo and Rillon) vying for the best actor trophy during the coming awards season.
The direction is subtle with formidable result. Brillante moves swiftly with his story and makes sure nothing is labelled unnecessarily.
No doubt about it, Sisid is a jewel of a film.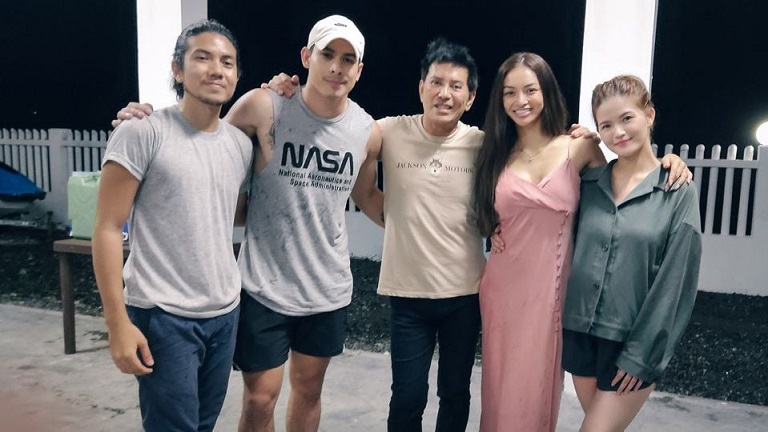 Director Brillante Mendoza with cast of Sisid. Photo by Vivamax.
("Sisid" directed by Brillante Mendoza and released by Vivamax will have its regular streaming starting January 19 in Viva Max Plus, the newest pay-per-view service of Viva. Visit web.vivamax.net and look for Vivamax Plus to purchase your tickets.)