Several Facebook (FB) pages published a fake quote card that shows Vice President Leni Robredo proposing to widen water pipes to address water shortage problems.
The full fabricated quote, which has been circulating as early as 2019, read: "Kulang tayo sa tubig. Ang tubig kasi dumadaloy yan sa mga tubo papunta sa mga kabahayan, maaring yung size ng tubo ang dahilan. Makakatulong siguro sa supply ng tubig ay yung lakihan natin yung mga tubo o gripo sa mga bahay. Imbis na ½ inch ang liit ng tubo, gawin nating 12 inches ang luwang ang laki. diba para mas maraming tubig ang dumaloy."
(We don't have enough water. Water flows through pipes going to homes. Maybe the pipe size is the cause. Perhaps widening pipes or faucets in houses can help with the water supply. Instead of a ½ inch pipe, let's make the width 12 inches. Isn't that right, so that more water will flow.)
The image used in the fake graphic was a screenshot taken from Robredo's 2018 Christmas message to the public published on her official FB page.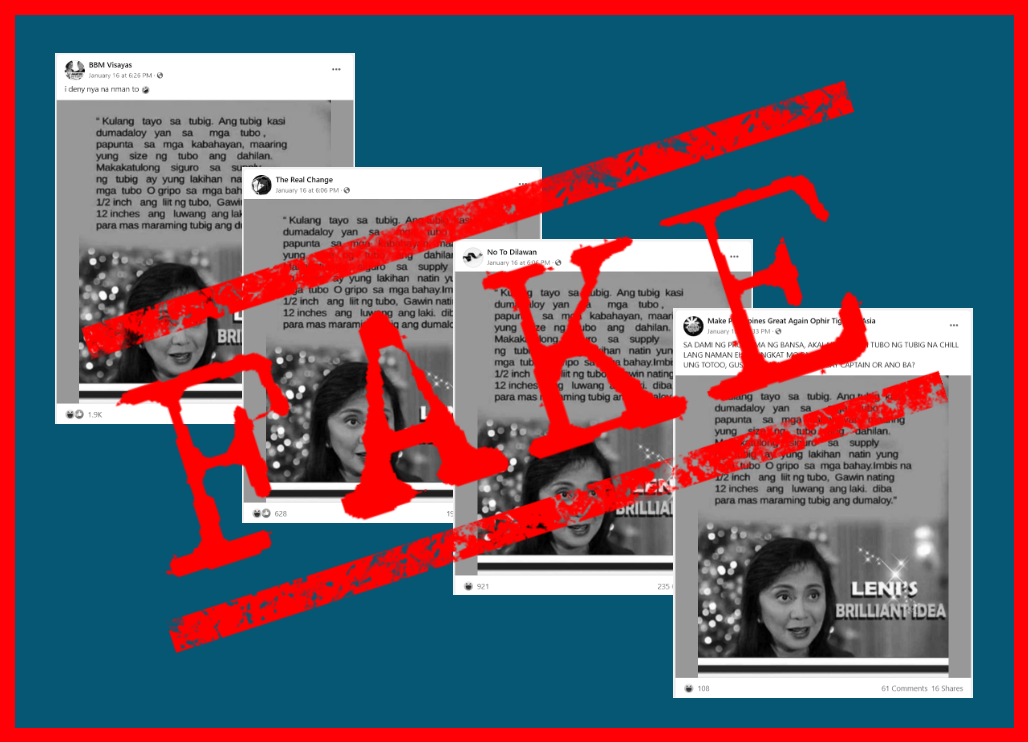 Robredo made no such remark. There are no news reports of the vice president making this proposal, and neither is the statement available on any of Robredo's official social media accounts.
In April 2019, the vice president debunked the quote card on her weekly radio program, weekly radio program, Biserbisyong Leni,, where she denied saying such a thing. She added the fake quote card was to make her look stupid.
The altered graphic first appeared that month when Metro Manila faced a water crisis caused by the declining water level of its primary water source, the Angat Dam. This January, the National Water Resources Board urged the public to conserve water as the Angat Dam experienced dips in its water level.
The manipulated graphic was revived from Jan. 16 to 18 by several FB pages, just as the Office of the Vice President announced that it was resuming its free COVID-19 testing service in the cities of Antipolo and Makati. The altered quote card elicited negative comments from netizens who belittled Robredo's intelligence and said she was "out of her mind."
The fake quote card was posted by the following FB pages: BBM Visayas (created on Oct. 15, 2021), No To Dilawan (March 14, 2021), The Real Change (Sept. 25, 2020) and Make Philippines Great Again Ophir Tiger of Asia (June 6, 2020). Their posts have collectively garnered more than 3,600 reactions, 1,200 comments and 460 shares.
Have you seen any dubious claims, photos, memes, or online posts that you want us to verify? Fill out this reader request form or send it to 'VERA, the truth bot' on Viber.
(Editor's Note: VERA Files has partnered with Facebook to fight the spread of disinformation. Find out more about this partnership and our methodology.)