Several netizens on Facebook (FB) resurfaced a fabricated quote card depicting Vice President Leni Robredo as a communist and rebel sympathizer.
It attributes to her the following statement: "Salamat sa mga nagtatanggol sa mga NPA [New People's Army]. Kailangan natin Protektahan ang NPA. Pagasa din sila ng ating bayan. Dapat makiisa ang Gobyerno sa Hangarin ng NPA. Eto ang Pangako ko kapag ako naging Pangulo."
(Thanks to those defending the NPA. We need to protect the NPA. They are the hope of our nation. The government should be one with the NPA's goals. This is my promise if I become president.)
A review of Robredo's official social media accounts and official website shows she never made the pronouncement. A keyword search on Google also yielded no official record or news report about the vice president making such a statement.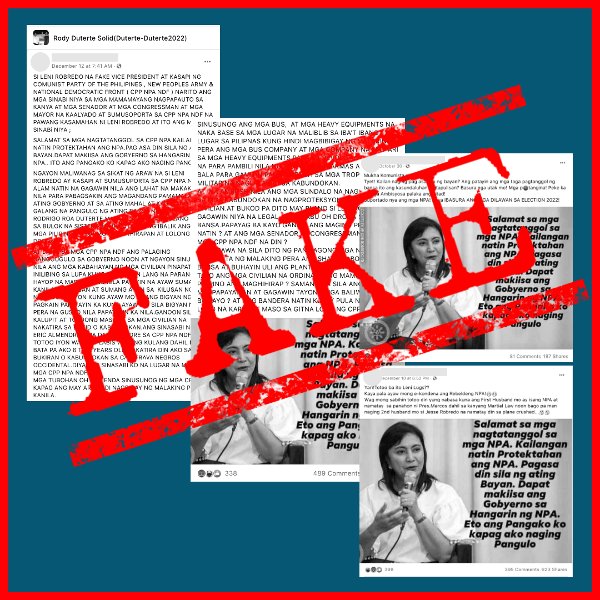 In a Dec. 12 FB post, Robredo refuted viral posts red-tagging her. On her personal FB account, the vice president uploaded screen grabs of the sham quote card and similar posts, and said "None of the allegations here are true." She also invited the public to "report these peddlers of fake news."
The bogus post features a photo of Robredo that can be found in a November 2019 UNTV article, credited to the Office of the Vice President, spliced together with the concocted statement.
The quote card first made the rounds on FB last Oct. 30, when it was posted by another FB user at a time actresses Angel Locsin and Liza Soberano were also red-tagged online.
It was resurfaced by two netizens on Dec. 10 and 12 following the Nov. 30 Talk to the People by President Rodrigo Dutertem where he declared Congress' Makabayan bloc, Bagong Alyansang Makabayan (BAYAN) and Gabriela Women's Party as "legal fronts of the communists" and "members of a grand conspiracy."
Red-tagging, or red-baiting, means to "harass or persecute" someone based on "known or suspected communist sympathies," according to Oxford University's Lexico.com.
The three FB posts carrying the fake quote card collectively received 903 reactions, 965 comments, and 942 shares. One of them — published by a FB user notorious for her anti-opposition sentiments — got most of its traffic from public FB groups PROTECT THE PRESIDENT DUTERTE, SARA DUTERTE FOR PRESIDENT & R. DUTERTE FOR VICE PRESIDENT 2022, and SARA DUTERTE FOR PRESIDENT AND R. DUTERTE FOR VICE PRESIDENT 2022.
(Editor's Note: VERA Files has partnered with Facebook to fight the spread of disinformation. Find out more about this partnership and our methodology.)