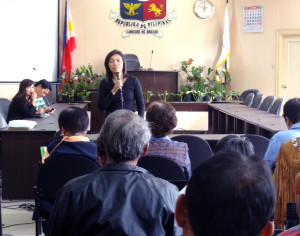 By OFELIA C. EMPIAN
BAGUIO CITY— Her city is not among the known human trafficking hotspots in the country yet the cause has found a champion in Regional Trial Court prosecutor Ruth Bernabe.
"Human trafficking is modern slavery though it is not talked about much in our institutions, even in the media and no in-depth discussions on it," Bernabe told VERA Files.
She said taking up the cause of abused women and children as a trial prosecutor of the Regional Family Trial Court of Baguio City for the past 10 years has shaped and deeply affected her advocacy.
Bernabe conducts an average of 50 lectures a year, speaking in various venues around the country to get one important message out—stop human trafficking. She does this while performing her duties as an Assistant City Prosecutor in Baguio City.