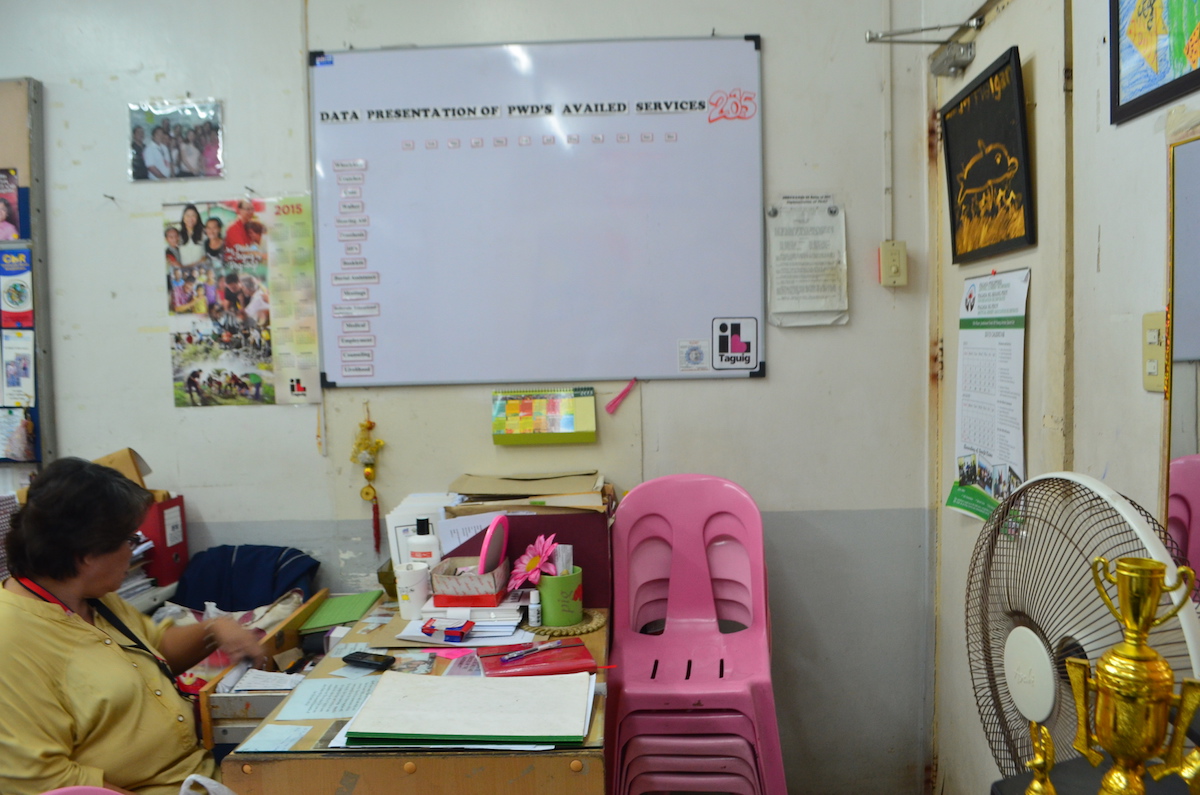 By VERLIE Q. RETULIN
TAGUIG City prides itself as one of the first local government units to establish its own Persons with Disability Affairs Office (PDAO).
In 2011, almost two years after Republic Act 10070 was signed into law, a city ordinance was issued mandating the creation of the PDAO and the abolition of then Office of Disabled Persons Affairs (ODPA), which was established back in 1995.
When the ODPA was abolished, staff of the newly-created PDAO took over the office, constructed a comfort room on its far end and bought new equipment.
However, large tables and cabinets, and a line of monobloc chairs now crowd the small office. It is difficult to get past the doorway because of these tables and chairs. For a wheelchair-user to enter, the staff have to move the tables.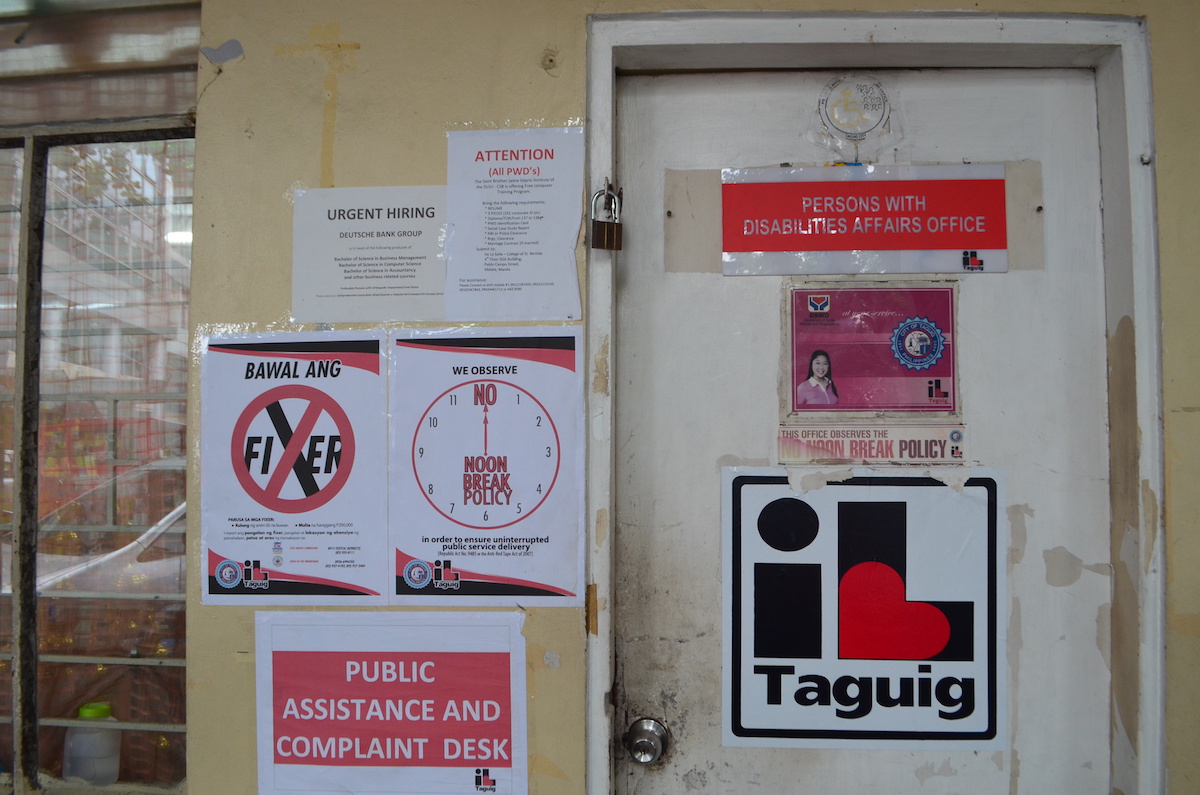 Aware of the current conditions in the office, Helario Supaz, head of Taguig City PDAO, said there are pending plans for improvement. In the meantime, the office has to adjust to the needs of the PWDs.
He said PWDs won't be able to appreciate having the office if they were only made to stay outside. "May office nga, hindi naman makapasok (They have the office yet they cannot enter)."
Outside the building, a ramp has been put in place to enhance mobility; however, a drainage system lies underneath. A metal railing that would have been useful in aiding those with mobility impairment, and preventing them from tripping over the drainage system, is visibly missing.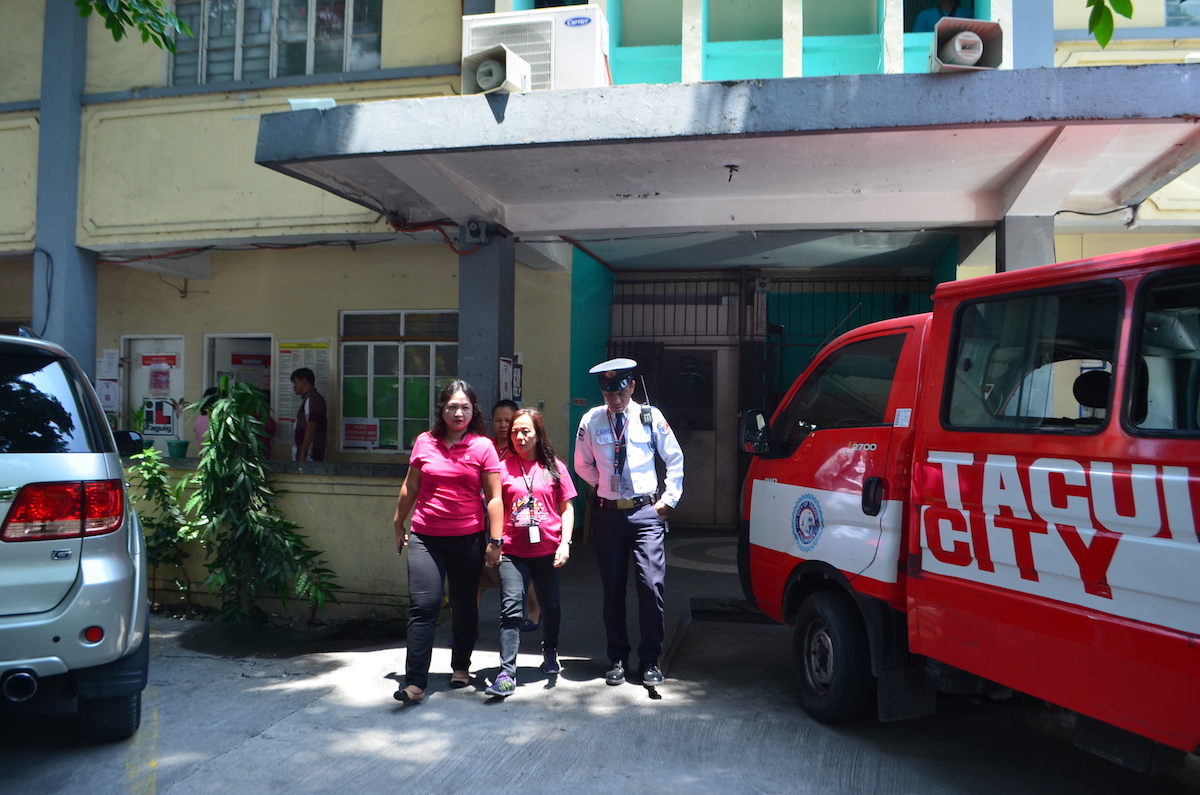 Moreover, cars parked outside block much of the building's entrance, making the ramp the only entry point for PWDs and regular individuals alike.
In 2013, Taguig was said to have undertaken an access audit of services in the city hall and has made recommendations on how to make it PWD-friendly.
During the National Disability Prevention and Rehabilitation Week last July, Senator Pia Cayetano, principal author of RA 10070, urged public establishments, including government institutions, to make sure that PWDs have full access to facilities and services that were meant for them.
Currently, Taguig City's PDAO is offering different programs and services for PWDs, ranging from medical and dental services, educational grants and employment opportunities. It also allots a budget for the procurement of assistive devices like wheelchair and hearing aids.
The office has also implemented stricter guidelines in identifying PWDs, a job which Supaz considers as one of the lapses of the former office. Previously, ODPA conducted a survey to identify the PWDs in the city. It yielded more results and had a longer list of PWDs compared to the figures PDAO currently has. But he said some of the responses had no basis and even those who do not have a disability had been included in the list.
"Mismo nga ako na taga-Taguig, hindi ko nga alam na may office talaga para sa PWDs. At kahit baliktarin mo yung survey, wala talaga yung pangalan ko doon. (EvenI, a resident of Taguig, do not know that an office for PWDs exist. And even if you turn that survey upside down, you will not find my name there)," said Supaz, who has orthopedic disability.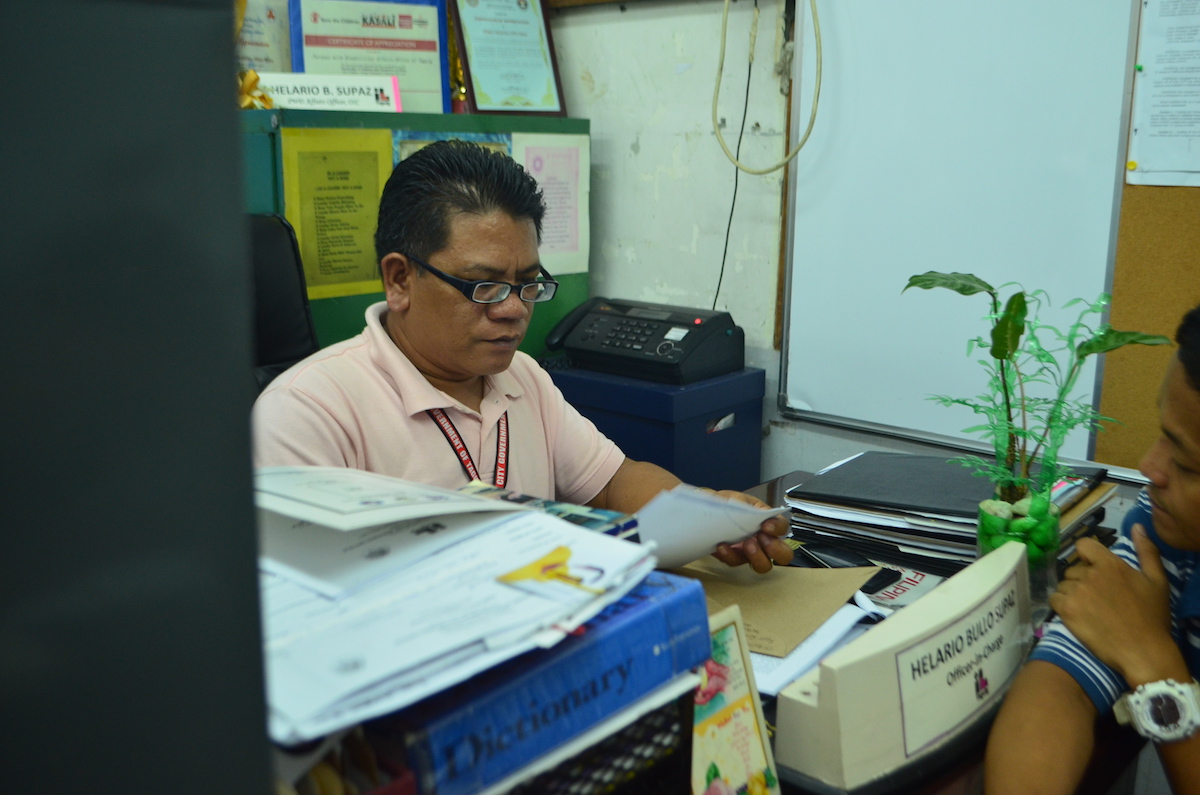 Now, they work with the Taguig City Integrated Survey System (TCISS), a "department that conducts house-to-house surveys regarding the basic social services needed by the residents of Taguig" to identify who the PWDs are in the city.
Recently, the TCISS hired 14 Deaf personnel for the citywide survey system, according to the city government website. Their job is to input data gathered by the field survey personnel to the office computer.
To facilitate the issuance of PWD IDs, TCISS enumerators visit each barangay carrying an application form and a list of requirements and make referrals to the PDAO. They also communicate problems encountered by PWDs to the office.
Supaz notes that their mayor, Lani Cayetano, signs the IDs herself to know their problems first-hand, unlike other cities where the process was made faster because the signatures are just being stamped.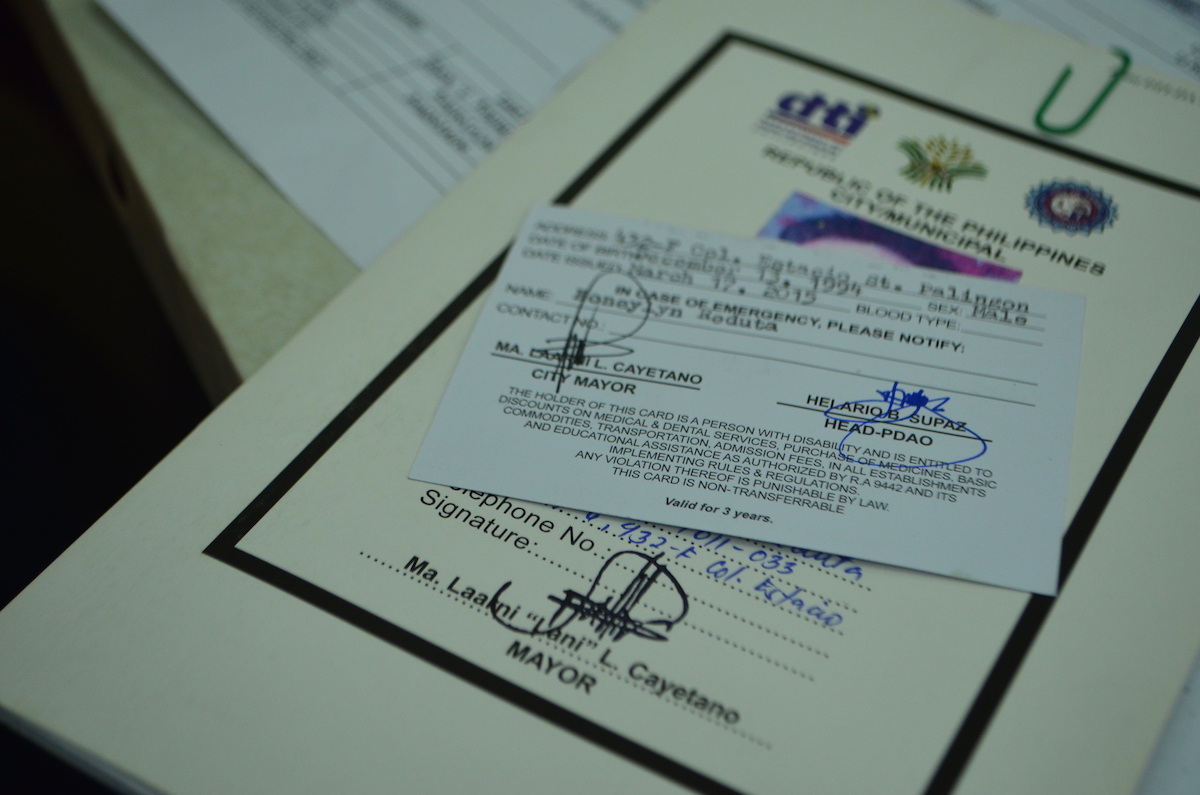 In 2010, upon learning about RA 10070, Supaz said he lobbied for and drafted an ordinance for the establishment of the office, which was eventually passed, thanks to the support from the mayor's office.
"Feeling namin malayang-malaya kaming gumawa ng plano. Malaya kaming mag-isip nung time na iyon (in 2011). (We felt free in creating our own plans. We were able to think independently during that time)," he said.
The ordinance also mandates the city government to provide for the appropriations needed for the effective operation of the PDAO and the implementation of its programs and projects for PWDs. While the law mandates only one percent of the annual budget, Supaz said no limits have been imposed on them as to how much their budget should be.
"Kung ang pondo na mahihingi mo ay sumobra sa one percent, okay lang. Walang limit na ibinigay. (If you request for funding that is more than one percent (of the total budget), that is okay. There were no limits given)," he said. He also assures that the entire funding is spent on PWD-related projects and services.
According to Supaz, more than P30 million has been allotted to the office for 2015, compared to the P20 million budget allotted last year.
The office is currently composed of 12 staff, eight of whom are PWDs, including Supaz. When they were hired to work under the new administration, Supaz recounts how some people reacted negatively, resulting in discrimination.
"Noong pumunta kami sa labas, marami kaming na-encounter na nagsasabing 'Oh, marami na palang pilay sa loob ng City Hall. 'Iyan ba ang pangarap ng bagong upo na mayor? Anong magagawa ng mga iyan (When we went outside, we encountered some people saying, 'Oh, there a are lot of cripple in the City Hall. Is that the dream of the newly-elected mayor? What can these people do)?" he heard them say.
Those remarks, according to Supaz, made them want to work more efficiently so they could prove their detractors wrong.
The PDAO office is also adorned with drawings of children with intellectual and learning disabilities. They are in frames hanging on walls and in cabinets, or in illustration boards suspended from the ceiling.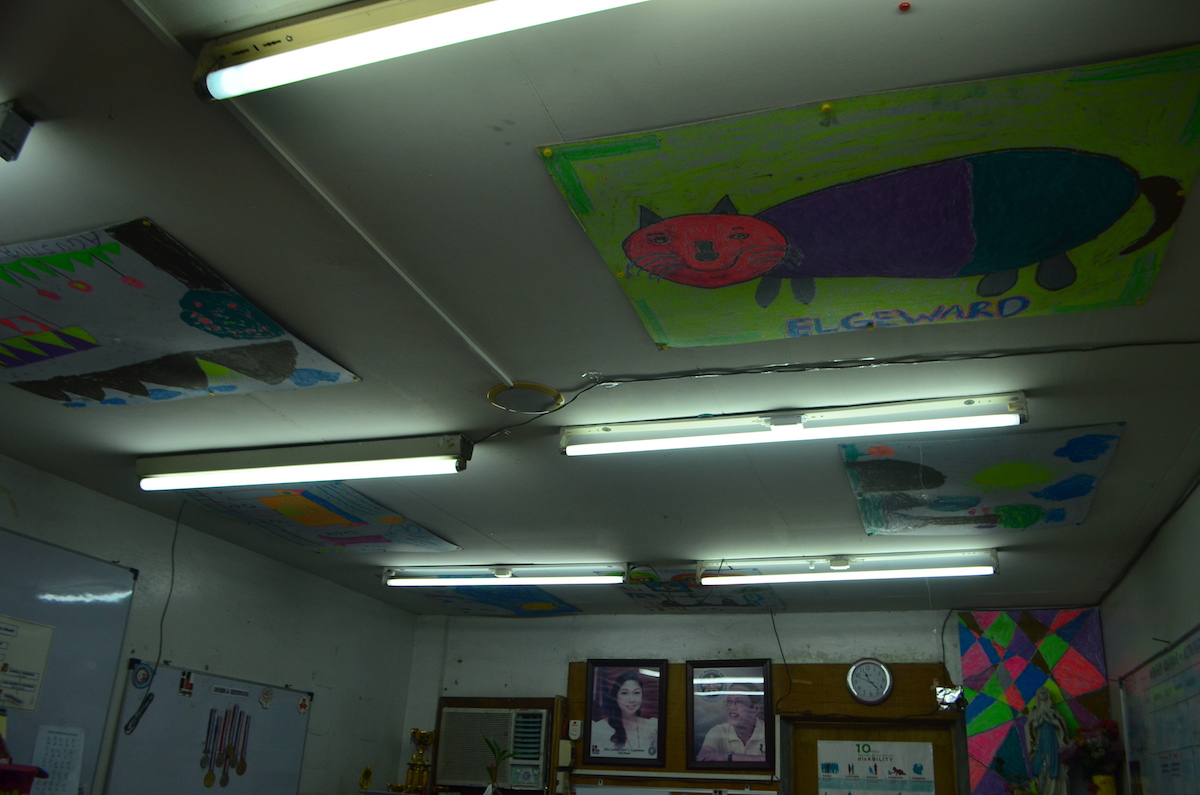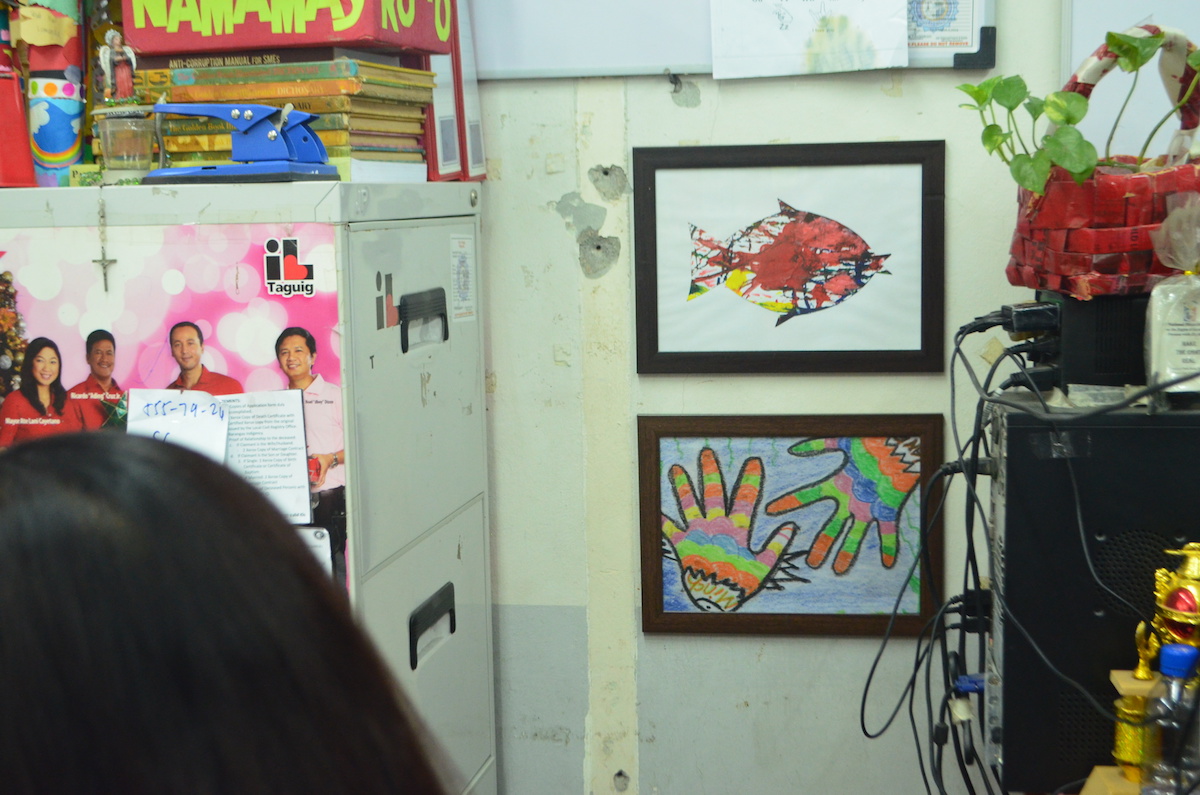 "Pag pumasok dito sa office, iyan agad ang hinahanap. Nakatingin sa iyo pero nakatingala. (When they enter the office, that is the first thing they (children with disabilities) look for. They are facing you, but are actually looking up)," Supaz said.
Meanwhile, to be able to communicate with Deaf clients, a copy of the sign language alphabet is pasted on every work corner so that the staff can easily refer to them. If the conversation gets more complicated, Supaz said they resort to written communication.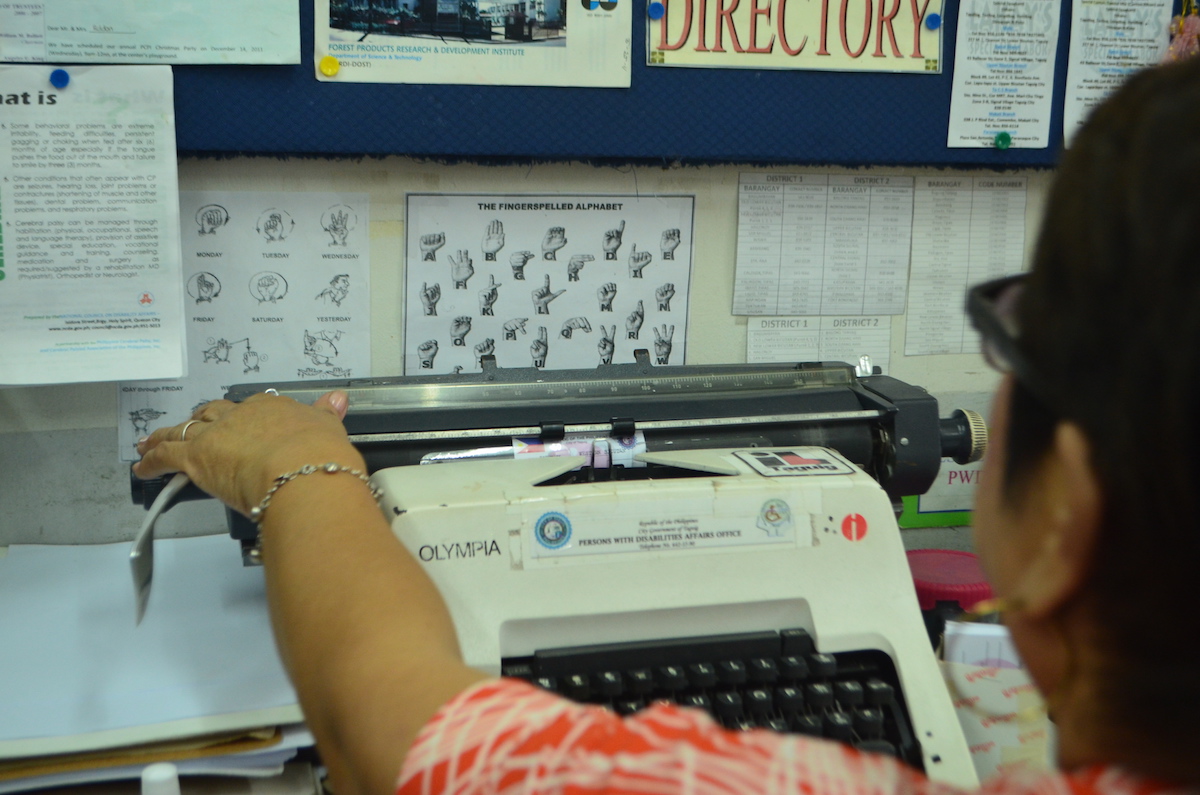 Organizations for PWDs have also been created in every barangay, and barangay captains are encouraged to set up a table in their barangay halls specifically designed for PWD-related concerns. Taguig has 28 barangays, but right now, less than half have a PWD helpdesk.