BY PABLO A. TARIMAN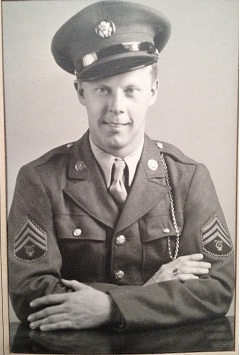 THE members of the Manila Symphony Orchestra (MSO) were preparing for their next season concert on September 14 at the BDO Francisco Santiago Hall when they received a pleasant surprise: an American clarinet player who played in the historic 1945 concert of the orchestra in the ruins of Sta. Cruz Church is still alive and asking how he could be of help to the orchestra.
American clarinet player Earl Smith is now into his 90s and asking if a Filipino lady cellist named Consuelo Tagle was still around. In the surface mail sent to MSO executive director Jeffrey Solares were pictures of MSO members in the 1940s and old souvenir programs.
Smith wrote he arrived in the Philippines in 1945 with the troops that landed in Lingayen Gulf. They were soon transported to a destination north of Manila and housed in a big building with artillery guns nearby and where he could hear guns being fired all night long.
The army clarinet player recalled the night he arrived in Manila thus: "The noise was incredible. And as each gun fired, the walls of the building could be seen to move in and out from the concussion. Not much sleep at night."
Then with the rank of a technical sergeant and a member of the 37th Infantry Division Band and with occupational specialty labeled as "bandman, clarinet #432," Smith was soon assigned to the division chaplain where he realized he had to secure music for various church services. He ended up in Sta. Cruz Church where now National Artist Antonio Molina – then the music director of the church — loaned him some music pieces.
Molina — who was also a cellist — is granduncle of present MSO music director and conductor Arturo Molina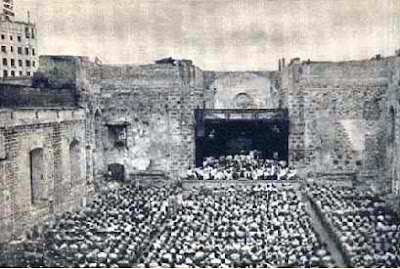 The older Molina mentioned to the American clarinetist that the MSO was in rehearsal for a coming concert. Then MSO music director and conductor Herbert Zipper allowed him to sit in the rehearsal and soon found himself in the first chair of the clarinet section. By way of introduction, Smith told Zipper he was a former principal clarinetist of the Oakland (California) Symphony and the San Francisco National Youth Orchestra.
The joy of music once more engulfed Smith as they rehearsed Beethoven's Symphony No. 3 and Dvorak's New World. Zipper invited him to join the orchestra — at least for the May 10-11, 1945 concerts. He had to remind the conductor that he was working with the US Army and that the war was still going on.
The next thing he knew was that he was assigned to the headquarters of Gen. Douglas McArthur and the Manila Symphony! In the first rehearsal the following day, Smith asked Zipper how he managed to get an army order assigning him to the orchestra.
Zipper replied probably with a grin: "Oh, I just invited General McArthur's private secretary over for dinner last night!"
Smith still has vivid recollection of that historic 1945 concert. When the musicians arrived at the church, workmen were still putting finishing touches on stage. "The performance of Beethoven's Symphony No. 3 was going along just fine when all of a sudden there was a loud explosion right behind me. If I didn't believe in levitation before, I did now as I must have come off my chair six inches or more," he recalled.
His first thought was: has the enemy returned?
They found out later that the explosion was caused by a large light bulb that got loose and went crashing down on stage.
He said later: "The explosion would have been more appropriate had we been playing Tchaikovsky's 1812 Overture."
That concert was also the most trying moments for most musicians. That was the concert where  — for the first time – they wouldn't see the orchestra's  former soloist and concertmaster, Ernesto Vallejo, who was killed by Japanese marauders along with his family in Tanauan, Batangas.
Dr. Zipper himself was nearly killed by retreating Japanese soldiers in Malate. For this postwar concert, Zipper had to beg for hand-me-downs and  give-aways from military camps for the uniform of the orchestra.
Violinist Basilio Manalo was soloist in a Beethoven concerto. He had played a total of 25 times from Sta. Cruz church to Rex  Theater.
Another MSO soloist, pianist Stella Goldenberg Brimo, also had dramatic war memories.
One concerto that she could not forget was Brahms' B Flat Concerto, which she assiduously practiced during the Japanese Occupation. She rehearsed at night and stayed home during the day even as she continued her piano lessons under Dr. Zipper who biked regularly to her residence.
Brimo played the Brahms concerto with the MSO for American GIs for seven consecutive nights in a Chinese movie house. In one performance, a blackout occurred but she didn't stop playing. The American soldiers gave her standing ovation.
Meanwhile, that post-war MSO concert at the church ruins received world-wide publicity with special coverage from such publications as Time and Life Magazines.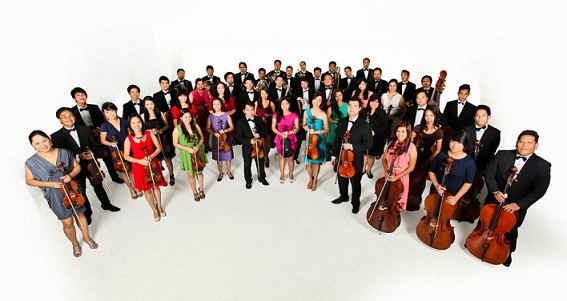 In 1995, Zipper's life was made into a documentary entitled, "Never Give Up:  The 20th Century Odyssey of Herbert Zipper" and won an Oscar nomination. He died in 1997 in Santa, Monica California at the age of 92.
Less than three months after that special 1945 engagements with MSO, clarinetist Smith was recalled back to the 37th Infantry Division Band for a possible invasion of Japan.
"This was a very sad time as I would have to leave my position in the orchestra and all of the friends I had made over the months. It was with sadness that our goodbyes were said. And thus ended an exciting period in my life," Smith confided to the present MSO members:
(The concert season of the Manila Symphony Orchestra resumes on Saturday, September 14, 8 p.m. at the BDO Francisco Santiago Hall. Featured soloists are soprano Camille Lopez Molina and  baritone Noel Azcona with the Viva Voce. Tel. 5235712 or 09164087549)