By YEN BLANCO DELGADO
ZAMBOANGA CITY—Residents of Zamboanga City are bracing for the worst, after the standoff between the military and the Moro National Liberation Front remained unresolved by nightfall.
The death toll from a day of fighting between government and the Muslim rebels is now at six—a policeman, a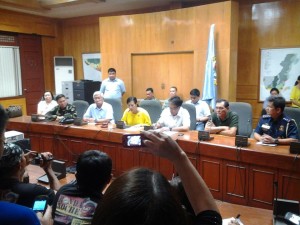 navy man, and four civilians. At least 14 are reportedly wounded – three policemen, seven soldiers and four civilians.  There were reports of casualties on the MNLF side but no confirmed number.
Residents of the five coastal barangays of Sta. Catalina, Sta. Barbara, Talon-Talon, Mampang and Kasanyangan who were able to, have already evacuated, as have those from surrounding barangays.  Most of them have opted to stay with relatives in farther villages, while those who have nowhere else to go are in temporary evacuation centers.
As of 4:00 p.m., Christian Olasiman, an officer at city hall, announced on Facebook: "1000 evacuees now at Grandstand and 1500 in Barangay Tetuan as of this moment. Count still increasing." Earlier in the day, there were just 600 evacuees at the grandstand. Various volunteer groups are calling on residents to donate water and cooked food.
Not all were lucky to get away from the gunfight in time. Over 200 are said to be held hostage or stranded: 200 in Kasanyangan, 20 at a mosque in Sta. Catalina, 20 at a mosque in Talon-talon, and 10 in Sta. Barbara.
On Facebook and Twitter, Zamboangueños were advised to stay put in their homes, especially toward late afternoon. In the seaside barangay of Talabaan in the west coast, officials have already imposed a curfew from 8 p.m. to 5 a.m.
Waking up to violence                                
The city woke up today to the news that at 4:30 a.m., MNLF and government forces were locked in a gunfight at Sta. Barbara, a predominantly Muslim coastal barangay about a kilometer from city hall.
Soon after, Zamboanga City Mayor Maria Isabel "Beng" Climaco-Salazar announced the suspension of classes in all levels, and no work for City Hall employees. Private businesses including banks followed suit in light of the ongoing gunfight.
As of 4 p.m., at least one school, Ateneo de Zamboanga University, announced there would still be no school and work on Tuesday.
Preparing for the worst
While there is no panic buying at the supermarkets, many families are stocking up on food and filling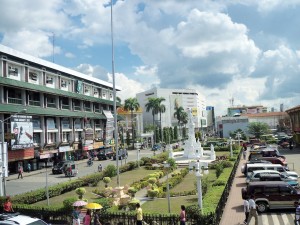 up their gas tanks. Securing provisions was difficult because most major supermarkets, especially in the city center, did not open.
Even in the wet markets, only few stalls were open for business. Grocery stores farther from the fighting started to open shop towards noon.
By mid afternoon, Climaco-Salazar issued a statement containing the latest updates on the conflict. She also asked the media "not to sensationalize or leak sensitive information so as not to jeopardize the operations of our authorities."
Blackout amid the violence
Climaco-Salazar also addressed one of the biggest fears of Zamboangueños: the blackout.  In a statement, she said, "Zamcelco (Zamboanga City Electric Cooperative) has been asked to exert all efforts to prevent power interruptions or curtailment while the situation is still unresolved." For months now, Zamboanga City has been suffering from rotating blackouts of at least six hours a day.
Residents fear that the rebel forces will use a power outage to strike out to other barangays, or use the cover of darkness to bring in more reinforcement.