By ARIEL C. SEBELLINO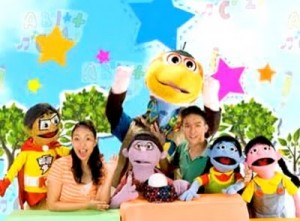 MARICEL Oriña, a self-employed housewife and mother of two boys, can only sigh in exasperation over the lack of sensitivity on how children are portrayed on television. 
She cited a teen show which blatantly shows teenagers below 18 kissing and hugging on national television and a foreign cartoon that is just unbearable to see because of its violent content. 
"We do not have good shows for children anymore," she said.  "My kids have nothing to learn from these stuff."
Aside from supervising the homework of her kids, she now  carefully chooses which programs her children are allowed to watch during set viewing hours.
Oriña  is just one of the many parents alarmed over the scarcity of children's programs on television.  Her concern was expressed by other children advocates during a series of consultative forums conducted in Manila, Baguio, Cebu and Davao by the National Council for Children's Television (NCCT) which monitors child-friendly programs on television.
Section 9 of Republic Act No. 8370, also known as the Children's Television Act of 1997, requires that a minimum of 15 percent of the daily total airtime of each broadcast network  be allotted for child-friendly shows within the regular programing of all networks granted franchises or as a condition for renewal of broadcast licenses by the National Telecommunication Commission. 
The law, which established the NCCT, provides penalties for violators:  "In the exercise of its administrative function, the council shall petition the proper government agencies and/or appropriate self-regulatory bodies to suspend, revoke or cancel the license to operate television stations found violating any revision of this Act and its implementing rules and regulations."
Mag Hatol, secretary-general of Anak TV and chairman of NCCT, however, pointed out that while the law has been in existence for 15 years, the penalties it provides could not be imposed because of the absence of implementing rules and regulations.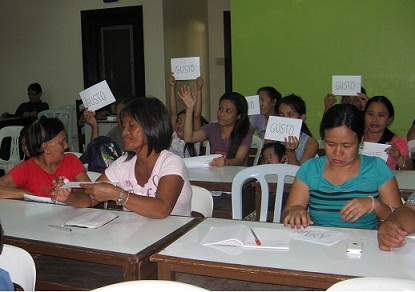 He said the lack of teeth to enforce the law has opened the floodgates to complaints from concerned individuals and child-rights groups over the dearth of children's shows and the prevalence of various programs that do not conform to what are the ideal children's television and child-friendly programs  as provided by law.  
"We are not even demanding an honest-to-goodness children's television as defined by the law but child-friendly programs which I think can truly be done if only you think of social responsibility," he said. 
NCCT said it will not take things sitting down.  It vows to enforce the law once the implementing rules and regulations are approved.
To date, it has only recognized five television shows  considered child-friendly: TV5's Batibot, ABS-CBN's I Got It and Why Not, GMA's Tropang Potchi and UNTV's KNC Show.
Hatol said the Philippines has a young population that should be tapped as audience if only more child-friendly shows on television are created.
Danton Remoto, head of research of TV5, admitted that while Batibot has been running for so long "it still needs to provide locally produced shows for children that talk about culture and values."
Remoto said, "As it is, our station complies with the  15 percent requirement and we see the need for this to be followed.  I would also love that Filipino language be used in the shows for children like Batibot." 
He said that a child psychologist and sociologist should be part of a team that thinks and creates shows for children.
Dr. Honey Carandang, a child psychologist and children advocate, said  television is the next most powerful tool in shaping the minds of the children, second to the family. 
She said, "TV becomes the baby-sitter.  So that the impact of the image is very powerful."  
Carandang said the child absorbs images totally, effortlessly, subliminally and unconsciously. She urged stakeholders to uphold respect and dignity of every Filipino child via television shows.
Catharina Van der Hor, country director of Plan Philippines, said  television offers risk-seeking behaviors. 
"Children think that any reality shown on television is okay and that it is okay for them to this as well," she said.
Van der Hor said  parents should make the decision and have the sole power and responsibility to monitor which television shows are fit for their children.  She also sees the need for guardians and caretakers to also assume the same responsibility.
Cecil Guidote-Alvarez, national Artist and director of UNESCO Dream Center, said  television should promote the goodness of cultural diversity and values creed on television programming for children. 
Alvarez, also the founder of the Philippine Education Theater Association (PETA), challenged concerned groups and stakeholders to come up with a watch list on "which are child-friendly business and (which) are not."