By ELIZABETH LOLARGA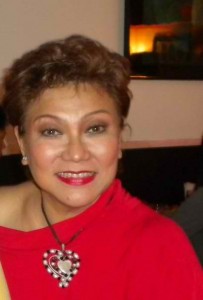 TIMELESS is the word for superior  jazz vocalists Jacqui Magno and Richard Merk.
The rare singing tandem  Jacqui  and Richard Merk timed their concert "My Foolish Heart" at a deadly date (Valentine's Day) when those on romantic dates were off at more popular gigs around town.
Still, the two delivered with oomph and élan at their new, more intimate concert venue, Merk's Place, on the second floor of Colbella Arcade, 910 Pasay Road, Makati City.
The place was packed. Spotted were at least three children, including public relations practitioner Veronica Tapia Merk's visually talented daughter Manna, age 10, romping around past their bedtime hour. This proves that jazz is for everyone, not only for golden oldies like the singing duo and their loyal followers.
Jacqui was radiant in a red, off-shoulder, biased blouse and, in a rare instance, a black skirt with matching pair of hose. She began her half of the concert with an alto rendition of "My Romance." It was a warm-up for her vocal chords as they climbed higher as she interpreted "Misty," "Sweet Love," made known by Anita Baker, "Moon River," the
classic samba "Girl from Ipanema," and "I've Got a Crush on You."
She said there are some things she now can do with her voice that she couldn't in her youth.
"I'm more confident whenever I fly off within a song," she shared. "I feel that I have more creativity–that may be the word to describe it."
Her duets with Richard, "My Foolish Heart" and "How Do You Keep the Music Playing?", had her playing more of back-up than co-equal.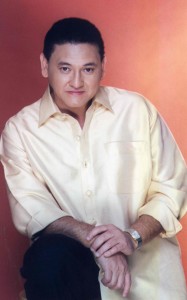 Richard tends to, as observed in the past, violently attack the songs in his repertoire like "Fly Me to the Moon," "Our Day Will Come" and Stevie Wonder's "My Cherie Amour." Although his energy contaminates the audience to sing along, such loud renderings can be soft-pedaled in a cozy venue like Merk's Place. This goes for the percussive accompaniment.
Richard's strength is in making his audience feel comfortable, whether at Merk's bigger, former location in Greenbelt 1 or the current one. He often goes down the stage to mingle with guests and encourages them to sing along with him, even if they're off key.
"You're a charming host," one first-time visitor to the place told him.
He can also wittily improvise, which a decent jazz singer must be capable of, by changing the lyrics of "Fly Me to the Moon" as follows:"Let me
see what spring is like in Jupiter and Buendia." (The reference is to two major streets in Makati.)
When he and Jacqui forgot some lyrics of songs requested from the floor, they knew enough not to let the audience on by humming and occasionally scatting, a kind of improvisation peculiar to jazz.
Jacqui is especially good during instrumental refrains where she is able, with the sound of vowels filling the air, to display the range of her voice. Although her age, perhaps, makes her tire easily and causes her to take breaks while Richard takes over, she is still our prima jazz diva.
Her "Body and Soul" is torch singing at its best; her "Fool on a Hill" at a dance-worthy beat can equal, (or is even better than), Sergio Mendes and Brazil '66's version.
Her versatility remains her strength. She still has it in terms of holding a note for more than 10 seconds. In her heyday, she could retain it longer. This is due to her training with the Hindu chants of Ananda Marga.
She said she does not have a regimen in maintaining her vocal quality through the years, adding, "I sing with my heart, thus I'm guessing that it affects the quality. Also, I've noticed in the past that alcoholic beverages do not agree with my vocal chords so I'm a very occasional social drinker."
That evening, she was seen before the show leisurely sipping her coffee after a light meal of buttered vegetables and fish fillet. In the past she would sing on an empty stomach, fueled with an energy drink which then fellow Circus Band mate Basil Valdez introduced to the members. But that was in the 1970s. She found out that energy drinks are not that good for her health, either.
Jacqui and her contemporaries Eugene Villaluz, Ding Mercado and Pat Castillo  reunited in another concert, "After the Loving," held on Feb. 23  at Arts in the City at The Fort in The Global City of Taguig.
She described the event as a combo of famed local bands Circus and The New Minstrels. With baby boomers, her followers, enjoying a certain level of prosperity and a strong buying power of leisure time, expect more packed reunion concerts of this kind.