A couple of Facebook (FB) pages are yet again repeating the false claim that suspended Bureau of Corrections (BuCor) Director General Gerald Bantag has been reinstated, this time allegedly due to the "actions" of former President Rodrigo Duterte.
On Nov. 27 and 28, the two pages posted identical videos with similar headlines. One of the titles read: "SAWAKAS! ex-PRRD UMÂKSY0N NA Gen BANTAG BÂLlK BUCOR CATAPANG UMÂMlN NA REMULLA PALPÂK (At last! ex-[President Duterte] took action, Gen. Bantag returns to BuCor, [acting BuCor Chief Gregorio] Catapang confessed, [Justice Secretary] Remulla failed)"
One of the headlines was noticeably written in such a way to avoid keyword detection. 
There was no evidence to support its claim in the videos. It only showed a part of Duterte's Nov. 19 statement that people should support the current government now that the election is over and a blogger's opinion urging Duterte to "help" Bantag and talk to President Ferdinand Marcos.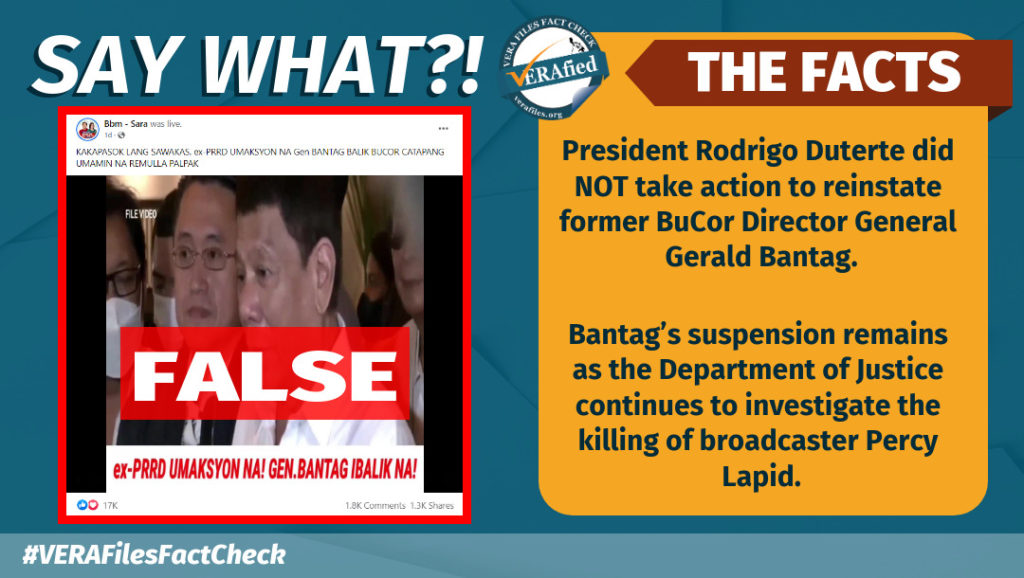 The Department of Justice (DOJ) has made no order reinstating Bantag, and his suspension remains as the investigation over the death of broadcaster Percival "Percy Lapid" Mabasa continues.
Bantag was a no-show at the preliminary probe proceedings over the killing of Mabasa this week because the subpoena issued by the DOJ was addressed to a "different individual," according to Bantag's lawyer.
VERA Files Fact Check has already debunked this claim early this month. (Read VERA FILES FACT CHECK: Gerald Bantag NOT back as BuCor chief)
The videos emerged a few days after Bantag claimed that the massive 40-meter wide dirt pit uncovered next to his official residence was not an escape tunnel for inmates but for "scuba diving" instead.
FB pages Bbm – Sara (created on Sept. 17, 2022) and Bayan mo TV ph (Nov. 6, 2019) published the videos, collectively garnering over 26,000 reactions, 3,000 comments, 2,400 shares and 916,000 views.
There was also a copy of the video on YouTube, published by channel BANAT NEWS TV, receiving over 132,000 views and 4,700 interactions.
Have you seen any dubious claims, photos, memes, or online posts that you want us to verify? Fill out this reader request form or send it to 'VERA, the truth bot' on Viber.
(Editor's Note: VERA Files has partnered with Facebook to fight the spread of disinformation. Find out more about this partnership and our methodology.)