A video of a massive tornado described as having ravaged a coastal town is making the rounds on Facebook. This is a manipulated footage taken from an old clip of Hurricane Matthew in the United States in 2016.
On Sept. 5, a Tiktok user first uploaded the viral video that has 187 million views as of writing. The TikTok account's bio reads: "videos real or edited."
Circulated mostly through FB reels as early as Sept. 5, the clip shows a massive tornado behind a shopping center as lightning strikes. The video posted by an FB page bore the caption: "Tornado Damage in Coastal Town #tornado #creepy #scary."
It is a doctored video meant to deceive netizens.
Some netizens posted the clip without context, leaving other people asking if it was real and where it happened. Some uploaders also claimed that it was shot in Bacolor, Pampanga, in Hong Kong and even in China.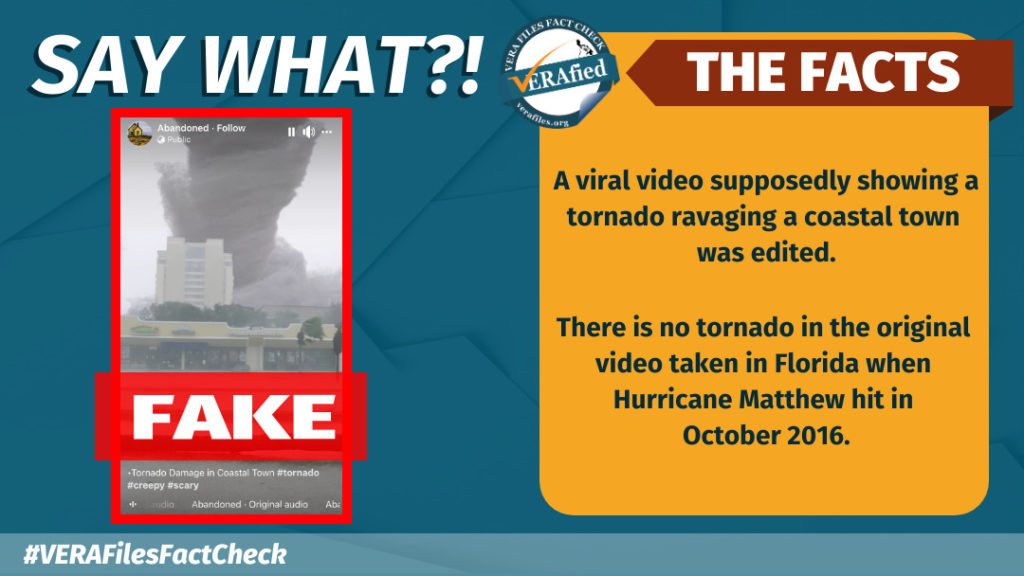 Reverse image search confirmed that the unaltered clip showed no tornado. The original video was uploaded by the YouTube channel Tornado Trackers, an organization providing weather stock footage, on Oct. 9, 2016. The video's description read: 
"Full recap of our chase during Hurricane Matthew from Melbourne, FL and Jacksonville Beach, FL on October 6-7, 2016. Includes footage of very strong wind, storm surge, and blowing debris." 
The clip was also released on Shutterstock and Adobe Stock. 
According to the United States National Weather Service, Category 5 Hurricane Matthew was the most powerful storm of the 2016 Atlantic Hurricane Season.
The altered clip circulated among Filipino netizens the same day the Philippine Atmospheric, Geophysical and Astronomical Services Administration announced the development of tropical depression Ineng. Before Ineng, back-to-back cyclones – Typhoon Hanna (international name: Haiku) and Super Typhoon Goring (Saola) – dumped heavy rains on the country. 
Last May, VERA Files Fact Check also flagged a digitally manipulated video of a tornado that supposedly formed during Super Typhoon Mawar's wrath in Guam before it entered the Philippines. (Read Video of 'tornado' during Mawar's onslaught ALTERED, NOT in Guam)
The fake video was shared on FB by more than 30 Filipino netizens and the FB page Abandoned (created on Sept. 15, 2022). The posts with the most interactions collectively garnered 1,003 reactions, 463 comments, 169 shares and 16,800 views. The same clip also appeared at the start of compilation videos of various disasters in 2023, with one garnering 2,000 reactions, 210 comments, 2,300 shares and 121,000 views.
Have you seen any dubious claims, photos, memes, or online posts that you want us to verify? Fill out this reader request form or send it to VERA, the truth bot on Viber.
(Editor's Note: VERA Files has partnered with Facebook to fight the spread of disinformation. Find out more about this partnership and our methodology.)