A Facebook (FB) reel circulating locally is erroneously claiming that an alleged 11.9 magnitude earthquake recently struck the U.S. state of California. This is not true. Shown in the video was the earthquake that hit Japan 12 years ago.
Published on Aug. 29, the reel continued to circulate this week, showing a shocked emoji, and a text that read: "California. Earthquake 11.9 [magnitude]." 
It featured several footage of rooms that were shaking, buildings wobbling and streets cracking open, allegedly showing the impact of the so-called mega earthquake that struck California last Aug. 23. 
This is false. The FB reel used video recordings that were taken during the magnitude 9 earthquake that unleashed a tsunami in Japan in 2011.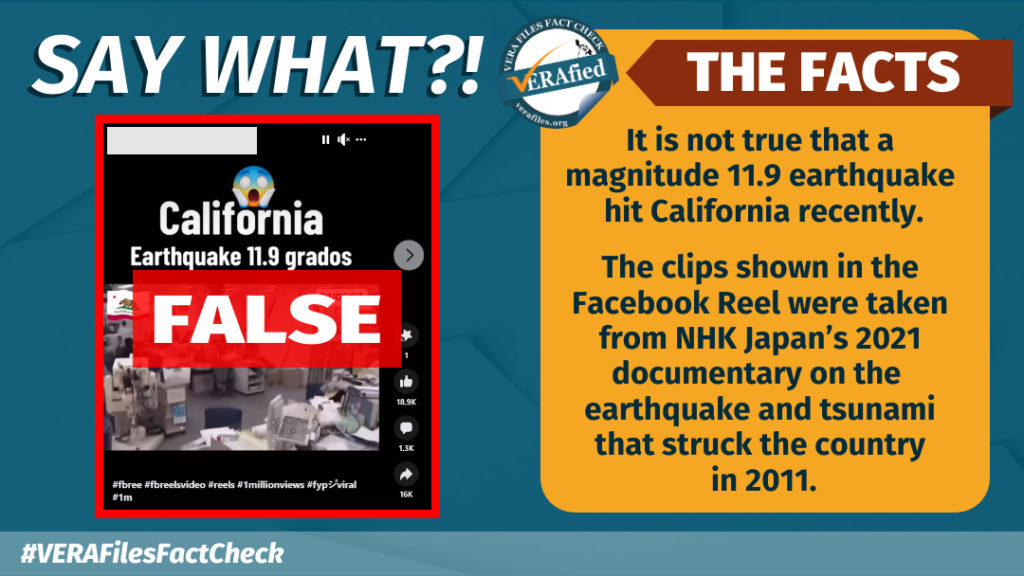 Just last week, VERA Files Fact Check debunked a TikTok post using the same video but with a different date when the California earthquake allegedly occurred. (Read VERA FILES FACT CHECK: FALSE TikTok video on California quake reshared on FB)
The entire clip in the Reel was taken from Japan's public tv network NHK World-Japan's 2021 documentary commemorating the 10th anniversary of the powerful earthquake and tsunami that devastated parts of the country. 
NHK Japan's logo was also masked with California's state flag in the spurious video. 
A magnitude 5.1 earthquake did hit Southern California on Aug. 20, followed by a series of weaker tremors on Aug. 24. Earthquakes of magnitude 10 or larger cannot happen, according to the United States Geological Survey, because no fault along the earth is long enough to generate such a seismic event.
The FB Reel emerged the same day the provinces of Sarangani and Antique were hit by 5.5 and 4.6 quakes, respectively.
The FB netizen's video has since garnered over 18,700 reactions, 1,300 comments, 16,000 shares and 946,000 views.
Have you seen any dubious claims, photos, memes, or online posts that you want us to verify? Fill out this reader request form or send it to VERA, the truth bot on Viber.
(Editor's Note: VERA Files has partnered with Facebook to fight the spread of disinformation. Find out more about this partnership and our methodology.)