A video advertisement for a device that allegedly reduces energy consumption contains altered clips from a five-month-old CNN Philippines interview with a Department of Energy official.
The DOE is not endorsing Sonic Energy Saver.
The ads are posted on Facebook pages that direct netizens to a website (SONICSAVER.STORE) where they are promised discounts and asked to provide personal information so they can avail themselves of the product.
On May 17, two Facebook (FB) pages posted a one-minute and 46-second video supposedly showing an interview of CNN Philippines anchor Ruth Cabal with DOE Energy Utilization Management Bureau Director Patrick Aquino on energy-saving devices. 
The altered video's headline read:
"SMART ENERGY POWER SAVING DEVICE NAPATUNAYANG EPEKTIBO AYON SA DOE (SMART ENERGY POWER SAVING DEVICE PROVEN TO BE EFFECTIVE ACCORDING TO DOE)."  
At the 0:48-second mark, Aquino can be heard endorsing the product. But the interview shown in the video was spliced. And that was what Aquino actually warned netizens against in his Dec. 21, 2022 interview: spliced videos were being tied together to suggest that the device can lower electricity consumption.
Aquino clarified that the DOE is not promoting any energy-saving product and the best way to save is by "practicing prudent use of our appliances." 
The DOE previously posted advisories against these edited ads and said that, as of December 2022, they "have yet to find an energy-saving device that can satisfy its claim for efficiency."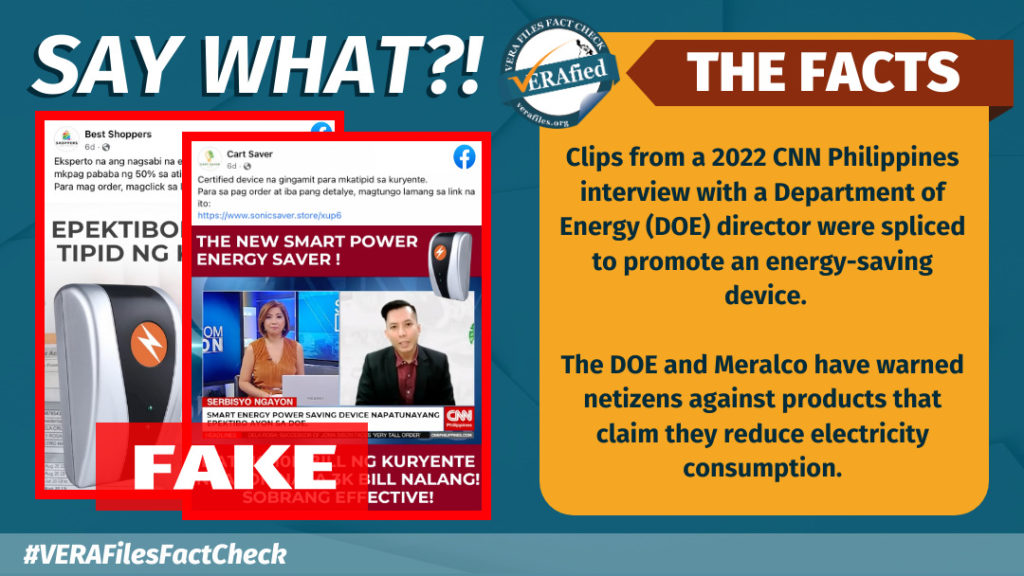 To further deceive netizens, the product's website featured an altered photo showing former president Rodrigo Duterte with officials from the government and the Manila Electric Co. to claim that the device is part of a "Meralco E-saver project." 
The original photo was taken during a switch-on celebration of a power plant in Quezon in 2019, not the supposed product's event.
Note: Click on the photo to view its original source.
Meralco has said that energy-saving devices do not lower monthly consumption and "may slightly add to your bill." Meralco does not sell energy-saving devices. 
Rappler and ABS-CBN News debunked similar false ads for power-saving devices that circulated in 2022. 
The altered video resurfaced less than a week after Meralco announced an increase in electricity rates for May.
The videos by the FB pages Card Saver and Best Shoppers (both created on May 16) collectively have 175 reactions, 102 comments and 18,900 views as of writing. 
Have you seen any dubious claims, photos, memes, or online posts that you want us to verify? Fill out this reader request form or send it to VERA, the truth bot on Viber.
(Editor's Note: VERA Files has partnered with Facebook to fight the spread of disinformation. Find out more about this partnership and our methodology.)