A Facebook (FB) reel is passing off scenes from a film as real-life events, claiming that an unspecified popular convenience store is selling factory-processed human meat.
The short video was published on May 8 by an FB page and continues to circulate this week. The following text is superimposed on the video: 
"[T]otoo kaya to? Convenience store na sikat sa masarap nitong karne, hindi ko inaasahan na ang karne ay ginawa mula isa isang espesyal na sangkap

(Is this real? A convenience store known for its delicious meat, I did not expect that its meat is made using one special ingredient)."
An automated voice-over can be heard saying that the meat factory is kidnapping undocumented immigrants and turning them into human meat patties as clips of the supposed factory and immigrants are shown.
The clips were mostly taken from an American film, except for one short video showing real immigrants in the US.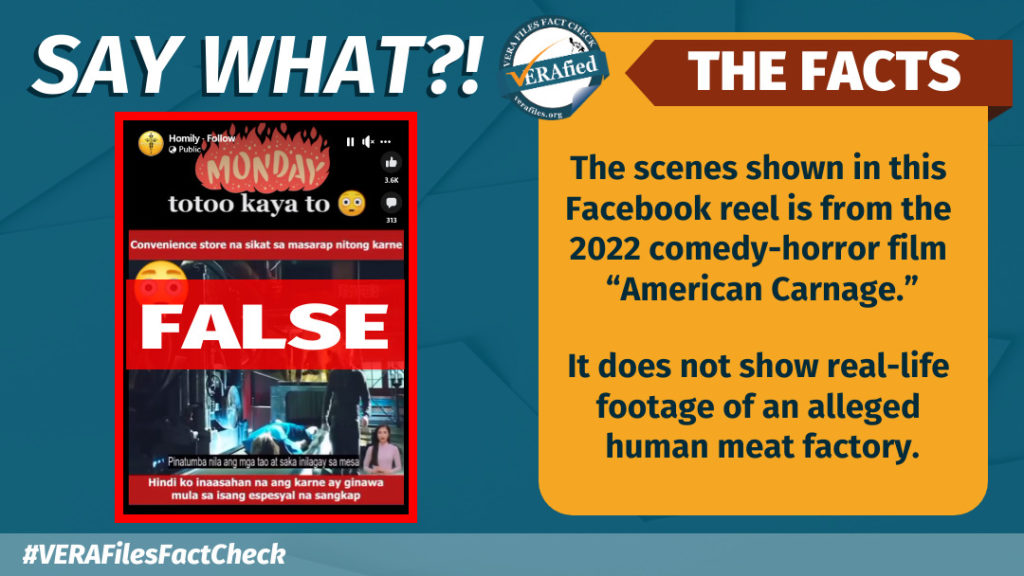 The alleged human meat factory described in the reel is from the 2022 comedy-horror film American Carnage, which is about detained undocumented immigrants given a second chance by having their charges dropped if they volunteer to provide care for the elderly.
The short clip which shows authorities guiding a line of people inside a building was taken from the 2018 real-life video of detained immigrants directed to enter a detention center in the United States. It doesn't show people supposedly lining up to be processed into meat patties.
FB page Homily (created on Oct. 8, 2022) published the video, garnering over 3,600 reactions, 300 comments, 5,600 shares and 574,000 views. The same video was published by TikTok account sweetie2989 in March, drawing over 14,100 interactions and 542,300 views.
Have you seen any dubious claims, photos, memes, or online posts that you want us to verify? Fill out this reader request form or send it to VERA, the truth bot on Viber.
(Editor's Note: VERA Files has partnered with Facebook to fight the spread of disinformation. Find out more about this partnership and our methodology.)