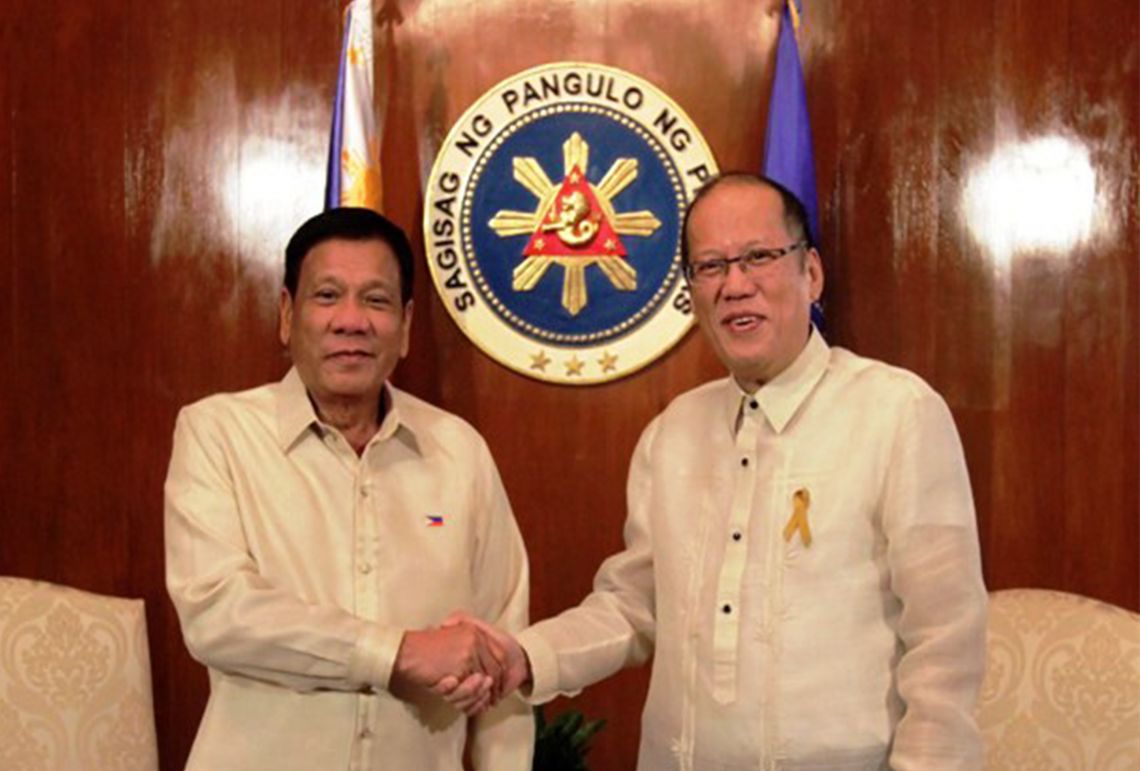 Responding to former President Benigno Aquino III's criticism of his war on drugs, President Rodrigo Duterte fired back, and flaunted his administration's record vis-a-vis Aquino's.
STATEMENT
In an Aug. 4 speech in Barangay Kilala, Marawi City, Duterte, reading from a piece of paper, said:
"'Yung collection ko sa shabu, sa one year, I got about… Ang kanyang sa—the entire six years niya—ah one year, they only—they're able to get 4 billion 83. Sa one year ko, nung matatapos na ako, nung one year na ako, I confiscated or seized 18.52 billion (In one year, Aquino was able to seize shabu amounting only to P4.83 billion. In one year, I had seized P18.52 billion)."

Source: Speech of President Rodrigo Roa Duterte during his Visit to the Joint Special Operations Task Force Trident, watch from 3:04 to 3:41
FACT
Duterte's figures were apparently culled from data from the Philippine Drugs Enforcement Agency (PDEA), which provided VERA Files a summary of its "Comparative Anti-Drug Accomplishments."
But the president's claim is misleading, and exaggerates the supposed gains of his administration's war against illegal drugs.
At the outset, Duterte was wrong in saying the amounts P4.83 billion and P18.52 billion are the values of shabu confiscated during the Aquino and Duterte administrations respectively.
They are not.
Rather, such amounts reflect the value of all "confiscated drugs and non-drug evidence," and thus include the values of seized ecstasy and cocaine; eradicated marijuana plantations; and dismantled chemical warehouses, clandestine laboratories, drug dens and drug tiangges (market), according to the PDEA report.
If Duterte were referring to shabu alone, the amount seized under Aquino was P0.94 billion and P12.62 billion under him.
Less conspicuous, but just as inaccurate, is the method of comparison Duterte used to show how he had purportedly performed better than his predecessor.
The large and sudden jump in the value of shabu – as well as the total value of all confiscated drugs and non-drug evidence – does not automatically mean Duterte's administration has been more effective, or more efficient, than Aquino's.
This is because Duterte's war on illegal drugs has itself drastically increased the street price of illegal drugs, thus also inflating the total value of drugs confiscated.
In an Oct. 6, 2016 press release, PDEA Director General Isidro Lapeña said the street price of shabu has increased to its "highest since 2002 following the government's intensified anti-drug campaign."
He said the current street price of shabu now ranges from P1,200 to P25,000 per gram, or 127 percent more the value from January to June 2016, the last semester of the Aquino administration.
In criticizing Duterte, former President Aquino himself made an inaccurate claim. He told reporters during the eighth death anniversary of his mother, late President Corazon Aquino:
"Ang sabihin ko lang, nung kami 1.8 million tapos sa isang taon nitong all-out na kampanya laban sa drugs, 1.8 pa rin ang sinasabi ng survey. At survey na nila 'yan," (All I'm going to say is, during our time it was 1.8 million, then next year, in the all-out anti-drug campaign, the survey says 1.8 again. And that's their survey already)."

Sources:
ABS-CBN News Online, CNN Philippines, Philstar.com
The numbers are the same because they come from the same survey by the Dangerous Drugs Board (DDB), done during Aquino's term, but released only in September last year.
Sources:
PDEA says shabu prices more than doubled as war on drugs intensifies
Comparative Accomplishments July 2015 to July 2016 VS July 2016 to June 2017
Anti-Drug Accomplishments under President Benigno Aquino III
Anti-Drug Accomplishments under PRRD from July 2016 to July 9, 2017
Philippine Drug Enforcement Agency
ABS-CBN NEWS Online. Aquino questions effectiveness of Duterte's war on drugs
CNN Philippines. Gov't hits back at Pres. Aquino's drug war comments: Let results speak for themselves
Philstar.com. Duterte fires back at Aquino over comments on drug war
Presidential Communications Operations Office. From Presidential Spokesperson Ernie Abella: On ex-politician's comment "parang wala yatang nangyari"
(Guided by the code of principles of the International Fact-Checking Network at Poynter, VERA Files tracks the false claims, flip-flops, misleading statements of public officials and figures, and debunks them with factual evidence. Find out more about this initiative.)