An infographic is making the rounds on Facebook (FB), erroneously claiming that wearing face masks and presenting vaccination cards when entering establishments are mandatory while Metro Manila remains under alert level 1. This is not true.
The Department of Health (DOH) has denied the claim, calling it a "false circulating post." It emerged as early as April 25, or more than a week after the Inter-Agency Task Force (IATF) announced that Metro Manila, alongside other regions, is still under alert level 1 until April 30. 
The incorrect infographic stated that in places under alert level 1, face masks should be worn at all times when using amenities, visiting establishments and riding on public transport. It also said anyone over the age of 18 or "workers" should present their vaccination cards when entering certain establishments.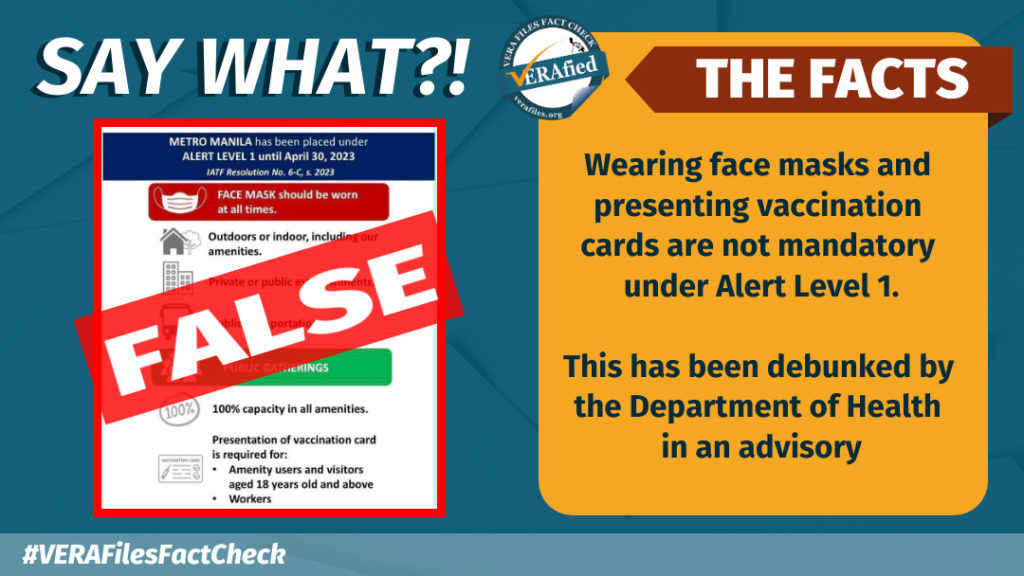 In an April 26 advisory published on its official FB page, the DOH warned the public from spreading such a graphic and stated that the current alert level system is still being discussed through the IATF.
"At present, Metro Manila is still under Alert Level 1, which means restrictions remain to be in the status quo," said the health agency. Mask-wearing is voluntary and encouraged, but not mandatory, it added.
According to the DOH website and IATF's guidelines for areas under alert level 1:
All health facilities are required to implement use of proper personal protective equipment, 
All establishments are allowed to function fully on-site provided it complies with minimum health standards
And public transportation will be at 100% passenger capacity.
Nowhere in the IATF guidelines does it state that face mask-wearing and the presentation of vaccination cards are required. The DOH and the IATF have yet to issue a new set of guidelines. 
The erroneous infographic spread after the Department of Health reported the first case of the Omicron subvariant XBB.1.16, also known as the Arcturus variant, detected in Western Visayas. 
At least 36 FB groups and pages published the image according to social media monitoring tool CrowdTangle.
Have you seen any dubious claims, photos, memes, or online posts that you want us to verify? Fill out this reader request form or send it to 'VERA, the truth bot' on Viber.
(Editor's Note: VERA Files has partnered with Facebook to fight the spread of disinformation. Find out more about this partnership and our methodology.)