A netizen reshared a five-year-old video which claimed that taking a shower daily negatively affects the body. This is not true, according to dermatologists.
Fact-checking organization The Healthy Indian Project has debunked a similar claim made by a netizen in a Facebook Reel that continues to gain traction more than two weeks after it was posted on Dec. 22.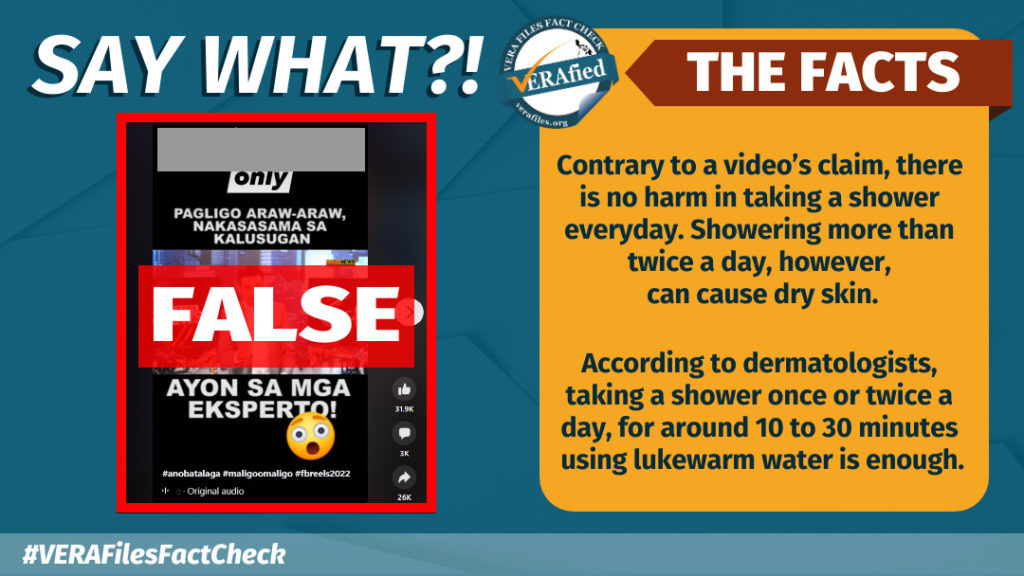 Daily showers are not harmful to health and body
"Kasi pag sinabi mong health value, lahat ng organs kasama, 'di ba? Na kapag naliligo ka araw-araw, pwedeng magkaroon ng problema sa buong katawan mo, hindi lang sa skin," dermatologist Grace Carole Beltran told VERA Files Fact Check via video interview. 
(Because when you say health value, it refers to all the organs, right? That when you take a shower everyday, your entire body can have problems, not just your skin.)
"[But taking a shower] everyday, I don't think it will really affect the health of your skin… It's a matter of what type of products you use: magkakaroon ng problema ang isang tao kapag mali 'yung sabon na ginagamit niya (there will be problems when a person uses the wrong type of soap), Beltran, who is also a dermatologic and aesthetic surgeon, added.
Citing "experts" and a study – referring to a 2015 Buzzfeed article – the video, first posted by DZRH News' official Facebook page on Dec. 4, 2017, claimed in its in-video text that taking a shower daily is bad for one's body and health. The experts noted this in the context of an American setting.
Advice on taking a shower twice to thrice a week for 10 minutes also inaccurate
Citing that study without the caveat in the article that mentioned how activity level and climate affect the frequency of taking showers, the DZRH video advised netizens to take a shower for 10 minutes twice or thrice a week using lukewarm water. Beltran disagreed with the advice.
"I still think that you can still take a [shower] everyday, at least 30 minutes is allowed… 'Pag 10 minutes lang, wala kang malilinis doon (You cannot be clean just by taking a 10-minute shower).
"Take a [shower] once or twice a day, for 10 minutes in lukewarm water. Use mild soap and avoid too hot or too cold water," another dermatologist, Gilbert Yang, told VERA Files Fact Check via email.
Factory workers and people who sweat a lot should take a shower more frequently, while office-based workers in an air-conditioned environment and those at home can take a shower once a day, added Yang, also a member of the Philippine Dermatological Society.
Taking too many showers can dry the skin
Beltran and Yang both agree that taking a shower more than once a day can lead to dry skin, especially for persons with sensitive skin, eczema, or other skin conditions.
Moisturizer can be applied if one's skin is dry after taking a shower, Beltran said. She said she prefers lotions over creams because the former is easier to apply on the skin.
The viral Facebook Reel post garnered a total of over 60,600 interactions. Its original video, posted by DZRH, got over 11 million views.
Have you seen any dubious claims, photos, memes, or online posts that you want us to verify? Fill out this reader request form or send it to 'VERA, the truth bot' on Viber.
(Editor's Note: VERA Files has partnered with Facebook to fight the spread of disinformation. Find out more about this partnership and our methodology.)