A Facebook (FB) page that supports rights of people with disabilities (PWDs) published a fabricated screengrab of a post where Bagong Alyansang Makabayan secretary-general Renato Reyes Jr. labelled PWDs as terrorists and "mongoloids."
Reyes did not publish such a post.
PWD Rights Philippines published last Jan. 19 the fake post where Reyes alleged that the reason the Department of National Defense (DND) unilaterally terminated its accord with the University of the Philippines (UP) was to "favor the PWD Mongoloid Terrorist Group of Rodrigo Duterte."
The fake screengrab and its caption were reposted a few hours later by a netizen in public FB group SARA DUTERTE "The IRON Lady" FOR PRESIDENT 2022.
A review of Reyes' FB status updates related to the UP-DND accord termination showed he never made such a statement.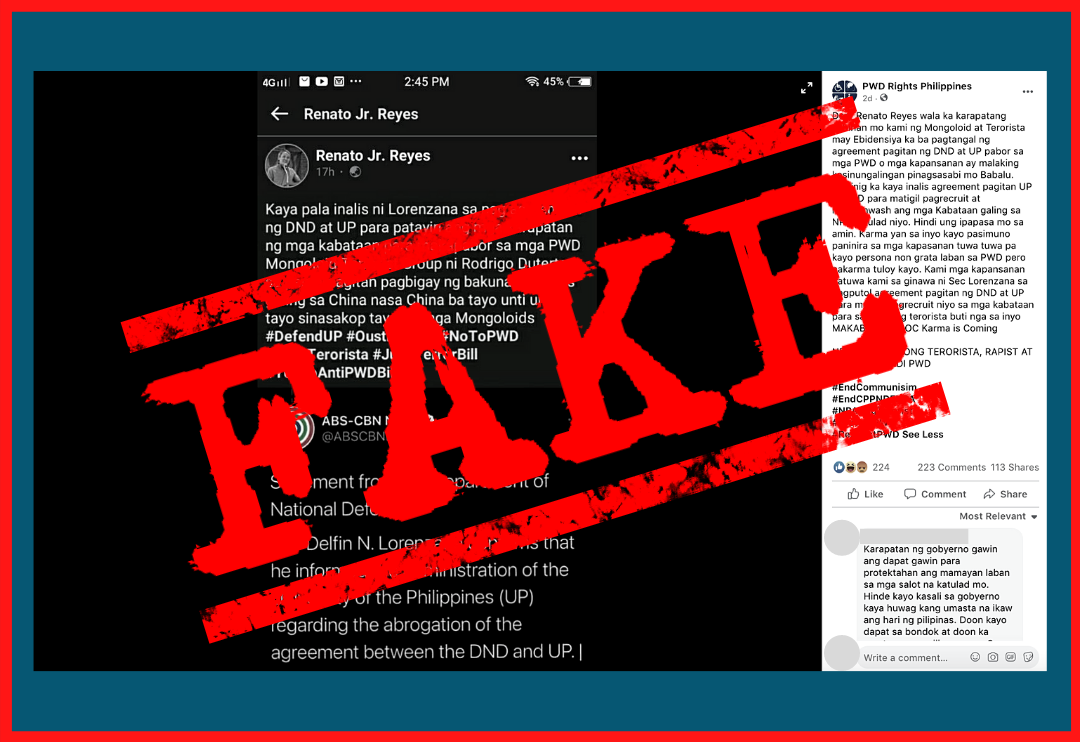 In a message to VERA Files Fact Check, Reyes called PWD Rights Philippines' post "fake." He said he "never made such comments," adding that the post "was meant to provoke a violent reaction against [him]."
In comments addressing the manipulated post where he was quoted making offensive remarks against PWDs, the activist said his own child is "diagnosed with a learning disability," so he is "well aware of the situation of PWDs."
A cursory search on FB also showed no posts on Reyes' personal FB profile carrying the hashtags #NoToPWD, #PWDTerorista, and #YesToAntiPWDBill — all of which were included in the fake screenshot.
There is no "Anti-PWD Bill" being proposed in either chamber of the Congress.
PWD Rights Philippines's fake post got over 200 reactions, 200 comments, and 100 shares from social media users before it was taken down. The page was created on Aug. 27 last year.
Digital investigation shows circulating pic is manipulation of earlier post
On the night of Jan. 18, Reyes published a screenshot of an ABS-CBN News tweet about the UP-DND accord's termination, which he captioned: "Confirmation."
The same ABS-CBN tweet was in PWD Rights Philippines' fake screengrab, suggesting that this particular post of Reyes was most likely the one used by the PWD page for its fabrication.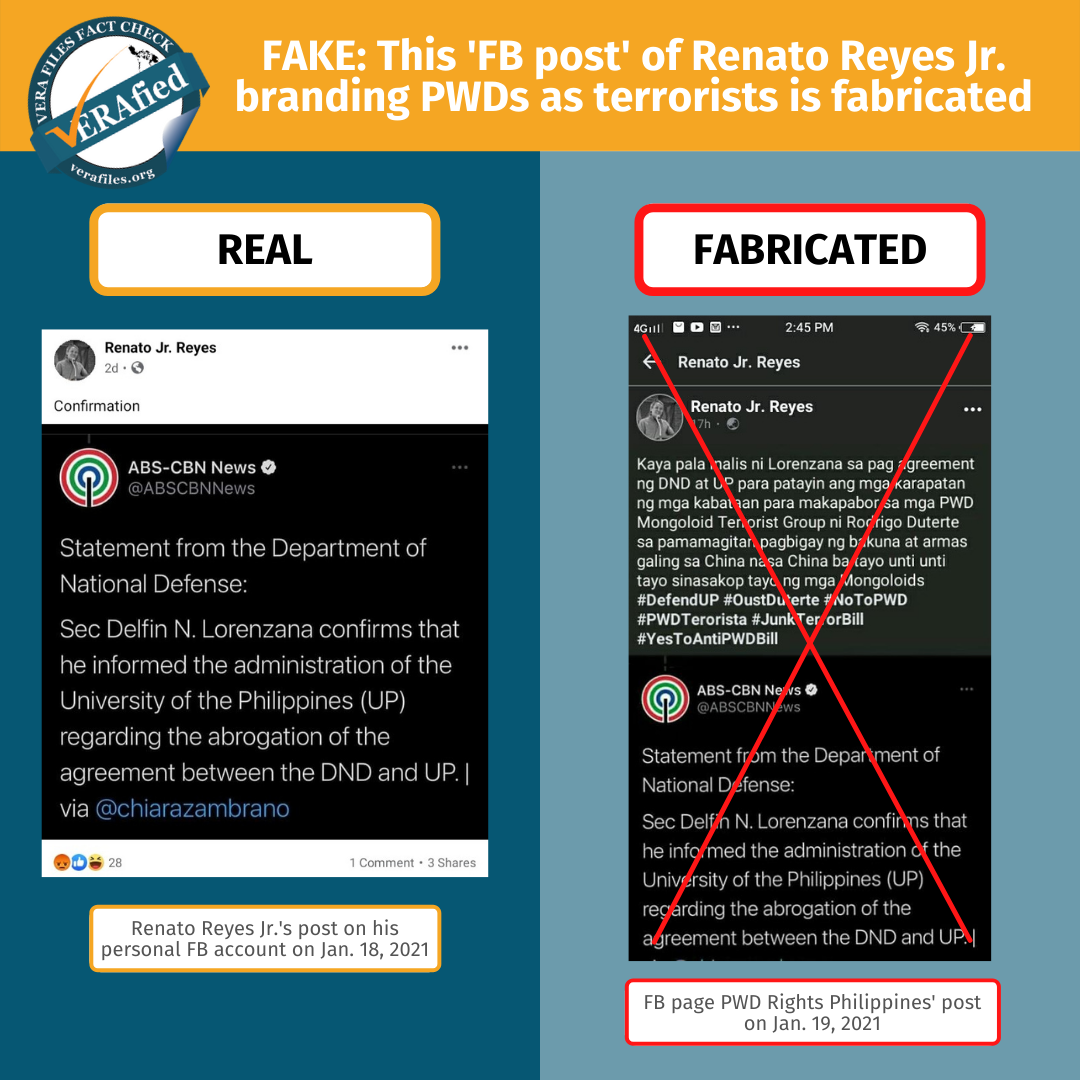 A look into the posting history of PWD Rights Philippines also revealed that the page occasionally shared content related to autism but regularly self-publishes posts against activists and the political opposition. It once called Congress' Makabayan Bloc "anti-PWD" and "utak terorista (terrorist-minded)." It also used the terms "Lugaw" to refer to Vice President Leni Robredo, and "Dilawan" to the Liberal Party and its supporters — colloquial terms often used to express criticism of the political opposition.
(Editor's Note: VERA Files has partnered with Facebook to fight the spread of disinformation. Find out more about this partnership and our methodology.)