Six Facebook (FB) pages and two websites are advertising a product they tout to be "safe" and "super effective" against high cholesterol and fatty liver. These are yet another health scam.

The product called An Mach Khang is not registered with the Food and Drug Administration (FDA) as a drug or food supplement. Nor is it listed in the Monthly Index of Medical Specialties, a medicine database used by doctors.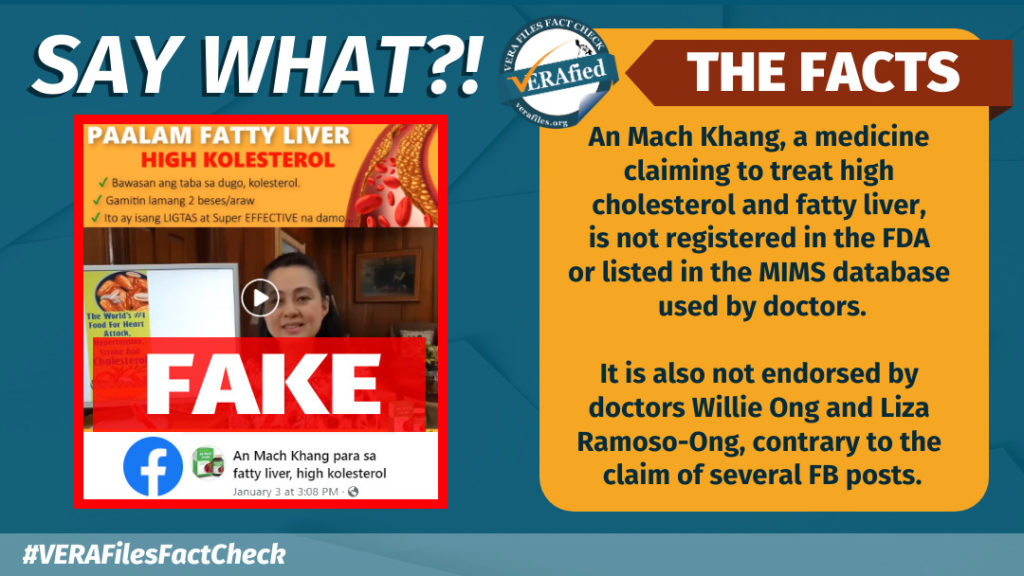 The following vlogs by cardiologist Willie Ong and his general practitioner wife Liza Ramoso-Ong were used in three FB posts to falsely make it look like they were endorsing An Mach Khang:
Ong's Nov. 5, 2022 vlog giving advice about the need to take cholesterol medicine;
Ong's Aug. 5, 2021 vlog enumerating eight warning signs of high cholesterol; and 
Ramoso-Ong's Oct. 25, 2020 vlog about foods for cholesterol, heart attack, and stroke prevention.
In none of the videos did the couple promote the product.
Ramoso-Ong previously told VERA Files Fact Check that social media posts using their name to promote medicines and products are all fake. 
Two bogus websites — anmachkhangoder.xyz and anmachkhangorg.xyz — also falsely claimed that An Mach Khang is approved by the American National Standards Institute (ANSI). It is the U.S. FDA, not the ANSI, which approves drugs in the U.S.
The sites asked netizens to provide contact details for product shipping. This modus is also used in other fake ads and may be a possible phishing technique.
Among those that posted the scam are FB pages An Mach Khang para sa fatty liver, high kolesterol (created on Dec. 28, 2021, originally named Xưởng Khăn 16) and An Mach Khang – paggamot ng taba ng dugo (created on Aug. 26, 2022, previously named Macericin – Paggamot ng pharyngitis, pneumonia).
Other FB pages include An Mach Khang- Paggamot ng Taba ng Dugo (created on July 31, 2021 and originally named Dead pool dash),  An Mach Khang (created on August 30, 2022) and An Mach Khang Helps Steatosis – High Cholesterol (created on March 11, 2021 under the name Tee Love Be Unique). All five FB pages have administrators from Vietnam.

The six posts promoting the fake medicine got a total of over 899,131 interactions. It continues to circulate this January as the Philippine Statistics Authority announced heart and hypertensive diseases as some of the top killers of Filipinos in 2022.
Below are some red flags to watch out for in potential health scams, according to the Department of Health:
The product is advertised as a quick and effective cure-all for a wide range of illnesses.
Certain keywords like "scientific breakthrough," "miracle cure," "all natural without side-effects" or "ancient remedy" are used.
Remember that legitimate health supplement products will never carry claims for quick cures. Claims such as cancer prevention, good for arthritis, good for diabetes or good for hypertension, should be high suspect.
Have you seen any dubious claims, photos, memes, or online posts that you want us to verify? Fill out this reader request form or send it to 'VERA, the truth bot' on Viber.
(Editor's Note: VERA Files has partnered with Facebook to fight the spread of disinformation. Find out more about this partnership and our methodology.)