A month-old video of Facebook page Lynn Channel echoes another false claim about the coronavirus disease 2019 (COVID-19). It posits that "there is no coronavirus" because scientists were not able to isolate the severe acute respiratory syndrome coronavirus 2 (SARS-CoV-2) — the virus causing the disease.
In the video uploaded Nov. 14, which continues to be shared, the United Kingdom (U.K.)-based vlogger behind the page and a young man incorrectly interpreted sections of a document published in July by the United States Centers for Disease Control and Prevention (CDC).
They used this statement — from page 39 of the July copy of the health agency's instruction manual for reverse transcription-polymerase chain reaction (RT-PCR) tests:
"Since no quantified virus isolates of the 2019-nCoV are currently available…"
Lynn Channel's claim that this statement proves the virus was not identified or "isolated" is wrong and taken out of context.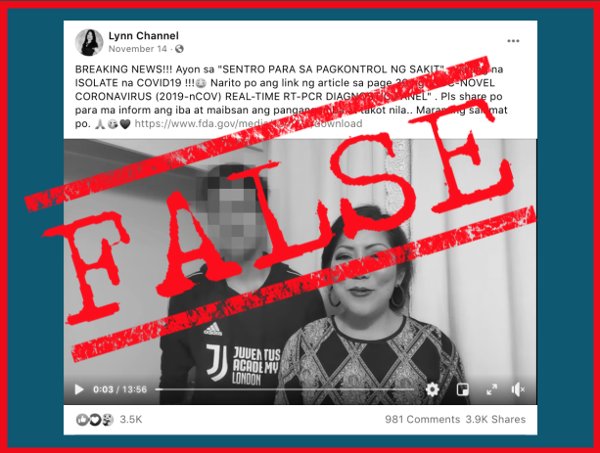 CDC's website explicitly states that SARS-CoV-2 "was isolated in the laboratory and is available for research by the scientific and medical community."
The complete genetic code of the novel coronavirus, submitted by the Shanghai Public Health Clinical Center & School of Public Health, was published as early as Jan. 15 on GenBank, the genetic sequence database of the U.S. National Institutes of Health.
Various studies also prove that isolates of the virus are already available in different countries, including South Korea, China, India, Germany, Australia, and the U.S., and an image of a SARS-CoV-2 isolate was even uploaded by the U.S. National Institute of Allergy and Infectious Diseases last February.
The complete sentence from which Lynn Channel got the phrase in the CDC document was an explanation on how the agency developed its own RT-PCR test, the gold standard for testing for COVID-19, using "transcripts" of the virus genetic code. It read:
"Since no quantified virus isolates of the 2019-nCoV are currently available, assays designed for detection of the 2019-nCoV RNA were tested with characterized stocks of in vitro transcribed full length RNA of known titer (RNA copies/µL) spiked into a diluent consisting of a suspension of human A549 cells and viral transport medium to mimic clinical specimen."
This was updated by the CDC this December (see highlighted passage).
This meant that the CDC simply used a "synthetically produced genetic material identical to that carried by the virus," physician Thushan de Silva from the Department of Infection, Immunity and Cardiovascular Disease of the U.K.'s University of Sheffield was quoted as saying by Reuters in its story about a similar false claim last October.
An expert interviewed by Agence France-Presse for a fact check article debunking the same false claim also explained that a transcript was used because there were still no diagnosed cases of COVID-19 in the U.S. at the time the CDC developed the test in early 2020.
Lynn Channel's false Nov. 14 video has already received over 3,500 reactions, 975 comments, and more than 3,900 shares. It could have reached almost 4.4 million social media users, according to social media monitoring tool CrowdTangle. Its top traffic generators, aside from Lynn Channel itself, are public FB groups Friends Who Like Dante Maravillas and Atty. Glenn Chong SOLID Supporters.
(Editor's Note: VERA Files has partnered with Facebook to fight the spread of disinformation. Find out more about this partnership and our methodology.)