A Filipina vlogger who has promoted COVID-19 conspiracy theories through her social media platforms has shared information on the World Health Organization's (WHO) recommendation to ease international travel restrictions amid the pandemic. This needs context.
United Kingdom-based Lynn Agno said the WHO no longer recommends international travel bans and that proof of vaccination is "not necessarily needed." While the first claim is true, she did not provide the rationale for it nor say that it was a temporary measure.
Members of the WHO's International Health Regulations (IHR) Emergency Committee, after their tenth meeting on COVID-19 on Jan. 19, opted to lift or ease international traffic bans as "they do not provide added value and continue to contribute to the economic and social stress experienced by States Parties."
The committee statement read: "The failure of travel restrictions introduced after the detection and reporting of [the] Omicron variant to limit international spread of Omicron demonstrates the ineffectiveness of such measures over time." It added that travel measures should be based on risk assessments.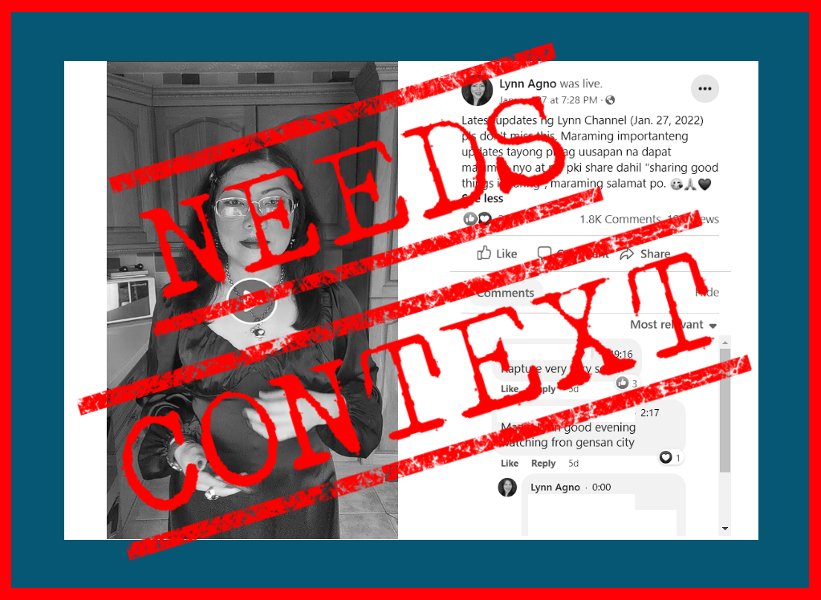 Agno's claim that proof of vaccination is "not necessarily needed" is a misinterpretation of what the WHO IHR Emergency Committee on COVID-19 stated.
"Do NOT require proof of vaccination against COVID-19 for international travel as the only pathway or condition permitting international travel given limited global access and inequitable distribution of COVID-19 vaccines," the WHO statement said.
The vlogger also claimed that the U.S. Centers for Disease Control advised laboratories not to use reverse transcriptase polymerase chain reaction (RT-PCR) tests, which are used to detect the presence of severe acute respiratory syndrome coronavirus 2 (SARS-CoV-2), the virus that causes COVID-19. This needs context.
Six months ago, the American health agency encouraged labs to consider adopting a multiplex assay that can detect and differentiate SARS-CoV-2 from the influenza virus.
In a July 7, 2021 laboratory alert, the U.S. CDC recommended that clinical laboratories and testing sites should adopt other types of COVID-19 tests, including RT-PCR tests, approved by the U.S. Food and Drug Administration (FDA). There has been no CDC advice to halt the use of RT-PCR tests.
VERA Files Fact Check has debunked a similar claim by the vlogger back in August 2021.
Agno's Facebook Live video, uploaded on Jan. 27, got over 26,900 interactions and could have reached 8.2 million people, according to social media monitoring tool CrowdTangle.
It appeared after the country was rated by business news organization Bloomberg as the worst place to be in amid the pandemic.