An online post making the rounds on social media claiming to quote newly-elected Manila City Mayor Francisco "Isko" Moreno Domagoso announcing a city-wide ban on Muslims is fake.
Facebook page RIP Manila, created eight days after the May 13 midterm elections, published the hoax on July 4.
It carried a screengrab of a May 10 Rappler video interview of the mayor and an undated Inquirer.net file photo of Muslim women, juxtaposed with the quote,
"Kayong mga MUSLIM bumalik na kayo sa MINDANAO doon kayo nararapat hindi dito sa MAYNILA mga Batang Maynila lang ang dapat nandito sa Maynila hindi kayo (You Muslims should go back to Mindanao, that's where you belong, not here in Manila. Only the Manila-born should be here in Manila, not you guys)."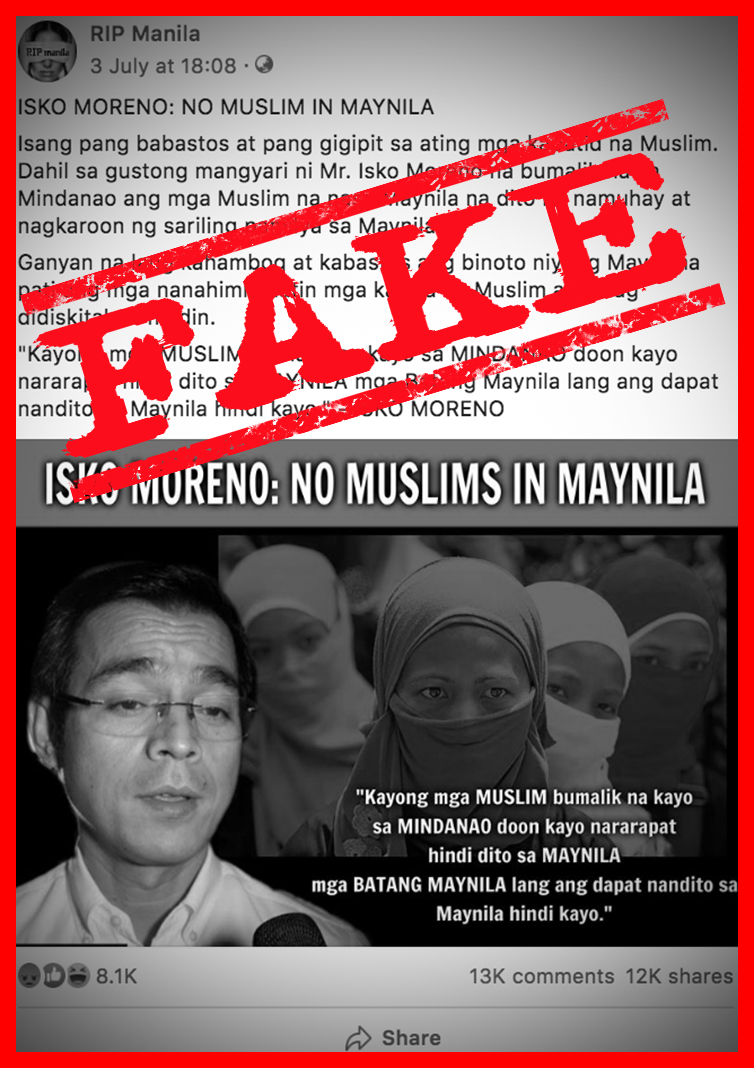 There are no news reports on Moreno saying such a thing. A cursory search also traces the quote only to two sources: another Facebook page posting the same fake quote card, and RIP Manila's Facebook post itself.
The fake quote cards surfaced around the same time Moreno began his first week in office, when he made healdines for clearing main thorougfares of illegal hawkers and sledgehammering unlicensed gambling machines around the city.

Social media traffic to the Muslim ban hoax came came largely from Facebook pages "Trending & Viral, PCSO.ONLINE: Swertres Hearing and Lotto Result, and I SPEAK Freely.
(Editor's Note: VERA Files has partnered with Facebook to fight the spread of disinformation. Find out more about this partnership and our methodology.)