Two government officials, name-dropped by a website that revived Aug. 24 a bogus report accusing Sen. Risa Hontiveros of calling for an EDSA 3 to oust President Rodrigo Duterte, denied their involvement in the hoax.
In separate text messages, Agriculture Secretary Emmanuel "Manny" Piñol and Philippine Amusement and Gaming Corp. Chair Andrea Domingo said they have no dealings with the website Global Friends of Rody Duterte (GFORD).
GFORD's "About" page claims it was organized on Sept. 11, 2015 "upon the guidance and directions of Manny Piñol" and "started as the overseas wing of Friends of Rody Duterte (FORD), chaired by Andrea Domingo."
On Aug. 24, its Facebook page posted a link to its website, carrying the fake report, "WATCH: Hontiveros, nanawagan ng EDSA 3 para patalsikin si Pangulong Duterte (Hontiveros calls for EDSA 3 to oust Pres. Duterte)."
The page includes a 19-minute Youtube video which edits together a two-minute video statement by Hontiveros, the transcript of which is available on the Senate Facebook page, with a 17-minute clip of the senator, along with senators Franklin Drilon and Francis Pangilinan, walking.
The fake video was shared as early as Feb. 26, a day after the anniversary of the 1986 EDSA revolt that toppled the Marcos dictatorship, by a Facebook page called "Duterte Ang Pagbabago."
GFORD's Aug. 24 post turned up at a time when Hontiveros was in the news for taking custody of witnesses in the Kian Loyd Delos Santos case.
The killing of Delos Santos, a 17-year-old student, by Caloocan City cops in an antinarcotics operation Aug. 16 has sparked national outrage. (See Outrage at Kian's wake: Lawmakers, rights activists denounce Duterte's war on drugs)
Sought for comment on his supposed link to GFORD, Piñol said, "With my job now, do you think I still have time to spread fake news?"
"During the electoral campaign, so many volunteer groups created social media sites to help promote the candidacy of President Duterte. GFORD may have been one of those, but I never had a direct participation in its creation," he said.
Similarly, Domingo denied involvement with GFORD, but said she remains the chair of Friends of Rodrigo Duterte (FORD), a related nonprofit organization, which she said has overseas Filipino workers as members.
"The organization just grew and at present we are still expanding while consolidating our members. It might be that one director encouraged the setting up of a global organization," she said.
Analytics from the online tool CrowdTangle show that the GFORD's page carrying the fake news about Hontiveros could have reached some 268,000 people.
A cursory search on Google using the title of the fake Hontiveros video yields several other web pages that have shared same video. These web pages include:
Trending Topics Philippines
Daily Filipino (some articles flagged fake news by Fakeblok)
Netizens Ph (flagged fake news site by CBCP)
Duterte News Today
Pinoy News Online
Standards Daily News
Du30 Today
Daily Filipino posts articles that have been flagged as fake news by Fakeblok, a browser plugin developed by the National Union of Journalists of the Philippines and Center for Media Freedom and Responsibility.
Netizens Ph, meanwhile, has been flagged a fake news site by the Catholic Bishops' Conference of the Philippines.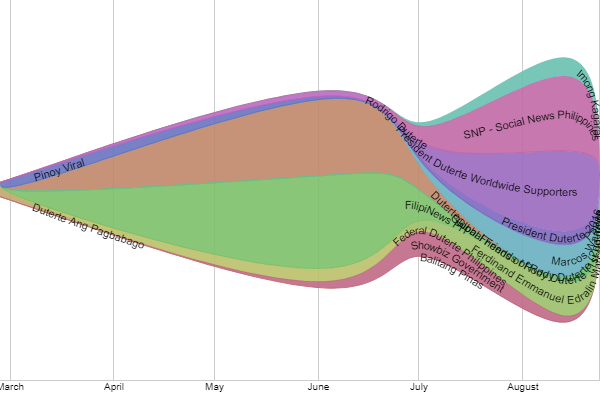 How the fake Hontiveros video spreads through FB interactions
Traffic to these sites, including GFORD, was driven by a slew of Facebook pages with a combined following of 3.85 million, according to Facebook and CrowdTangle metrics.
When the fake news was first shared in February by Facebook page "Duterte Ang Pagbabago," the post got a relatively modest 619 "interactions," or the number of times it was liked, shared or received comments.
Social media interactions reached new heights in June and August, when the fake video resurfaced again, driven by Facebook pages that appear to be news sites, or are dedicated to either Duterte supporters or pro-Marcos groups.
GFORD was hardly the only one that revived the fake video in August. More social media interactions the same month are linked to the web page Daily Filipino, with traffic coming from the following Facebook pages, which shared the fake news:
President Duterte Worldwide Supporters
SNP – Social News Philippines
Ferdinand Emmanuel Edralin Marcos
Marcos Warriors
Imong Kagaral
President Duterte 2016
Paasa
These Facebook pages combined have more than 1.4 million followers.
Web of fake news
Daily Filipino, although purporting to be a news site, does not contain information about the people behind it, and appears to generally just lift viral or trending content from elsewhere.
"A news website should be accountable for what is posted on its page, and it starts with identifying the people behind it, as well as how they can be contacted so they can be asked to explain errors posted in their sites, among others," notes CMFR.
Sites that do not satisfy any journalistic criteria, adds CMFR, "should be dismissed as a news source."