With a looming 7.2-magnitude earthquake that could pulverize more than one-third of Metro Manila's residential structures and leave around 30,000 dead, Filipino architects know better than to just idly wait.
Out of mostly scrap and cheap construction materials, the Emergency Architects of the United Architects of the Philippines (UAP) have devised cost-efficient, do-it-yourself shelters to accommodate communities, mostly the poor, in the event the ' big one' or subsequent aftershocks leave them homeless.
But some of the designs aren't just fit for everyone–ironically for those who are in danger of being left out during a disaster.
Wheelchair-user Richard Arceño only got frustrated when he tried to enter the "Slotted Steel Structure," which is supposed to fit up to 11 people when expanded into a two-story structure.
He could only fit half of his body through an already narrow opening of the shelter, which immediately leads to a fixed wooden bunk.
"Itong mga ganito, pwede lang ito sa mga walang kapansanan. (Structures like these are fit only for those who do not have disabilities,)" said Arceño, who is country director of Muslim Aid Philippines.
Made out of marine plywood and slotted angles firmly fixed by nuts and bolts, the structure can be assembled in one to two days and is estimated to cost around P40,000 to P160,000 per structure.
Though a practical alternative, the shelter is not inclusive for persons with disabilities (PWDs), Arceño said. Besides barriers inside the structure, it also lacks grab bars, which PWDs use to help themselves move from one place to another.
"Kung elderly ka o nakasaklay ka, kapag nagkakarambulan na, mag-isa ka na lang 'eh. Sarili mo, ikaw ang hahawak. [Paano] kung wala kang mahawakan? (If you're an elderly or use crutches, you may be left alone when everyone's in panic. You have to take care of yourself. What if there's no [grab bar] to hold on to?)" Arceño told VERA Files.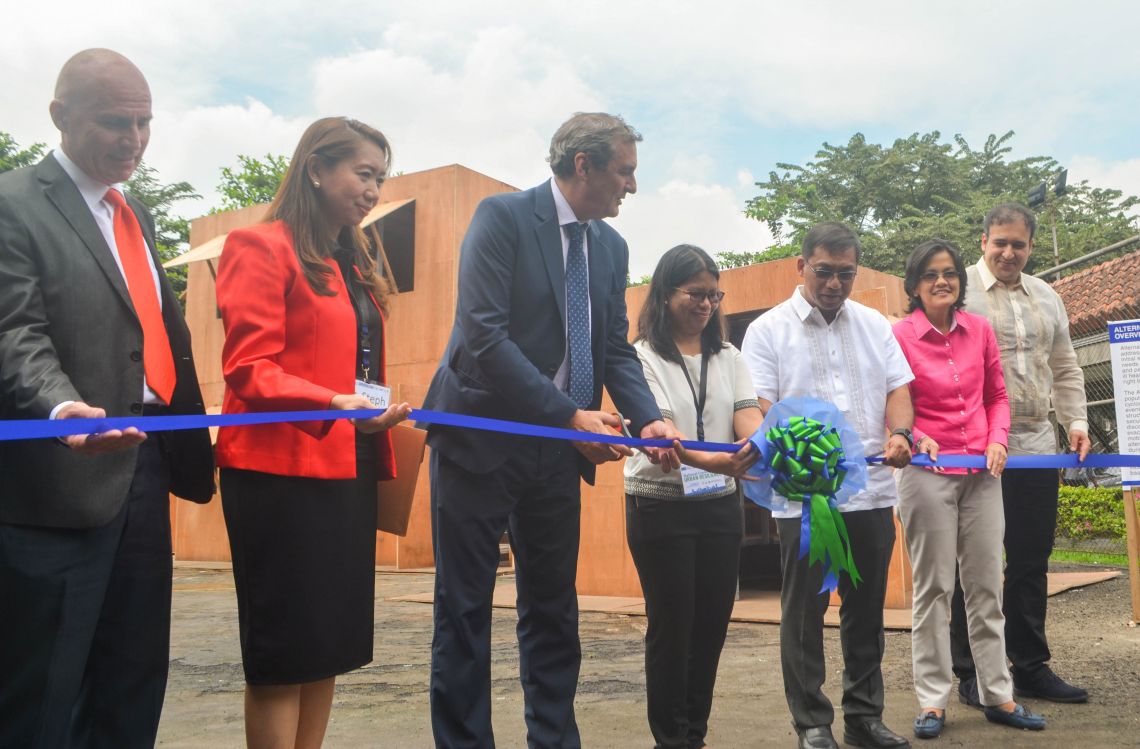 Civil society organizations launch prototypes of alternative temporary shelters in Quezon City.
The Slotted Steel Structure is only one of 14 prototypes that were unveiled Aug. 29 at the Moving Urban Poor Communities Towards Resilience (MOVE UP) National Conference on Urban Resilince in Quezon City. The initiative aims to help address the urban poor's lack of access to adequate and safe shelters during disasters.
Other designs include inflatable and foldable tents to improvised container vans, temporary classroom partitions and mid-rise structures that could accommodate several families during evacuation.
Science and Technology Undersecretary Renato Solidum, Jr., who is in-charge of disaster risk reduction and climate change adaptation, recognizes that the structures can still be improved in terms of accessibility.
"There might be some improvements in the design later, one would be for those that have disabilities. But that is always a constraint, they need to probably make a special design to accommodate everyone," Solidum told VERA Files.
Republic Act No. 7277 or the Magna Carta for PWDs provides for rehabilitation services for PWDs from urban-based centers to community-based programs.
The Philippines is also signatory to the UN Convention on the Rights of Persons with Disabilities (UNCRPD), which ensures the protection and safety of PWDs in situations of risk, such as armed conflict, humanitarian emergencies and natural disasters.
Suggestions for improvement in terms of accessibility and design are most welcome, says Sindhy Obias of the Assistance and Cooperation for Community Resilience and Development (ACCORD), one of the civil society organizations that conceptualized the temporary shelters.
The goal, she said, was for local governments to provide "dignified and livable spaces" for the poor to lessen the impacts of a disaster.
"Gumawa tayo ng mga prototype para makita at maramdaman ano iyong feel sa mga model na iyon, para makita paano mas magiging inclusive sa older persons, women, children, so patuloy lang yung pag-improve ng konsepto ng designs. (We made a prototype to see and experience the actual model, and seek suggestions on how to make them more inclusive to older persons, women and children and then improve on the design concepts)," she said.
Obias said the UAP will continue to improve the designs pending more feedback from residents of Quezon City, Malabon City and Valenzuela City, where the prototypes will also be piloted.
For mid-rise structures, partitions were created to prevent the spread of diseases in evacuation sites. Attention is also given to the privacy of evacuees, especially to women, children and PWDs who are often at risk of abuse.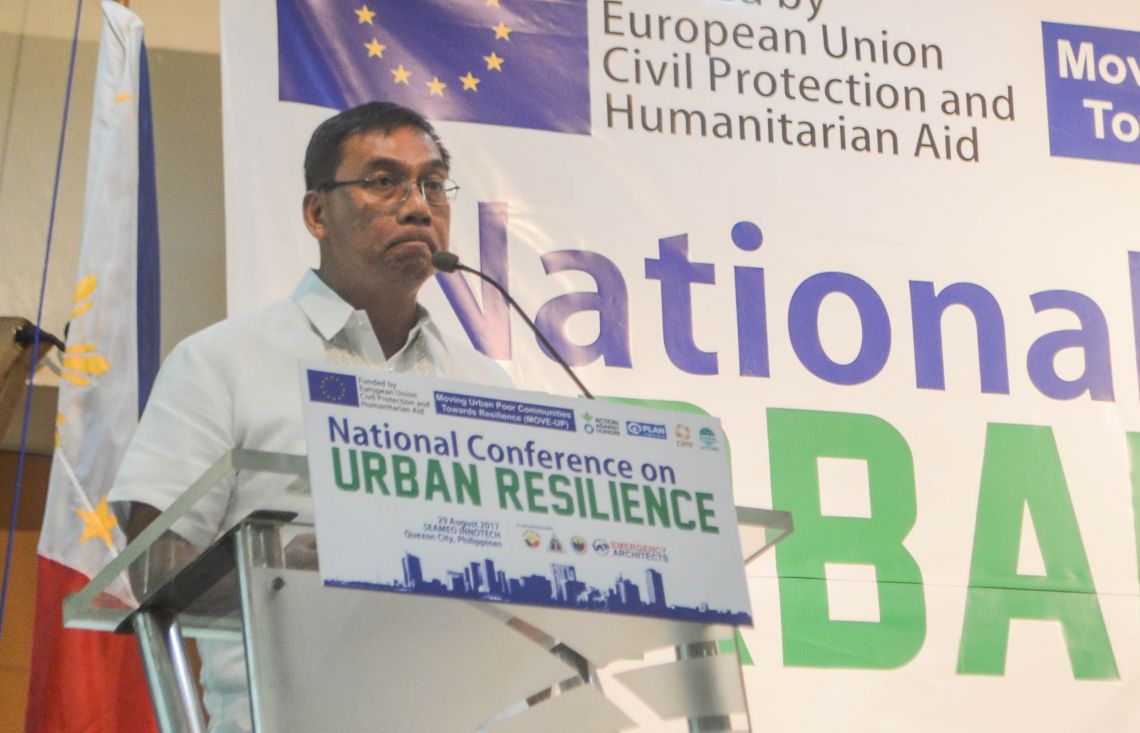 Renato Solidum, DOST undersecretary for disaster risk reduction and climate change adaptation, says the urban poor are most vulnerable in times of disaster.
Solidum said the prototypes also need to undergo an earthquake simulation to determine the threshold for which the structures can withstand a particular hazard. Compared to concrete, wood is more flexible and can withstand aftershocks better.
Nonetheless, Solidum said these structures, which can allow for normal sleeping after a disaster, can be used immediately after the anticipated 7.2-magnitude earthquake strikes parts of Metro Manila, where around 500,000 may need temporary shelters.
Based on a risk analysis of the Philippine Institute of Volcanology and Seismology, where Solidum serves as officer-in-charge, an earthquake caused by the movement of the West Valley Fault could kill around 33,500 people and injure 114,000 if it occurs at night.
The earthquake, he added, can damage or even destroy about 38 percent or 340,000 residential buildings in Metro Manila, and can result in 18,000 fire casualties especially in half-wood, half-concrete informal settlements.
Enrico Strampelli of the European Union Civil Protection and Humanitarian Aid (ECHO), which funds the project, said while these alternative temporary shelters won't eliminate disasters, they can help alleviate the condition of affected communities especially the poor who suffer the most.
Based on 2015 data from the Philippine Statistics Authority, 11.5 percent of individuals living in urban areas are considered poor.
Residing in hazardous and populated areas, they are the ones most vulnerable to disasters, given their concentration and unplanned or non-engineered houses in informal settlements where they live, Solidum said.
Yet although hazards are natural, disasters are man-made. "We can do something about it. We can control whether we will be affected by it or not," he added.
Solidum cites Japan as model in disaster resilience. Though it is ranked fourth in the world in terms of exposure to hazards, it is not among the top 15 countries most prone to disasters.
The Philippines, meanwhile, is the third most disaster-prone because of the limited capacity and the need to improve disaster preparedness, Solidum said.
The key to preparedness is what he calls "disaster imagination," or the ability to foresee the impacts hazards can bring–something Filipinos lack, ironically for a culture that takes pride in its Bayanihan spirit.
"We should not always blame the government for something that would happen to our houses," Solidum said, "because we build our own houses. If we did not construct them well, then we will be potential victims in case of major events."